For over a decade we've provided the beer drinkers of Australia the best range of beers possible and for their partners, wifes, husbands, brothers and daughters we curate the best range of craft beer gifts as well.
Every year we sell thousands of beer gifts and have them delivered to the lucky recipients home or work place, delighting and putting the biggest smile on the face of Australian beer drinkers.
A few years ago in 2015 we stepped it up a notch and started selling Beer Advent Calendars.
Hands down it is the best beer gift for the beer lover in your life (or even for yourself!). There is simply no better way to count down to Christmas.
But what exactly is a Beer Advent Calendar?
You may be familiar with the traditional chocolate advent calendar where you get a little chocolate each day on the lead into Christmas, well it's a bit like that but with beer! Awesome, yeah?!
The box features 25 unique beers from 25 different breweries guaranteed to surprise and delight, plus make you a legend gift giver. You're gifting them 25 gifts over 25 days all beautifully packaged in one box.
The box looks like the image below with the 25 beers hidden behind individual flaps that are popped open each day to reveal a new unique beer.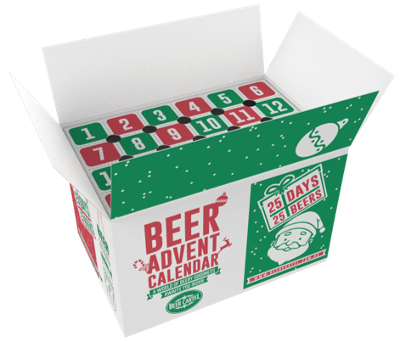 For 2018 we've taken things up a level again and brewed 7 one-off exclusive release beers never to be brewed again and only available within this Beer Advent Calendar.
Some other features of the best beer gift you will ever get someone include:
100% Australian Independent Breweries & Exclusive Beers
All beers featured are from 100% Australian independent craft breweries with the seven exclusive one-off beers having been collaborated on between Beer Cartel and some of Australia's leading breweries. It truly is an unbelievable selection.
Fresh Beer
All beers have been brewed fresh for inclusion in this pack, some bottled within days of the advent calendar boxes being packed!
Plus All These Great Features:
- 25 beers, including one to have ON Christmas day!
- New beer selection compared to previous years, you won't have anything we have featured before.
- Awesome value - over $160 worth of beer included for a reduced price of $124.99 (over $30 worth of savings)
- A festive box design to really get you (or the lucky recipient), in the Christmas countdown spirit.
- A "To / From" gift message card printed on top of the box making it perfect for gifting.
So What's Inside?
We won't spoil the surprise by revealing what is hiding in this years box but we can tell you the beers are amazing and you can expect to find handmade craft beers from Australia's leading independent craft breweries.
The box features 25 individual unique beers from 25 individual breweries, not just a selection from a couple of breweries.
A huge variety of beer styles. There are 23 different beer styles to try from Pale Ale, Red Ale, Red IPA, XPA, Old Ale, Pilsner, Session Ale, Double IPA and more! Your tastebuds will be bursting with joy and delight, if you're after variety and a taste sensation then there is no better box of beer to try.
We include a range of different size bottle/can sizes from 330ml to 500ml
To secure your Beer Advent Calendar before they sell out click here or the image below.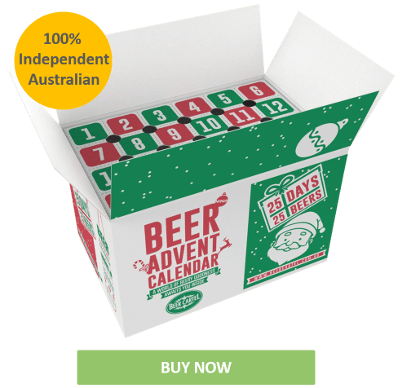 ---