They're back for 2018 and better than ever!

We've taken the worlds most highly rated Beer Advent Calendar and taken up a notch, again!

We can't wait to reveal and share these beers with you on the countdown to Christmas but before we do we wanted to share a bit about this year's Advent Calendar boxes. That's right we've created two!

We have our ever popular beer advent calendar which we affectionately refer to as the "All Rounder Discovery Box" as well as a new release for 2018 called the "Expert" Beer Advent Calendar.
That's right, we've got two awesome Beer Advent Calendars to choose from this year.

Here's a little bit of information on each.

All Rounder Discovery Beer Advent Calendar
This is perfect for the craft beer newbie right through to the beer aficionado and features:
- 100% Australian beers. We've sourced locally brewed and owned beers. You'll be supporting 25 Australian businesses each and every day during the count down.
- All beers have been brewed specially for our Advent Calendars meaning they are as fresh as possible.
- 100% independent. There is no big or faux craft beer in this pack! We're independent and wanted to support only other independent breweries with our Beer Advent Calendar box.
- 7 one-off exclusive beers collaborated on by us with awesome Australian craft breweries. These are limited releases never to be brewed again. Only available in this year's beer advent calendar. Once they're gone they're gooone!
- Like previous years we are featuring a brand new line up of craft beers from amazing breweries. A truly unique taste sensation and the reason we call it a "Discovery" box.
- 25 different unique beers from 25 different breweries, we don't double up from one brewery.
- Over 20 different beer styles! This isn't your run of the mill pale ale and lager advent calendar. We've hand selected (and brewed) beers that ensure you get variety with an experience second to none. Get your taste buds ready!
- Our awesome festive design advent calendar box, get you (or the lucky recipient) right in the mood for Christmas. Designed to hide away each beer and make it fun to reveal each one day by day. It even includes a built in gift tag - you won't even need a card!

And in case the All Rounder Discovery version wasn't enough to get you salivating and you want a bigger crazier selection of tastebud testing and boundary pushing beers we've put together the Expert Beer Advent Calendar!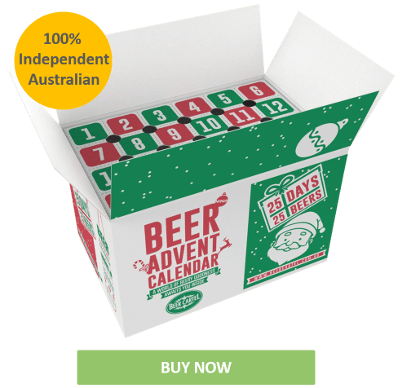 Expert Beer Advent Calendar
Our expert calendar features 25 big, beastly brews. Includes some of the 7 one-off beers (but not all) and is perfect for the Uber Beer Geek among us, in more detail it contains:
- 25 unique beers from Australia and overseas, so you get a mix of some locally made brews as well as some International beers brewed by some of the best in the industry.
- 100% independent. Just like the Discovery Beer Advent Calendar we've sourced the 25 beers from 25 independent breweries. By purchasing this pack you know you aren't lining the pockets of another multinational conglomerate.
- Includes tastebud soaring range of beer styles that are sure to amaze those looking for the crazy and wacky - it's got more sourness, more imperials, more funk and way more barrel ageing!
- Its all packed in the same awesomely designed Beer Advent Calendar box with little pop out windows to reveal a new beer each day.
- Has over $250 worth of beer for only $185! A massive value box waiting to delight.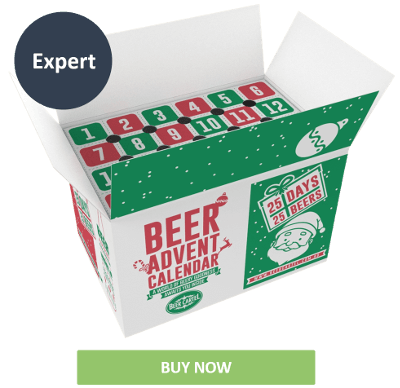 Regardless if you are a craft beer newbie or a self confessed beer geek we have the perfect advent calendar box for you. Click here to view the Beer Advent Calendars available. Which ever one you select it'll be great fun!
And if you or your loved one is all that into craft beer we have also released a Cider Advent Calendar this year. It includes 25 different ciders from 25 different cideries from around the world. Click here to secure your Cider Advent Calendar or on the image below.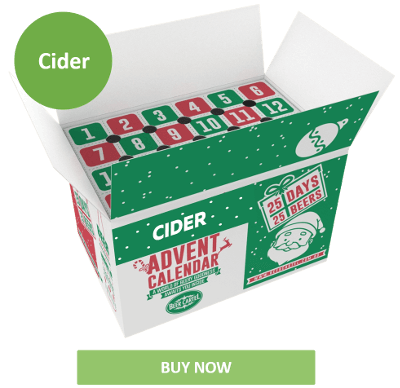 Shipping Information:

- Beer Advent Calendars are available for pre-order from the middle of September
- They begin shipping out in November so you have your advent calendar before the 1st of December
- Shipping is per box at a flat rate of $9.99 for NSW/ACT or $14.99 for all other states and destinations.
- The Cider Advent Calendar box is shipped in our Beer Advent Calendar box with a "Cider" sticker applied on top of the box.
---