Below is a list of daily tasting notes from the 2019 Beer Cartel Beer Advent Calendar. To be notified when the 2020 version goes on sale head here and click Notify Me.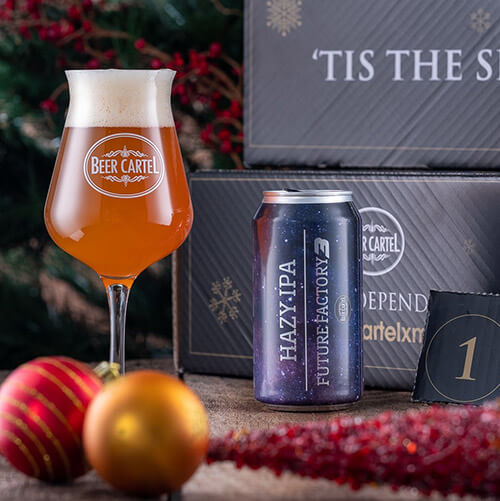 December 1:
Beer Name: Modus Operandi Future Factory 3 Hazy IPA
Brewery: Modus Operandi Brewing Company
Location: Mona Vale, Sydney
Style: Hazy IPA
ABV: 6%
Beer Description:
Future Factory is the beer that keeps us honest, it reminds us what's great about brewing and why we love hoppy IPAs. This Christmas we're excited to go back to the future factory, this time we've contained all the hop punch into a hazy IPA. We've got the same serious dry hop ratio of Galaxy and Citra with the familiar juicy mouthfeel. The future looks hazy.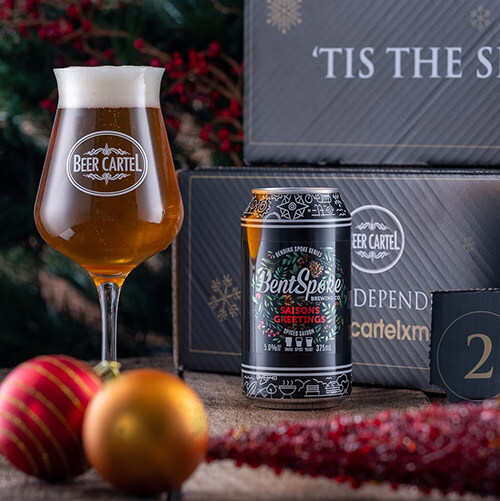 December 2:
Beer Name: Bentspoke Saisons Greeting
Brewery: Bentspoke
Location: Braddon, Canberra
Style: Saison
ABV: 5.8%
Beer Description:
Originating in Wallonia, this style is brewed in the colder months, aged through spring, ready for farm workers to quench their thirst in the fields. Saisons' origin goes back to the beginning of agriculture where workers needed a safe to drink beverage and lots of it!
BentSpoke's spiced interpretation (with allspice, bitter orange, cinnamon, coriander and nutmeg) draws inspiration from a traditional Xmas pudding. With aromas of spice, clove phenols and pear esters, a medium body and assertive spicy bitterness, Saison's Greetings promises a Christmas celebration that includes lots of quenching!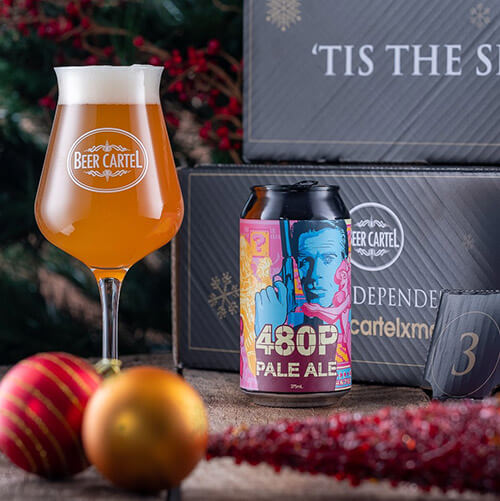 December 3
Beer Name: Pixel 480P American Pale Ale
Brewery: Pixel
Location: Sydney
Style: American Pale Ale
ABV: 4.8%
Beer Description:
480P is an American Pale Ale generously late and dry hopped with Citra hops resulting in tropical fruit and citrus notes. Pixel Brewing is a gypsy brewing company based in Sydney.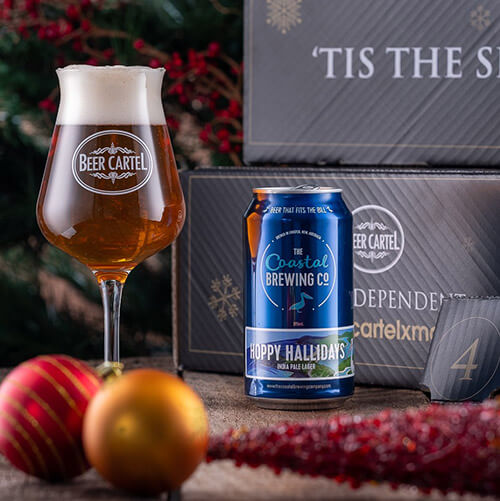 December 4:
Beer Name: Coastal Happy Halliday's India Pale Lager
Brewery: Coastal
Location: Forster, NSW
Style: India Pale Lager
ABV: 6%
Beer Description:
Whether you are celebrating Advent, Christmas, Hanukkah, Kwanzaa, the Winter Solstice, New Year or just summer - Hoppy Hallidays is for Happy Holidays.
At The Coastal Brewing Company we name all of our beers after local places or landmarks and Halliday's Point is an area in the Manning Valley of NSW popular with both locals and tourists and seemed the perfect match for our India Pale Lager for the Beer Cartel Advent calendar.
Hoppy Hallidays is an easy drinking IPL, hiding its 6% ABV with soft malts, fairly light bitterness and fairly light hops. All of the hops used in brewing Hoppy Hallidays are New Zealand hops – Motueka, Nelson Sauvin and HORT9909. Best savoured cold by the pool or at the beach on a hot summer's day.
Happy Holidays !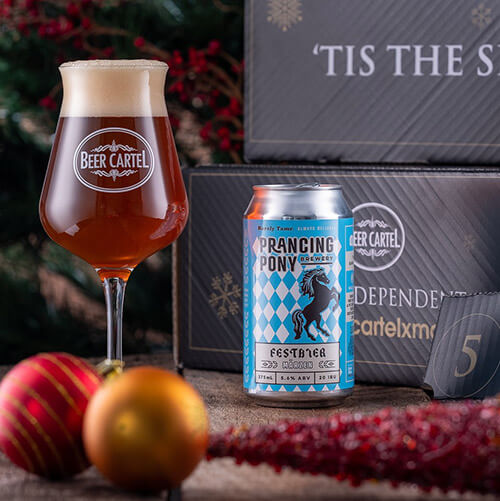 December 5:
Beer Name: Prancing Pony Festbier
Brewery: Prancing Pony
Location: Totness, SA
Style: Marzen
ABV: 5.6%
Beer Description:
Also called a Märzenbier, which is German for March or March beer. The Märzen is a Lager and has its origins in Bavaria, Germany. It is the original Oktoberfest beer as it would have been brewed in March and stored (lager) for 6 month to be ready in Oktober.
The Prancing Pony Festbier was brewed to a typical Bavarian Märzen recipe. It is a malt driven beer with bready flavours and mild fresh hop finish.
It has a full body and is of dark golden colour. Gently carbonated, it is the original Festbier best enjoyed in the company of friends and with a hearty meal.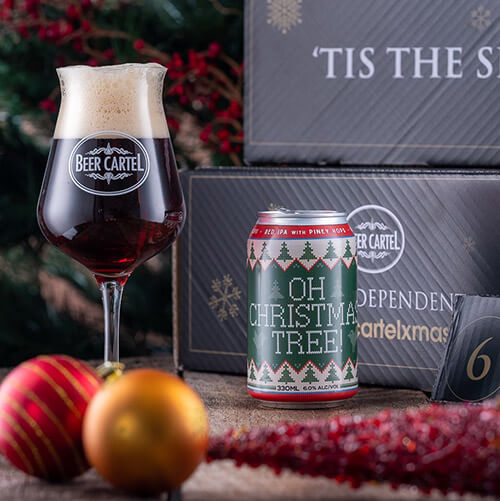 December 6:
Beer Name: Two Birds Oh! Christmas Tree Red IPA
Brewery: Two Birds
Location: Spotswood, Melbourne
Style: Red IPA
ABV: 6%
Beer Description:
A malty Red IPA, with sweet piney hops. Oh Christmas Tree is rounded out with a touch of toffee that'd make Nanna proud (knit you a jumper proud).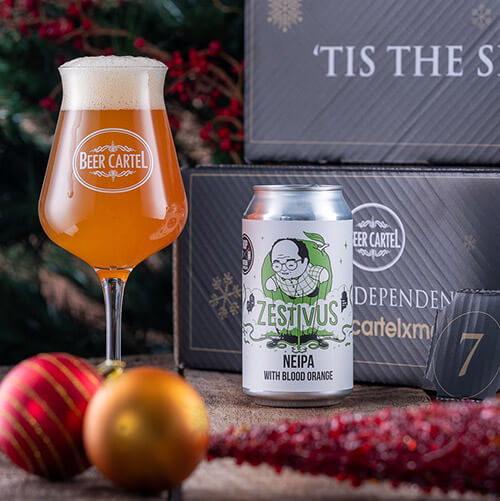 December 7:
Beer Name: Hop Nation Zestivus
Brewery: Hop Nation
Location: Footscray
Style: Blood Orange New England IPA
ABV: 6.5%
Beer Description:
Hazy, hoppy with a blood orange zesty-bite to finish. Double dry hopped using Amarillo and Citra combined with the addition of Blood Orange to the ferment.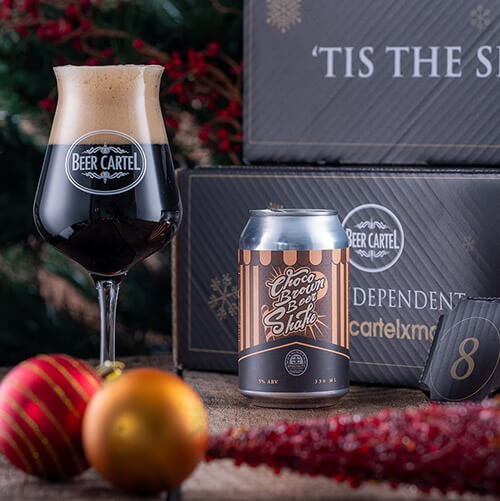 December 8:
Beer Name: Mornington Peninsula Brewery Choco Brown Beer Shake
Brewery: Mornington Peninsula Brewery
Location: Mornington
Style: Brown Ale
ABV: 5%
Beer Description:
Brewed with milk sugar, vanilla and cocoa, this indulgent Brown ale is all about sensory pleasure and taking it slow. Bold aromas of vanilla and dried fruit, followed by flavours of chocolate, brown sugar and caramel with a distinctive sweet finish and a creamy texture. Just like a chocolate milkshake, only Boozy.
December 9:
Beer Name: Mr Banks Time & Space Galaxy Pilsner
Brewery: Mr Banks
Location: Seaford, Vic
Style: Pilsner
ABV: 5.2%
Beer Description:
We love a good Crispy Boi as much as the next guy so we thought we'd throw one down for the Beer Cartel Advent calendar.
Using Weyermann Premium Pilsner Malt, Oats to round out the mouth feel & a true Lager Yeast. We then Dry hop with Galaxy to give tropical notes followed by that Clean Lager finish.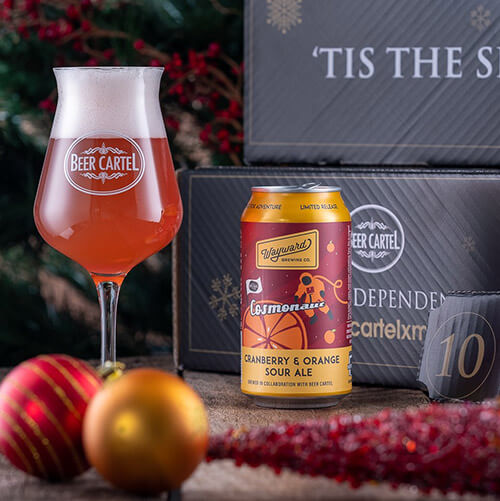 December 10:
Beer Name: Wayward Cosmonaut Cranberry & Orange Sour Ale
Brewery: Wayward
Location: Camperdown, Sydney
Style: Cranberry & Orange Sour Ale
ABV: 4%
Beer Description:
A bright, zippy, super refreshing Sour Ale amped up with the classic flavour combination of Cranberry & Orange. Brewed in collaboration with our mates at Beer Cartel, exclusively for their 2019 Advent Calendar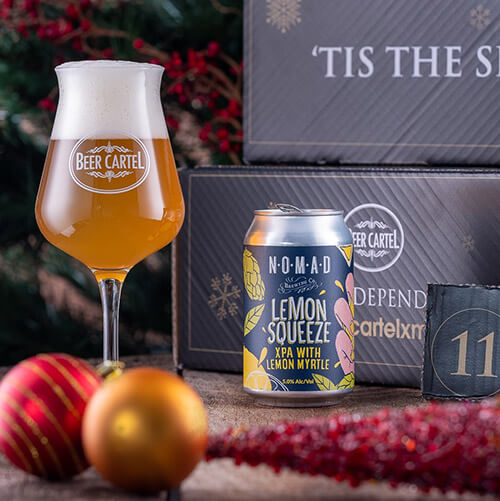 December 11:
Beer Name: Nomad Lemon Squeeze XPA
Brewery: Nomad
Location: Brookvale, Sydney
Style: XPA
ABV: 5%
Beer Description:
A great summery XPA with a dash of Aussie lemon myrtle for a lemon zing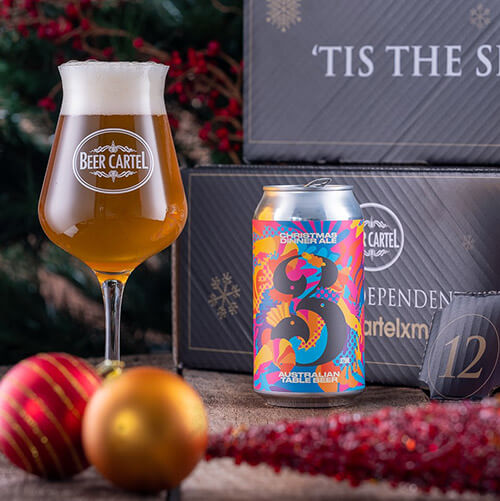 December 12:
Beer Name: 3 Ravens Christmas Dinner Ale Table Beer
Brewery: 3 Ravens
Location: Thornbury, Melbourne
Style: Table Beer
ABV: 3.4%
Beer Description:
What is "Christmas beer"? Traditionally these were rich, dark and robust ales brewed to warm you up in the depths of winter, often brewed to emulate the flavours of pudding or to accompany a rich midwinter feast. When we think of Christmas in Australia we see backyard barbeques, beach cricket, swimming pool volleyball and light summer fare like seafood and salads. Enter the Christmas Dinner Ale - a dry, responsibly mid-strength farmhouse-inspired beer featuring Australian malts, hops and botanicals and designed for a high level of drinkability and refreshment while providing subtle complexity if you opt to put it on the dinner table for Christmas lunch. Toasted malt and fruity hops are joined by fruit and spice notes from the secret blend of herbs and spices and a blend of French and Belgian yeasts. A dry finish and balanced bitterness complete this ultimate Australian Table Beer. Brewed in collaboration with Beer Cartel and exclusive to the 2019 Beer Advent Calendar.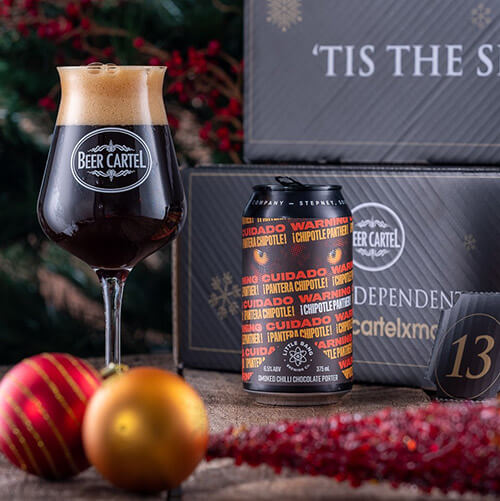 December 13:
Beer Name: Little Bang Chipotle Panther Porter
Brewery: Little Bang
Location: Stepney, Adelaide
Style: Chipotle Porter
ABV: 6.5%
Beer Description:
La majestuosa pantera se desliza por la oscuridad, tan silenciosa y poderosa como el humo que flota entre los jalapeños. El viajero feliz no tiene idea de lo que hay en la deliciosa oscuridad, esperando. ¡El fuego del chipotle es grande y mortal como la pantera!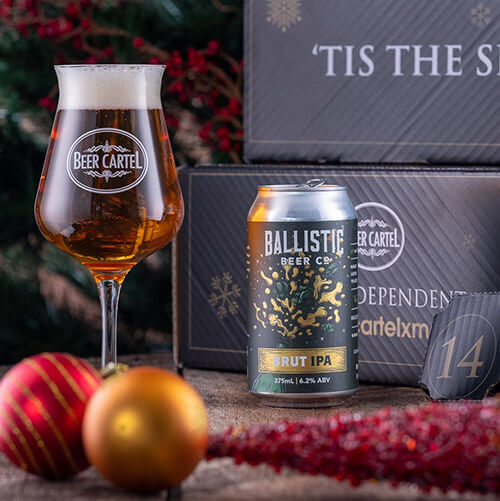 December 14:
Beer Name: Ballistic Brut IPA
Brewery: Ballistic
Location: Salisbury, Brisbane
Style: Brut IPA
ABV: 6.2%
Beer Description:
Ballistic's spin on the divisive new IPA style. The fruity hop aromas of Mango and Lime that overlay the intense dryness makes this beer insanely refreshing and incredibly morerish.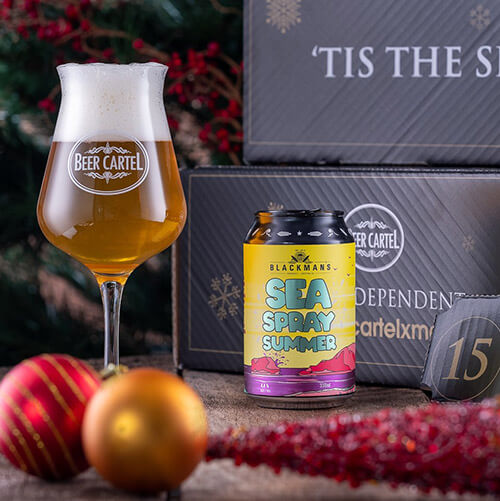 December 15:
Beer Name: Blackmans Sea Spray Summer Ale
Brewery: Blackmans
Location: Torquay, VIC
Style: Summer Ale
ABV: 4.4%
Beer Description:
A beer made with our home town in mind.
A summer session ale, made using fragrant US hops, Loral and simcoe , pale Australian malt, and a dash of seawater straight from Torquay beach. Piney citrus notes, with subtle salty finish that gets you going back for more.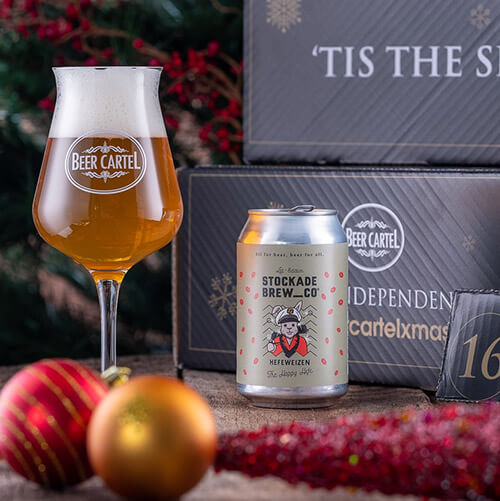 December 16:
Beer Name: Stockade The Hoppy Hefe Hefeweizen
Brewery: Stockade
Location: Goulburn, NSW
Style: Hefeweizen
ABV: 5.4%
Beer Description:
The Hoppy Hef Weizen uses a traditional German Hefeweizen yeast combined with big whirlpool additions of with Cascade, Citra and Galaxy. Savage dry hopping brings this beer together to deliver a punch bowl of zesty, passionfruit and banana flavours balanced with a lively carbonation. Sessionable and easy, this beer is perfect for hopheads looking for something a little different.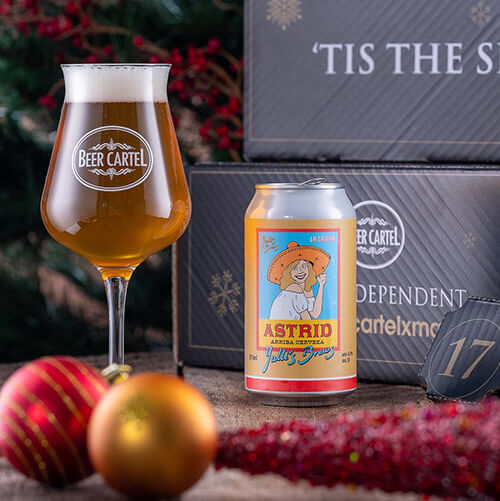 December 17:
Beer Name: Yullis Astrid Cerveza
Brewery: Yullis
Location: Alexandria, Sydney
Style: Cerveza
ABV: 4.5%
Beer Description:
'Astrid' Arriba Cerveza is a spiced Mexican Lager brewed with maize (corn), Ancho chillies, coriander seeds, and a decent whack of Pineapple juice, all added at various stages throughout the brewing process. Layered on top of this is the use of Lemondrop and Crystal hops that round the beer out with a citrus hit. The result is a complex yet super drinkable lager which pairs fantastically with Mexican food, but is perfect for a session.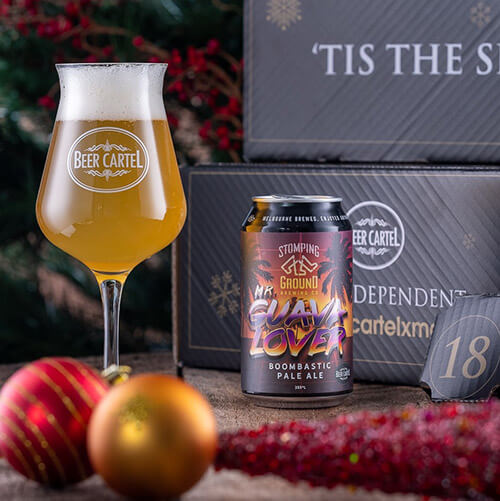 December 18:
Beer Name: Stomping Ground Mr Guava Lover Pale Ale
Brewery: Stomping Ground
Location: Collingwood, Melbourne
Style: Guava Pale Ale
ABV: 4.5%
Beer Description:
This Pale Ale is a boombastic good time, full of tropical hops and juicy Guava - a perfect addition to your summer BBQ!
December 19:
Beer Name: Dainton Easy Peasy Lemonade Gose
Brewery: Dainton
Location: Carrum Down, Melbourne
Style: Lemonade Gose
ABV: 5%
Beer Description:
Slightly sour with a beautiful citrus zing. This tangy lemony liquor is refreshing and as succulent as sucking on a lemon.
December 20: Akasha Little Korban IPA
Beer Name: Akasha Little Korban IPA
Brewery: Akasha
Location: Five Dock, Sydney
Style: IPA
ABV: 6%
Beer Description:
This beer is a single version of our popular double IPA the Korben D Double IPA brewed exclusively for Beer Cartel. This beer uses a tonne of Mosaic, Centennial and Simcoe hops. Nice big fruity and punchy aromas that reminiscent of a tropical punch. This beer has a great balanced backbone with the malt and hops. Enjoy!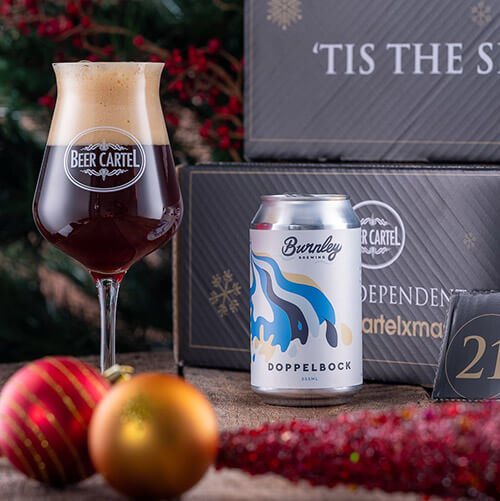 December 21:
Beer Name: Burnley Doppelbock
Brewery: Burnley
Location: Richmond, Melbourne
Style: Doppelbock
ABV: 7.1%
Beer Description:
A smooth amber brown brew with alcohol warmth. Like a big, boozy hug
December 22:
Beer Name: Quiet Deeds Double Time - Galaxy
Brewery: Quiet Deeds
Location: Glen Iris, Melbourne
Style: DDH Pale Ale
ABV: 4.6%
Beer Description:
This double dry hopped pale invokes a moderate bitterness backed by the creamy body of oats and wheat, pouring with a slight haze. Single hopped with a heavy dose of Gaalxy at 8g per litre, providing a full on aroma and notes of passionfruit and citrus. Brewed and canned exclusively for Beer Cartels 2019 Advent Calendar.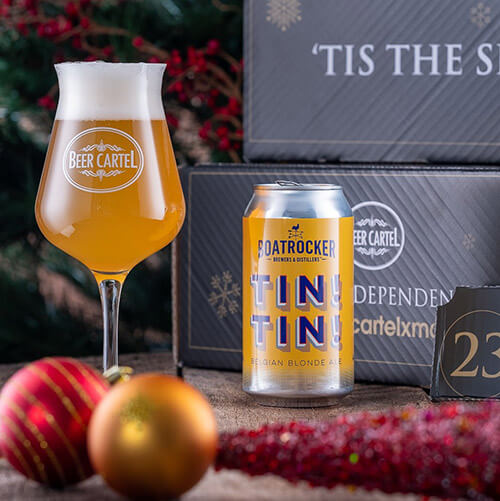 December 23:
Beer Name: Boatrocker Tin! Tin! Belgium Blonde
Brewery: Boatrocker
Location: Braeside, VIC
Style: Belgium Blonde Ale
ABV: 4%
Beer Description:
A zesty Belgian Blonde Ale that has a spicy ester profile from the Belgian Yeasts and European Noble Hops. We've given it a modern twist by dry hopping the beer with Citra hops to give it a citrusy finish.
December 24:
Beer Name: Little Alchemist The Stone Double IPA
Brewery: Little Alchemist
Location: Sydney
Style: DIPA
ABV: 8%
Beer Description:
This is our big bad Double IPA. The Stone has been brought back to life for our 3rd Birthday in November. This is the Grandmaster to the Wildfire XPA as well as our IPA and we haven't only upped the anti we have used our entire hop allocation on this beast.
Named after the Philosophers Stone which was the Magnum Opus for the Alchemist's of time gone past. This is what we have been working towards releasing since we first started in 2016.
We have thrown almost our entire allocation of hops at this beer to make it the hoppiest beer we've created to date. Using our knowledge from previous brews we have balanced this beer by relying on the Oats, Wheat and Yeast to make this beer a finely balanced beauty to behold. With a big Double Dry Hop of Cascade Citra and Vic Secret this beer is going to be one to remember.
---