Thanks to all those that purchased tickets into this year's Movember raffle.
In total $5,290 was raised with 100% of the sales going to charity; 50% to Movember and 50% going to Rural & Remote Mental Health.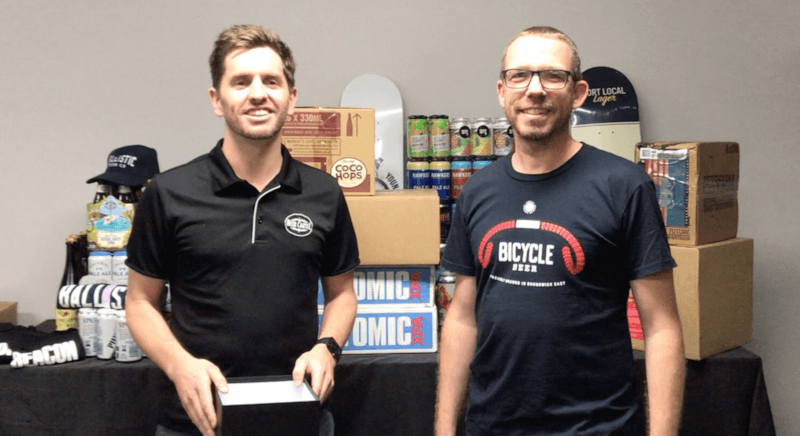 You can see the winners drawn here.
Winners below by order number:
7th 92064 - Darren Mcintosh
6th 92074 - Tony Moorhead
5th 92216 - Simone Crossman
4th 92122 - Brendan Gardner
3rd 92410 - Jack Foley
2nd 92083 - Mark Piekarz
1st 92525 - Cameron Kennedy
You've all won a share in the spoils of over $2,000 worth of craft beer!
A huge thanks to all our amazing suppliers who contributed to the raffle.
Prizes included:
1 x Magnum Duvel
1 x Magnum Jester King Super Ultra Mega Hyperforce
1 x Nail Clout Stout (2017)
1 x Case of Forest For The Trees Saison
1 x Case Barrel Aged 375ml Forest For The Trees Saison
1 x Case Philter XPA
1 x Case Colonial IPA
1 x Case Colonial Pale Ale
1 x Case Pirate Life Acai and Passionfruit
1 x Case Pirate Life Tropical Double IPA
1 x Mixed Case of Kona
1 x 4 Pack Kaiju Main Squeeze
1 x Mix 4 Pack of Hop Nation Site Beers
2 x Balter DAZY
2 x Balter HAZY DC
2 x 4 Pack Hawkers Pale Ale
2 x 4 Pack Hawkers Pilsner
1 x Mixed Case of Hope Beers
1 x Garage Project The Art of Beer Book
2 x Cases Gage Roads Atomic Beer Project XPA (not shown)
1 x Case of Stone & Wood Counter Culture Lovely Bubbly (not shown)
1 x Case of Murrays Fred IPA (not shown)
1 x Case of Murrays Cooc Hops Porter (not shown)
1 x Case Mountain Goat Horns Up (not shown)
2 x Akasha Mixed 4 Packs (not shown)
1 x Case Modus Pale (not shown)
1 x Case Green Beacon Golden Hour (not shown)
1 x Case Beerfarm Barley Wine (not shown)
1 x Case Your Mates Pale Ale (not shown)
1 x Case Mokke Blonde
1 x 750ml Deus
Pirate Life skateboard deck
Young Henry's skateboard deck
2 x Coastal Brewing Goblets
6 x Duvel Glasses
+ T Shirts, Hats, Belt, Bottle Openers, Mixed Glassware
---