Welcome to this month's tasting notes and our latest podcast. For tasting notes scroll down, or to listen to the podcast simply click the play button below.
You can view our different beer subscription packs here or update your subscription details here.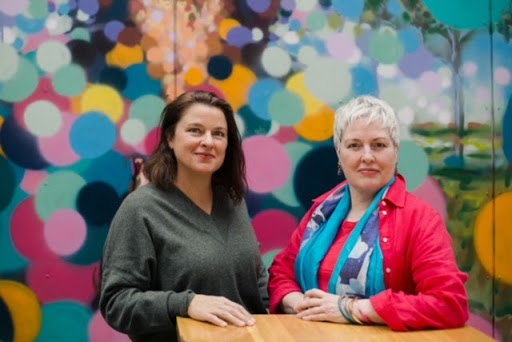 For our 30th episode and to celebrate International Woman's Day, Holly Slater from Beer Cartel chats with Rose Kentish and Kari Allen, co-founders of Sparkke, the all-female run and led craft brewery.
For all the latest craft beer, head to the Beer Cartel Website: http://bit.ly/beercartelbeers
Subscribe to 'The Inside Word' on iTunes, Stitcher and Spotify
---
Tasting Notes
Full list of beers included in this month's beer subscription are below. Note different beers are included in different packs. This selection can also be seen at Untappd here.
Freshie Margarita Sour - Gose
4.5% ABV
10 IBU
Brewery: Nomad Brewing Co.
Location: Brookvale, New South Wales
Beer Description: A cocktail inspired gose with Murray River pink salt, seawater, agave and lime.
Project X: Cosmic Pyrokinesis IPA - New England
6.7% ABV
25 IBU
Brewery: Mother Earth Brewing Company
Location: Vista, CA
Beer Description: Part of our Project X Series: Oats and German Pale Wheat add a light cracker-like flavour to an otherwise hop-centric HIPA. The hop profile remains fruity with light citrus and tropical notes reminiscent of mixed berries, pineapple, and orange zest. Hops: Mosaic, Amarillo, El Dorado, Belma.
Red Tape Lager - Amber
5% ABV
25 IBU
Brewery: Jack's Abby Craft Lagers
Location: Framingham, MA
Beer Description: Navigating the labyrinth of brewery licensing and state regulations isn't easy. When we finally got the green light to open our brewery, we were also inspired with the perfect name for our pilot beer. Red Tape Lager has a full malty flavor typical of Bavarian dark lagers. It's brewed with 100% Dark Munich Malt. Additions of Glacier hops for bittering and noble German hops for aroma strike a balance between American and European flavours.
Warrior Woman 2021 Pale Ale - New England
4.9% ABV
29 IBU
Brewery: Two Birds Brewing
Location: Spotswood, Victoria
Beer Description: This IWD, we're raising a Warrior Woman to all the women out there that give us the lift we need to take flight every day. Their hardy skins, sweet souls, and endless ability to inspire was the driving force behind this beer, a Juicy Pale Ale bursting with bright citrus and tropical fruit hops, elevated by a splash or two of pineapple juice. Smooth from the first sip and pouring a light hazy golden, this full-flavoured beer is at its heart, an easy-going quencher for everyone to embrace. Supporting SisterWorks and Girls Rock! Melbourne this International Womxn's Day.
Galaxy Valley IPA - Imperial / Double
8% ABV
Brewery: Garage Project
Location: Wellington City, Wellington
Beer Description: We're off to Australia's Derwent River and Buffalo River Valleys for our third hop harvest collaboration with East Coast brewing legends Trillium. A hop free boil and massive dry hop addition of Galaxy and Vic Secret create a giant juicy hazy homage to the exciting new wave of Australian aroma hops.
Fiery Gates of Helles Lager - Helles
5% ABV
Brewery: Deeds Brewing
Location: Glen Iris, Victoria
Beer Description: In our continuing quest to improve our traditional style lagers, we bring you, dear drinker, to the Fiery Gates of Helles. A classic style brewed with Pale, Vienna, and Chit malt with a traditional Mittefruh hopping on the hot side. Perfect for a summer afternoon, and light enough to keep you going into a cool evening.
Supertrooper IPA - Imperial / Double New England
10% ABV
30 IBU
Brewery: Dainton Beer
Location: Carrum Downs, Victoria
Beer Description: Our old mate is back! Bigger, badder and better in a HUGE 440ml can! Blasting your tastebuds with bold, juicy hops and gliding you home with a silky smooth mouthfeel.
Hawaiian Haze IPA IPA - American
6% ABV
Brewery: Ballistic Beer
Location: Salisbury, QLD
BruChocs Stout - Other
6% ABV
Brewery: Big Shed Brewing Concern
Location: Royal Park, South Australia
Beer Description: A hearty chocolate stout infused with 'Fru', the delicious apricot and peach heart of a Fruchoc.
Shelly's Milk Chocolate Orange Stout Stout - Milk / Sweet
5% ABV
Brewery: The Coastal Brewing Company
Location: Forster, NSW
Beer Description: Launched in time for Easter, this milk chocolate orange stout has oodles of orange zest, chocolate and vanilla to appeal to those chocolate and orange combo lovers! As well as being a nod to "Terry's", this is named after Shelly beach near Forster, which is described as "an unofficial clothing optional beach". Contains lactose.
Ants In Ya Pants Pale Ale - Australian
4.8% ABV
Brewery: Pirate Life Brewing
Location: Adelaide, South Australia
Beer Description: We teamed up with the crew at Knobby and brewed 'Ants In Ya Pants', an Aussie Pale Ale with a twist. Points for guessing the secret ingredient... Ok, ok, it's ants. Green Ants to be precise. Ethically sourced by our mates at Something Wild, they pack a mean citrusy punch, so half a kilo in the whirlpool does the job. Complementing their unique taste are hop varieties Riwaka and Strata, while a blend of pale malts provides the base. The beer pours sunny yellow, with a persistent haze. Expect aromas of pineapple, nectarine and lime. On the palate, citrus pairs with herbaceous notes and a gentle hint of malt.
Red's Dead - Nitro Red Ale - American Amber / Red
7% ABV
50 IBU
Brewery: Green Beacon
Location: Teneriffe, QLD
Beer Description: Red's Dead is our Autumn Seasonal. Aromas of honeycomb and figs. Flavours of fresh fruity espresso are followed and melon sweetness with an aftertaste of jersey caramels.
Barley Griffin Pale Ale - Australian
4.2% ABV
22 IBU
Brewery: BentSpoke Brewing Co
Location: Braddon, Australian Capital Territory
Beer Description: An easy drinking Canberra pale ale with a subtle hop aroma. Cloudy but fine. Hops: Ekuanot,
Cali Cream Cream Ale
4.5% ABV
20 IBU
Brewery: Seven Mile Brewing Co.
Location: Ballina, New South Wales
Beer Description: The Cali Cream is a light and refreshing beer. Expect a light doughy yeast character and a soft floral aroma.
XPA Pale Ale - Australian
4.2% ABV
25 IBU
Brewery: Atomic Beer Project
Location: 158 Regent Street, New South Wales
Beer Description: Fresh upfront hop aromas. Ripe & zesty summer fruit flavours. Light bitterness balanced with subtle malt.
Change the Date Pilsner - Czech
3.5% ABV
Brewery: Sparkke Change Beverage Co.
Location: Adelaide, SA
Beer Description: January 26th is a date that for many Australians, evokes images of joyful gatherings with beachside barbeques, beer, music and red, blue and white paraphernalia. But for Aboriginal & Torres Strait Islander people and many non-Aboriginal Australians, it is a date that marks the beginning of two centuries of dispossession, theft, colonization and violence. Changing the date of Australia day is about how a nation that professes values of fairness and inclusiveness truly delivers on those values. It's about truth and human decency. A Czech-inspired Pilsner with a modern flair. This Pilsner is dry-hopped – unusual for a Pils - but we believe it strengthens the fruity bouquet. Filtered bright, it's been given generous lagering time to develop its sophisticated flavour. Hops from England, Czech Republic, Germany and New Zealand. Predominantly Australian-grown malt, with a dash of German malt. Cause Partner: Sparkke is waiting for a formal submission from ChangeTheDate.com regarding formalisation of a cause partnership.
Small Ale Pale Ale - Australian
3.5% ABV
22 IBU
Brewery: Colonial Brewing Co
Location: Margaret River, Western Australia
Beer Description: Drink Small. Stand Tall. Meet Colonial Small Ale, brewed to be lower in alcohol, not impact, or flavour. Our Small Ale is brewed using the same techniques – with the same malt and hop profiles – as an IPA, but it's cleverly crafted to reduce the alcohol content to 3.5 per cent, without sacrificing substance. Brewed to deliver gentle, lasting bitterness, and layered a swift kick of citrus-and-pine goodness, you can drink small and stand tall with our full-bodied, flavour-packed Small Ale.
'Amanda' Mandarin IPA IPA - American
6.7% ABV
51 IBU
Brewery: Yulli's Brews
Location: Alexandria, New South Wales
Beer Description: This American style IPA is layered with a range of mandarin flavour from a carefully selected hop bill and a healthy serving of cold pressed mandarins blended with orange peel liqueur. The result is a super drinkable, fruit drivien IPA with an assertive mandarin peel bitterness and a dry mouthfeel. The perfect Winter IPA making use of our favourite seasonal citrus fruit.
---