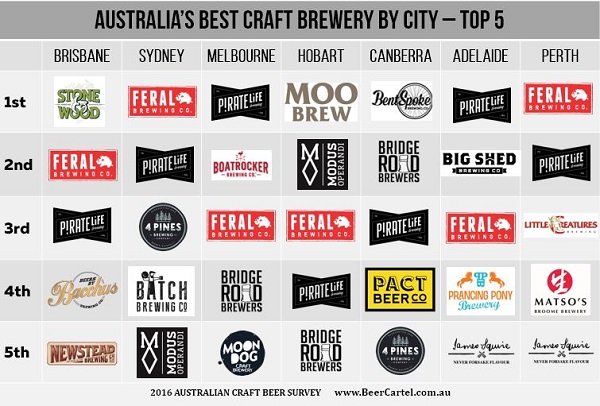 Building on Australia's Top 10 Best Craft Breweries, we thought we would look at how the Top 5 varied depending on which city respondents were from.
Similar to the results by state there was strong loyalty shown to those breweries local to each city. Bacchus and Newstead Brewing were the real movers on this list. Neither made the Top 5 by state, but among Brisbanites both were voted among the best.
Similarly Modus Operandi which did not feature in the Top 5 New South Wales breweries, made it into Sydney's Top 5 list.
Aside from this all other breweries also featured in the Top 5 Best Australian Craft Breweries by State, with a little jostling of overall positions.
To see the full results of the 2016 Australian Craft Beer Survey click here.
To see Australia's Top 10 Best Craft Breweries by State click here.
---