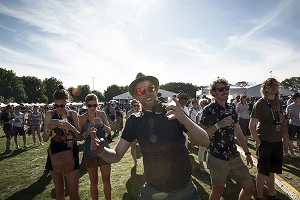 If you are in Victoria and looking for something to do early next year then check out the Ballarat Beer Festival - sounds interesting!
Media Release:
Craft beer enthusiasts can rejoice with the historic town of Ballarat again transforming into 'Beerllarat' for a weekend in January, with the much-anticipated return of the annual Ballarat Beer Festival.
Held at the City Oval on Saturday January 21, the Ballarat Beer Festival is bigger and better than ever, with over 150 different styles of beers and ciders to tantalise your taste buds from independently Australian owned craft brewers, accompanied with a day of live summer music.
Showcasing over 40 brewers, including the likes of Coopers, Pirate Life, Brooklyn Brewery, Hawkers and Two Birds, festival attendees will be treated to 20 new release beers never before tasted and summer delights, never before seen in Ballarat.
Ballarat Beer Festival Director Ric Dexter said the original craft beer festival just keeps getting better each year. "Before being festival director, I went to the festival a few times and it was one of the best, most enjoyable festivals I've ever been to. "It's relaxed, it's calm, the crowd is beautifully well behaved and it's a fantastic event for everyone, not just those who have a passion for really great beer," he said.
For the first time in the festivals history, a human size foosball game will make its way onto the festival grounds as part of the 'Beerllarat Olympics', alongside an assortment of family-friendly games and drinking-friendly activities for a fun summer day out.
A new setup for 2017 includes the Ballarat Beer Garden, comprising of Ballarat-based brewers Red Ruck, O'Brien and The Athletic Club in their own fenced off area for festival attendees and enjoy some locally-brewed goodness.
The Athletic Club will also launch a brand new beer known as "Ballarat Betty Bitter" – inspired by the legendary Ballarat Bertie, dating back to 1926. Throughout the day, attendees will be treated to beer education classes run by Professor Pilsner and the Beer Diva, including how to pair cheese and beer and blindfolding beer tasting sessions to name a few.
For non-beer drinkers, a selection of ciders and wine will be on offer, as well as a cavalcade of food trunks offering a variety of cuisine to match the large selection of brews available, while a 'Brew Cage' will be on offer for those who want to enjoy a VIP experience.
A Friday night degustation dinner will act as a prelude to the festival and will be held in stripped down warehouse Housie Housie on January 20. With tickets priced at $95, guests can enjoy a five-course meal paired with two matched beers per course, chosen by Professor Pilsner and the Beer Diva.
Regional wines will also be available for non-beer drinkers. Tickets for the Ballarat Beer Festival start from $45 and are now available to purchase, as well as tickets to Friday night's degustation dinner, from www.ballaratbeerfestival.com.au.
---