It's the quintessential barbie bevvy although, beer can be much more than something to wash down your snags. Beer is as versatile as it is diverse, providing both complementary and contrasting experiences when paired with food. There's no hard and fast rule to pair beers with food. The following menu will help you to explore these and enhance your enjoyment of beer & bbq pairing.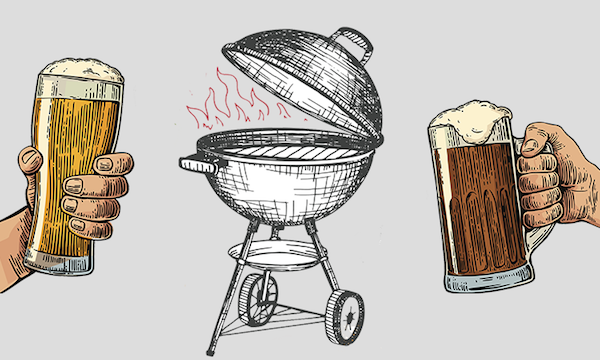 Image: chadsbbq
Burgers
When it comes to burgers the experts are divided. A burger and beer is almost always a match made in heaven, however, some beers get on better with burgers than others.
Some opt for subtle tasting beers such as lagers while others prefer the more assertive brews like IPAs and porter. Most beer experts suggests that a burger needs to be paired with a beer that can complement the richness and complexity of its flavour.
A burger has four of the five basic tastes: salty (meat, cheese), sour (mustard, pickles), umami (meat), and sweet (ketchup). Bitterness is the taste that's missing, and the pronounced bitterness of IPA and porters offer that missing piece.
Porters and IPAs are complex and roasty enough to stand up the rich sauces and carbonised edges of the burger but dry enough to cut through the grease.
We suggest: Pirate Life IPA, Balter IPA, Mornington Peninsula Porter, Feral Smoked Porter, Anchor Porter.
Beef
A steak is essentially beef in its purest form and no backyard BBQ party would be complete without a few nice cuts of beef, seasoned with much more than salt and pepper.
Look for beers that can offset the fat and umami flavours nicely but still add to the rich decadence of the meat without getting overshadowed.
Beer cicerones suggest dark ales for leaner cuts of beef and sweeter Belgian ales for rich juicy steaks. Porters and stouts can be good pairings too, because honestly, when aren't they great with food?
We suggest: New England Brown Ale, Red Hill Scotch Ale, Rodenbach Red/Brown Ale, Colonial Porter, Garage Project Baltic Porter, Frenchies Nine Fingers 'Smoke On The Porter'.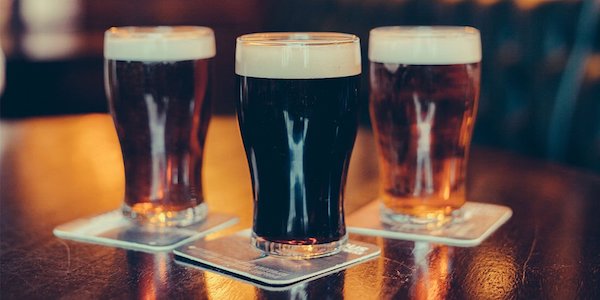 Image: thisweekendedition
Chicken
Chicken has a mild flavour and is fairly lean compared to other meats, which means you don't want to overpower it with more assertive beers. The optimum beer pairing depends on the amount and type of sauce or spices put into it.
If it's roasted chicken loaded with citrus, herbs, and spices, your best bet is to stick with lighter flavours. Roasted chicken can be a bit greasy, so some carbonation and hops will help to keep your palate clean. Blonde ale is an easy-drinking beer with no dominant malt or hop characteristics. Amber ales are characterised by their medium mouthfeel and colour that ranges from amber to deep reddish-gold. Amber ales tend to focus on the malts but hop character can range from low to high. These two types of beers are excellent palate cleansers due to their dry, crisp finish. They also provide relief from the heat of the spices.
If you are keeping it simple by adding only a bit of barbecue sauce and flavourings, brown lagers and biere de gardes work deliciously. These beer types find common ground with the crispy caramelised chicken skin and sweetness of the sauce. Other light beers such as German lager or Belgian Saison pair with chicken quite nicely.
We Suggest: Bellerose Blonde, Ocho Flemish Sun Belgian Blonde, Melvin Killer Bees American Blonde Ale, Saison Dupont.
Seafood
Seafood is classically paired with white wine, but what if you just want to drink an iced cold beer? The delicate taste of seafood needs a delicate beer to accompany it. Grilled seafood are perfectly paired with lower IBUs such as pilsners and lagers. Something around 30 IBU is good.
They also go with sour beers such us berliner weisse and sour gose. Think of them as freshly squeezed lemon spritz finishing your fish to add that citrusy flavour. A pilsners' bitterness also balances the oily and sweet seafood on your plate.
We suggest: Balter Pilsner, Mornington Peninsular Lager, Yullis Dolly Aldrin Melon Berliner Weisse, Nomad Freshie Salt & Pepper Gose.
When grilling salmon, a pale ale or brown ale would pair best. The malt of the pale ale cuts through the high fat content of salmon and can stand up to the texture. The sweetness of a brown ale also contrasts the char of the grill when barbecuing salmon.
We Suggest: New England Brown Ale, Garage Project Hapi Daze, Bentspoke Barley Griffen Pale Ale.
Grilled Veggies
Whether you're a vegetarian, vegan, or not, you're going to want to eat veggies at a barbecue.
These could be simple grilled vegetables (such as corn, red peppers, zucchinis) or any delicious side dishes (such as tomatoes and coleslaw). Veggies have less aggressive flavours than meat but they get intensified when grilled. Barbecuing veggies brings out the sugars and makes the earthy tastes pop, so hefty beers are perfect complementaries.
A brown porter, for instance, is a style which is less roasty and sweeter than a stronger porter or stout. Its caramel flavour offsets the charred taste and complements the concentrated sweetness of the veggies. Other recommended styles are German and Czech pilsners.
However, avoid drastically overpowering beers such as stouts and IPAs. Too much bitterness brings out the hidden bitterness in the vegetables, making for an unpleasant aftertaste.
We recommend: Akasha Water Buffalo Brown Ale, Mornington Peninsula Larger.
Grilled Lamb
Lamb, traditionally, comes from a sheep that is younger than a year old (however this is not always the case). Its texture is tender compared to other types of meat, but firmer than chicken.
Most people describe lamb as having a gamey taste due to its fatty, distinct, and long-lasting flavour. Food with intense flavours overwhelm light beers. To match lambs rich flavour, it is best to pair it with a more complex and heavier brew such as strong ale, malty stout, or porter.
If you are a hophead, black IPA will work as well. The healthy dose of hops and bitterness of roasted malt will assert the beer's presence and interact nicely with the umami flavour of the meat. For a saucy rack of lamb, stouts are the best accompaniment as they bring out the earthiness of the lamb ribs.
We recommend: Feral Karma Citra, Modus Southern Hemispheric Black IPA, Pirate Life Stout.
Grilled Pork
Image: welovecraftbeer
There are many suggested beers varieties for pork but the most common ones are rich, sturdy stouts, and nice malty, sweet hefeweizens.
The types of spices and sauces in the dish should also be considered.
Hefeweizens work best with less saucy or dry-rubbed pork ribs. They are sweet yet subtle beers that will not overpower the delicate pork flavour.
A stout, on the other hand, is a dark beer with dry and sweet flavours which can stand up to the boldness and the smokey molasses of ribs.
Other versatile beers like rauchbiers and Belgian strong pale ale may also be paired. Grilled pork when served with these beer varieties blends with the herbal flavours of the beer.
We suggest: Weihenstephan Hefe Weissbier, Mornington Peninsula Imperial Stout (2016), Aecht Schlenkerla Rauchbier Weizen.
Kangaroo
Kangaroo is a lean and super tasty meat, as long as it is cooked rare or medium rare. Like beef steaks and lamb meat, you're going to want a bold, sturdy beer to stand up to it. Something along the lines of a Stout or Porter will pair perfectly.
We recommend: Riverside Milk Moustache, Wolf of the Willows 'Johnny Smoke Porter'.
Remember that balance is key. Look for beers that can either harmonise with the food or cleanse your palate to prepare for another bite. Consider the inherent texture, flavour, method of preparation, and sauces. Decide if you want to contrast or complement these characteristics. The only thing that can make a perfect dish better is the perfect beer to match.
Feel free to experiment with your favourite beers and foods, or even tweak your own recipes to further bring a beer and dish together.
---