Our Beer Advent Calendars have been extremely popular over the years, so much so that we have sold over 20,000 since 2015!
We get lots of questions about our Beer Advent Calendars and so thought we'd write up the most frequently asked ones.
These frequently asked questions have been split into different sections to assist you in finding the answer you are after more quickly. These sections are:
Buying a Beer Advent Calendar as a Gift
BEER ADVENT CALENDAR
What is a Beer Advent Calendar?
Advent Calendars are a great way to count down the days to Christmas Day, starting on the 1st December.
Traditionally, they are a piece of card incorporating small numbered flaps, one of which is opened each day to reveal a Christmas themed picture.
We've taken this idea and made it that much more fun by filling a box with beer to reveal a new beer each day!
Are all your Beer Advent Calendars the same?
The selection of beers in each Advent Calendar is the same across all boxes, this assists in creating the best value Beer Advent Calendar on the planet!
WHAT'S IN THE BOX
Are there tasting notes for each beer?
Tasting notes will be provided via our social media pages (Facebook, Twitter and Instagram) and by email at 5pm each day. They are also available via QR code on the Advent Calendar box (look under the number tab for each beer).
How many beers are there?
There are 25 beers in total, one for each day leading to Christmas including one to have on Christmas Day!
What types of beers are included?
The beers in our packs are selected to provide variety, this is not your "pale ale and lager" pack.
You will have a unique and different beer to enjoy each day.
The 25 beers are from 25 different Australian independent breweries.
In terms of styles, well we've included a massive range of different beer styles to try from Hazy IPA, Pale Ale, Pastry Stout, Sour, Double IPA and more!
The advent calendar only features beers in cans, there are no bottles.
The cans are mostly 375ml but there are a few 330ml and 355ml cans.
Is the selection of beers different to previous years?
Yes! As they say variety is the spice of life, and beer is no different! Each year we feature a brand new selection of beers ensuring there are no repeats. This means you (or the lucky recipient) get a new beery experience each year.
For 2021 all 25 beers are all exclusive beers. We've partnered with 25 of Australasia's best breweries to bring you the best beer tasting experience possible.
Beer Cartel's Beer Advent Calendar box is packed with beers that are:
✔️ 100% Exclusive / New / Limited Release Beers
✔️ 100% Australasian: supporting local Australian and New Zeland breweries
Spolier Alert: See the list of styles and breweries here.
Do the beers include any allergens?
If you suffer from an intolerance like lactose, gluten, nuts etc we do not recommend this product.
Apart from awesome beers, what else comes in the box?
We include a gift card (if you have opted for one with a message at checkout) and a flyer to get you in Christmas count down mode.
How do I know this is awesome value?
If you were to buy each beer individually it would cost you over $200, meaning the price you actually pay is heavily reduced (over 20% discount!). This leaves you with money over for some other awesome Christmas treats… like beer glasses ;-)
ORDERING
Can I buy the Beer Advent Calendar online?
Of course, but hurry as stock is limited and may sell out! Head here.
Why should I pre-order my Beer Advent Calendar?
The pre-order secures youself a Beer Advent Calendar which we begin dispatching early November. The pre-order period is open from September to the end of October. In 2020 all Advent Calendars were sold out prior to the end of the pre order period.
If I order more than one Beer Advent Calendar, can I get them delivered to multiple different addresses?
If you would like us to deliver multiple Beer Advent Calendars to different addresses, please place multiple orders, one order for each delivery address.
You can of course purchase multiple Advent Calendars sent to the one address within the one order.
Will the Beer Advent Calendar be available for purchase in your Sydney store?
If not sold out prior and depending on if our store is open we may have some for sale in our Sydey store from the start of November.
DELIVERY
When will the packs be delivered?
If you have placed a pre-order (during September and October) these will be dispatched early November.
If you have ordered after the pre-order period, then your order will be dispatched as soon as it has been received, on average dispatched within 1-2 business days.
Will I get my Beer Advent box before the 1st of December?
To ensure you are able to receive your order before the 1st of December we recommend ordering as early as possible. This is part of the reason we offer a pre-order period.
We will continue to dispatch orders for as as long as stocks remain, even if ordered after the 1st of December. We're sure you'll manage to catch up on the first few days ;-)
Once dispatched how long does delivery take?
We use Australia Post as our main delivery partner for Beer Advent Calendars. The average delivery times for parcels from time of dispatch (orders are dispatched within 1 business day of the order being placed, except for pre-orders) are below. Please note due to COVID-19 these delivery times may be longer.
Sydney / ACT : 1 - 2 days
NSW other than Sydney: 2 - 3 days
Melbourne: 2 - 3 days
VIC other than Melbourne: 2 - 3 days
South East QLD: 2 - 3 days
QLD other than South East: 2 - 4 days
Adelaide: 2 - 3 days
SA other than Adelaide: 3 - 4 days
Perth: 4 - 6 days
WA other than Perth: 5 - 7 days
NT: 5 - 7 days
Tasmania: 5 - 7 days
What are my delivery options?
Once you place the order online you will have the option to have the order delivered or select "In Store Pick Up (Sydney)". We'll then have your order ready for pick up from our Artarmon store (please allow 48 hours prior to pick up, except for pre-ordered advents which will be ready from approximately the 8th of November).
How much is delivery?
For NSW/ACT destinations $9.99 and for all other destinations $14.99 per Beer Advent Calendar.
Do you have an Express Delivery option?
Unfortunately we do not have an express delivery option.
THE ADVENT BOX DESIGN
What's so special about the Beer Advent box?
In 2019 we update completely redesigned the Beer Advent Calendar box to allow for all cans. In 2021 the box has had a touch up to give it a more premium look.
The advent calendar comes in an unbranded outer box which not only protects the box during transport but also ensures the gift is kept hidden if it was to be accidentally seen by the lucky recipient.
How are the beers hidden from prying eyes?
We've cleverly designed the box so that the beers can't be revealed until the little flap is torn off and the beer is pulled out each day.
The advent calendar box also is also placed in an unbranded outer cardboard box which hides it from others.
How big is the box?
The box is square in shape and its dimensions are 37cm wide/long and 14cm high.
How heavy is the box
The Beer Advent Calendar box is 11kg in weight.
Will the box fit in my fridge?

We have designed the new Beer Advent Calendar box so that it fits in most fridges. Simply remove the advent box from the outer shipper and place it in the fridge.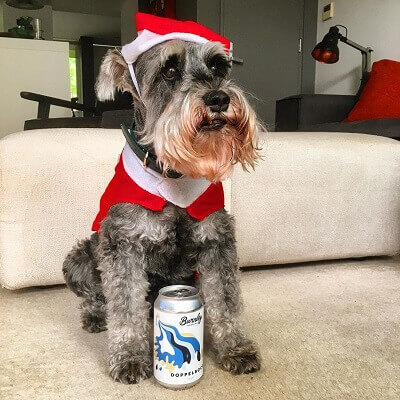 Photo: @brewboyjosh
BUYING A BEER ADVENT CALENDAR AS A GIFT
Who is this an awesome gift for?
These packs are a great gift idea for anyone who enjoys different beers.
If they are a staunch VB or Tooheys drinker that can't fathom the thought of drinking anything else then this isn't for them.
If on the other hand they are someone that enjoys trying new things and a little beery surprise each day for 25 days then this is the perfect gift for them.
Can I include a gift card message?
Of course! Simply add a message in the comment box during the online ordering process and we'll include a gift card with your personalised message, free of charge.
Is gift wrapping available?
While no specific gift wrapping is available the box has a very stylish design which is perfect for gifting.
Got another question?
Shoot us an email at [email protected] or order your Beer Advent Calendar here.
---