We've written previously about our Beer Advent Calendar and the awesomely designed advent box it comes in but this article is a complete review on how it compares to other options sold around the world and in Australia.
First off though we thought we'd share what others have said about Beer Cartel's Beer Advent Calendar.

On our product page you can see over 60 reviews with an average of 4.8 out of 5 stars!

And if that wasn't enough to convince you that this is the best advent calendar here are two other ratings from previous customers.

Since 2016 we've sent a follow up survey to customers asking for their feedback and rating of our Beer Advent Calendar. This is sent in January once everyone has sampled all the beers.

In 2016 they rated our Beer Advent Calendar 8.5 out of 10.

And in 2017 we backed this up with another 8.5 out of 10.

We're proud of this rating especially considering how subjective beer can be and knowing the beers featured will not always be to everyone's favourite taste. Not bad for a beer selection that was sampled by over 4,000 people!

As far as we can tell this makes it the highest and best rated beer advent calendar in the world.

Comparison: Beer Cartel vs Others Advent Calendars
Now for the nitty gritty head to head comparison of what our Beer Advent Calendar features verse others in the market.

Ours
25 beers including one for Christmas Day

Theirs
Varies between 24 and 25 beers.

Ours
100% independent Australian beers from small breweries. You'll be supporting Australian businesses.

Theirs
Many have mainstream everyday beers or "big" beer included. Big beers are those brewed by big multinational corporations, like Corona or Carlton United Breweries.

Ours
The biggest selection of beer styles, with 23 different beers styles included. It's bursting at the seams with variety.

Theirs
Many focus on the same styles of beers being included. Most commonly lagers and pale ales.

Ours
Beers secretly hidden behind little sealed cardboard doors ready for each daily reveal.

Theirs
Sometimes not hidden or hidden behind flimsy unsecured piece of thin cardboard

Ours
25 different unique beers from 25 different breweries. No repeats from previous years.

Theirs
Some source beers from same breweries, meaning variety is limited. Some repeat their beers from previous years.

Ours
Festive Christmas themed box to get the lucky recipient in the count down spirit.

Theirs
Some themed but many in a plain brown cardboard box.

Ours
Over $160 worth of beer!

Theirs
Value varies, often between $60 and $120 worth of beer.

So if you're after the best Beer Advent Calendar click here or the image below.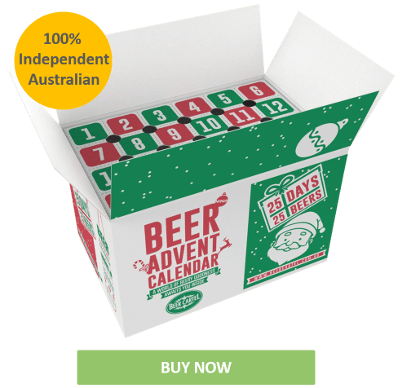 ---