Brewer: Hop Nation
Location: Melbourne, VIC
Style: German Hoppy Lager
ABV: 4.8%
Beer Description:
When the legends at Beer Cartel got in touch for this year's advent calendar and requested something similar to our traditional German Pilsner Rattenhund, we thought why not make a version with all NZ ingredients, as well as a late dry hop addition to add a modern twist.
Firstly, we sourced all base and specialty malts from New Zealand Maltster - Gladfield. To keep the ingredients all aligned as possible we opted for Gladfield's own versions of the German specialty malts used in Rattenhund & in terms of actually processing the malt, we maintained the same decoction mash schedule, ensuring enough structure in the body of the beer to carry the more citrus and fruit forward characteristics of New Zealand grown varietals of the German grown ancestors used in Rattenhund.
As with Rattenhund, St Nick's received extended lagering to naturally reduce any harsh compounds and brought the citrus and stone fruit characters derived from the kiwi hops to the fore. Don't be misled by the name, this is no typical nightcap... but if anyone knows how to choose the perfect late night beverage its ol' St Nick, take his word for it & enjoy!
---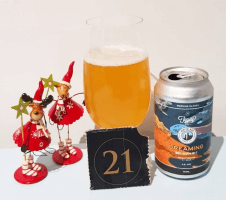 SHARE YOUR PICS & WIN!
We're giving away $200 to spend on craft beer. Simply post your images to social media or our Facebook Group (we do an Advent Calendar post at 5PM each day), use the hashtag #beercartelxmas and you're in the running to win!
Photo by @poiter66
---
---