The role of the humble beer label is an interesting one. Most of us don't think twice about the time and effort brewers invest in designing one. Yes, there are the mandatory labelling requirements like alcohol content, beer volume, brewery details etc., but what about imagery, wording, naming, font, colour, label size, barcode placement and the list goes on!
So you can imagine when a brewer does change a label they'd prefer it to be of their own accord and not dictated by bureaucrats. After all, an established beer label and brand will have grown affinity with beer drinkers, and this in turn assists in having their beer easily recognised on store shelves. It partly goes a ways in explaining why craft beer pioneers like Sierra Nevada have barely changed their labels in 20 years. But what happens when bureaucrats force a brewery to change their label design?
Well this recently happened to Founders Brewing Co. for their Breakfast Stout. In mid 2015 Founders were forced to change their iconic label, which featured an illustrated image of a child eating a bowl of breakfast cereal. Ironically the 'ban' on the original label has only been put into effect in their home state of Michigan, USA – due to legislation regarding the use of minors on the labels of alcoholic beverages.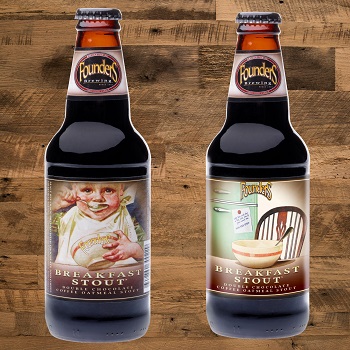 Appearing on the new label is the iconic breakfast bowl donning the Founders namesake. Where the Founders baby once was, there's a note that says "left the crib for a bit, call me if you need me 616-522-2720".
If you call the number, you will be met by a recorded message, left presumably by the Founders baby.
"Hey! Thanks for checking up on me. I'm currently not allowed in my home-state of Michigan... Leave me a message letting me know how much you love double-chocolate coffee oatmeal stouts, where you're drinking your beer, OR, how badly you want me to come home. My Founders family may even use your voicemail for something fun! Maybe I'll see you again next year…then again…maybe not."
Make of it what you will, whatever the label is on the outside, the beer is an absolute cracker in our opinion!
---