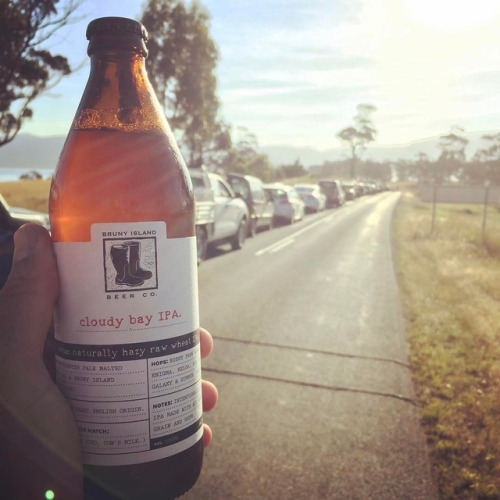 Photo by: @brunyislandcheese
Beer description: Cloudy Bay IPA is Bruny's attempt to 'Tasmanianise' the diverse but typically hop forward beer style, India Pale Ale. The grain bill is simple - just Tasmanian Westminster pale malted barley and Bruny Island red wheat. The red wheat gives this beer a natural protein haze.
Cloudy Bay IPA honours the hop breeders of Hop Products Australia by featuring all six hop varieties currently available from Bushy Park Estates that have been developed in HPA's breeding program - Ella, Enigma, Galaxy, Helga, HPA-035 and Summer. As proprietary strains, these hops are grown only by HPA, at Bushy Park Estates in Tasmania and some of them at one other location in the Victorian highlands.
Gross amounts of HPA's rare hops have been used in seven separate additions during the brewing process, creating a heady blend of citrus, tropical fruit and herbal aromas. A restrained bitterness allows the earthy tartness of the red wheat to shine through, accentuating the tangy hop flavours.
Available in store & online: http://www.beercartel.com.au/bruny-island-cloudy-bay-ipa/
---