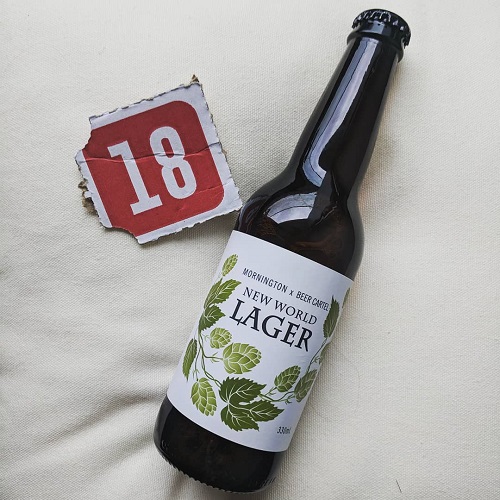 Beer Name: New World Lager
Brewery: Mornington Brewery
Location: Mornington Peninsula, Victoria
Style: Hoppy Lager
ABV: 4.7%
Beer Description:
Unlike regular lagers, this hopped-up version of the style delivers bold tropical aromas and flavour of passionfruit and citrus with a clean, crisp, fresh finish. The perfect summertime refreshment. Brewed in collaboration with Beer Cartel, Australia's leading craft beer store.
Photo credit: @stace_v
Watch: Geoff Huens from Beer Cartel talks to Mornington Head Brewer Kristian Martin
About the Brewery:
"It could be argued that Hawthorn's Stuart Dew, with ten minutes of brilliance, founded Mornington Peninsula Brewery. His match winning 3rd quarter burst, cementing the 2008 Premiership for the Hawks, brought neighbours Matt Bebe and Malcolm McLean together to celebrate. Talk turned to beer and breweries and long into the night the euphoric pair discussed grand visions for a new brewery. Maps were poured over for possible locations; beer types, names and possible labels were bandied about. Next day nursing a hangover, and thinking it all a pipe dream, Mal headed to Glenferrie Oval to pay homage to the Hawks.
Matt however sat down to write a plan.
Meetings with Rod Attenborough finalised the vision to start a brewery based on tradition, industry and honesty that identifies with the Mornington Peninsula's heritage of epicurean and leisure opportunities. At a meeting in February 2009 an industry stalwart advised to contract brew first and create a market. Despite that being the easier option it didn't sit with the brewery motto:
"Be true to the beer & those who drink it."
Research began in earnest with it quickly becoming apparent that the more youthful Matt was the leading light and natural MD for the newly formed Mornington Peninsula Brewery Pty Ltd. He finalised the business plan, crunched the numbers and formulated the share structure. After locating a factory that seemed purpose built for the brewery, Matt completed the complex process of gaining the necessary approvals, permits and agreements required by MP Shire, LLV and SE Water. Rod with his pedigree history as an art director in advertising designed all the artwork and Mal gave his opinion on everything.
Many brewery systems were investigated, both new and second hand, and the decision was made to go with Ian and Wes from IBS. Invaluable support and advice was given by Neil from Matilda Bay, Peter and Dale from Bintani and Luke from Otway Estate along with everyone encountered in the micro brewing fraternity.
When the prospectus launched amongst family and friends it was a great relief to find that another 16 like-minded beer lovers were very keen to share the dream (and turn up for working bees to prepare the factory for fit out). With the starting capital raised attention shifted to project management as building and installation began in earnest. Matt left his HR manager position with a Biotech company in July 2010 to give his full attention (as if he didn't already) to Mornington Peninsula Brewery.
The vision, belief and hard work by all concerned in establishing MPB was affirmed when Andrew Gow accepted an offer to return to Victoria to be head brewer. Highly regarded within the industry Andrew brings a wealth of knowledge gained from his time as a brewer with Mountain Goat, Matilda Bay and 5 Islands. Mornington Peninsula Brewery relishes the opportunity to showcase Andrew's brewing skills. With a quiet launch for Shareholders on Grand Final Day 2010 and 2 years gestation from conception Mornington Peninsula Brewery is born.
We hope you enjoy its growth and development."
---