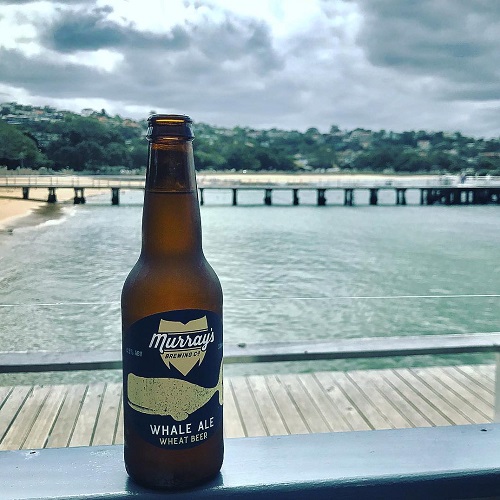 Beer Name: Murray's Whale Ale
Brewery: Murray's Brewery
Location: Bobs Farm, NSW
Style: Wheat Beer
ABV: 4.5%
Beer Description:
Murray's Whale Ale is a refreshing wheat beer with a twist. Its high percentage of malted and unmalted wheat and aromatic late hop profile gives a unique take on a session strength ale. A classic light body, creamy mouthfeel and refreshing citric flavour. This is balanced with assertive late hopping, giving a fresh, light tropical fruit aroma and cleansing dry finish.
Murray's Whale Ale is light gold in colour with the traditional cloudy appearance of wheat beers.
Summer in a glass!
Photo credit: @andy_bardwell
Watch: Geoff Huens from Beer Cartel talks to Murrays Brewing Head Brewer Sean Costigan
About the Brewery:
At Murray's we are fanatical about the quality of our beers. We use only the best quality ingredients sourced from Australia and around the world and we give all of our beers extended conditioning times – no rushing.
Established in late 2006 by passionate craft beer enthusiast, Murray Howe, Murray's Craft Brewing Co. has gained a reputation as one of Australia's best craft brewers. So much so that they were awarded 'Best Brewer in Australia' in October 2012.

Crafted in Port Stephens on the beach on the NSW Hunter region our hugely sought-after range of unconventional, unique and sometimes just plain weird – full-flavoured beers are available across Australia.
We're not a corporation and we'd NEVER lower our standards to sell more beer. Rest-assured our beers have won more awards than our ads. Murray's is proudly 100% Australian-owned.
---