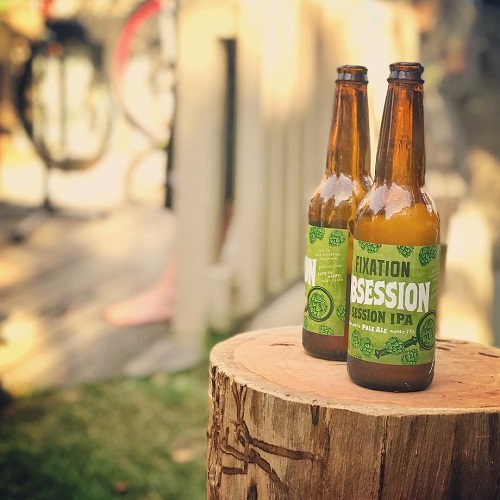 Beer Name: Fixation Obsession Session IPA
Brewery: Fixation
Location: Collingwood, Melbourne
Style: Session IPA
ABV: 4.6%
Description:
Take a journey to flavour town! A town with a sensible approach, this is gonna be a long, chilled-out perfect day full of fun times.
Obsession packs a flavoursome, hoppy punch but comes in at a very balanced 4.6% abv.
Beautiful golden pale malt provides the base for the dominant piney and fruity aromas.
Obsession is the perfect blend of flavour and drinkability. The hop aroma is instant, and the taste is clean and fruity.
This is a refreshing beer loaded with the best Simcoe and Mosaic hops.
Fixation Brewing Co. won Champion Medium Brewery at the 2017 Craft Beer Awards.
Watch: Geoff Huens from Beer Cartel talks to Tom Delmont from Fixation.
About the Brewery:
We're obsessed with great IPA. Some would call it a Fixation, and so we did. We launched Fixation Brewing Co to make one thing - the best IPA possible. We are inspired by brewers all over the world, particularly the hop heads on the West Coast of the USA.
We think IPA's are at their best when they are fresh. That big, flavoursome hop aroma is just amazing when the beer is super fresh. On the flip-side, they can be disappointing with a bit of age on them. They lose that awesome floral hop character and are not always at their best by the time we get to drink them at home. So we set up Fixation Brewing Co to be fixated on one thing - making the best IPA's possible. Fixation is backed by people who know beer and fronted by a man who has a fanatical obsession with the style. We had an inkling that there was room in the Australian beer landscape for a beer business that is purely focused on well made, fresh IPA, and Tom Delmont is the passionate IPA enthusiast to deliver it to the IPA fanatics of Australia.
We have been thrilled to have been awarded gold medals for our IPA in the 2016, 2017 & 2018 Australian International Beer Awards, and gold medals for our IPA at the 2016 & 2017 Independent Brewer's Awards. We were also stoked and humbled to be awarded the 'Champion Medium Brewery' by the IBA in 2017.
---