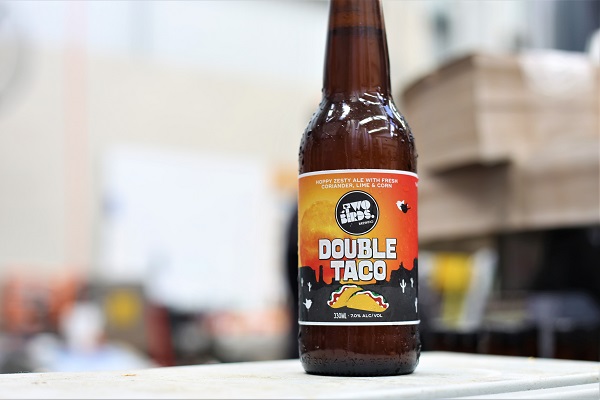 Beer Name: Two Birds Double Taco
Location: Spotswood, Melbourne
Brewery: Two Birds Brewing
Style: Wheat Ale
ABV: 7%
Description:
Two Birds Taco is a Two Birds mainstay that head brewer Jayne Lewis created to replicate the fresh flavours of her favourite Mexican food, tacos. The inspiration came as she was flying at 30,000 feet from San Diego to Portland.
The original Taco is a hoppy ale, brewed with the addition of corn, coriander leaf and fresh lime peel - producing a beer like no other, that is fresh, fruity and zesty.
For our first exclusive beer of the Beer Advent Calendar we sat down with Two Birds to work out what to create.
As it's almost impossible to only eat one taco, we felt it was time to double down and deliver Double Taco!
Double Taco has been amped up, and now features more corn, coriander and lime than ever before, now it's una gran fiesta!
Watch: Geoff Huens from Beer Cartel talks to Two Birds Head Brewer, Jayne Lewis.

About Two Birds Brewing:
Jayne Lewis and Danielle Allen are Two Birds Brewing; the driving force behind Australia's first female owned brewing company. Located in Spotswood, an inner-western suburb of Melbourne, this award-winning brewery typifies everything that is good about the craft beer industry in Australia.
These Two Birds are trailblazing their way into the record books by developing sophisticated, approachable beers that can be enjoyed with mates at a backyard BBQ or on the dinner table with your favourite meal.
---