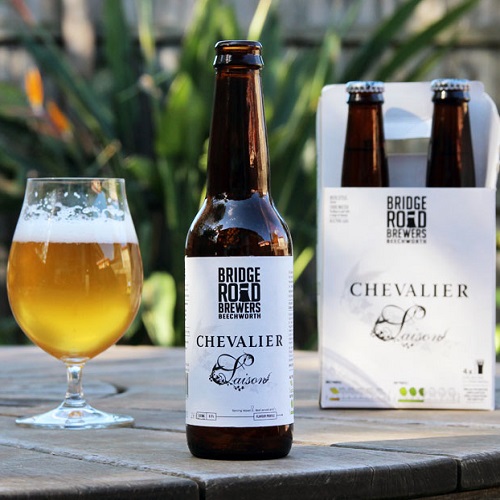 Beer Name: Bridge Road Chevalier Saison
Brewery: Bridge Road Brewers
Location: Beechworth, Victoria
Style: Saison
ABV: 6%
Beer Description:
The Saison is a classic Belgian style, not often seen outside of its homeland. It was traditionally brewed by farmers and their workers as a beverage to consume during the summer months. Bridge Road Brewers have crafted their own Saison to add to their Chevalier range.
This beer is quite unique, light straw in colour, with a tight bright white head. Aromas are dominated by esters and phenolic characters, owing to the Saison yeast strain, which also gives the beer its characteristic tart, dry and acidic profile. This citrus character combined with grassy hop flavours make this a great food beer, try it with anything from seafood to blue cheese.
Image credit: The Crafty Pint
Watch: Ben Kraus, Head Brewer and Founder of Bridge Road talk about their Chevalier Saison.
About the Brewery:
At Bridge Road Brewers we constantly tweak our beers and develop new recipes to satisfy the curiosity of ourselves and our customers alike. We are not prepared to just pump out a couple of run of the mill ales or have our beer brewed under license by someone else. We prefer to create beer from scratch, using our own production equipment on our own site in our home town of Beechworth, it's our passion, not a hobby or a chance to make a quick buck.
At Bridge Road Brewers when it comes to traditional brewing techniques we tick all the boxes. Our beers are brewed naturally, without pasteurisation, or preservatives.
---