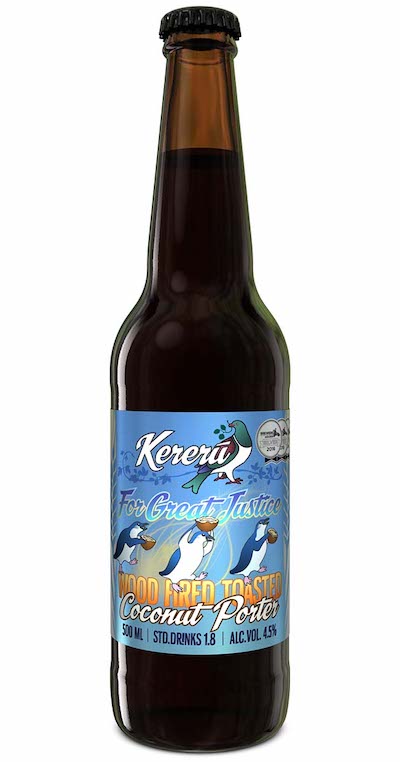 Beer Name: For Great Justice Coconut Porter
Brewery: Kereru
Location: Upper Hutt, New Zealand
Style: Porter
ABV: 4.5%
Beer Description:
For Great Justice Coconut Porter is a smooth and flavoursome brown porter, and since its release, it's become our signature beer! Made with all NZ malt and hops. Biscuit, brown, and chocolate malts meld with freshly toasted coconut to greet the senses. Goes very well on handpull and nitro-pour for a creamy finish. Serve cool but not chilled to allow the coconut to shine through.
Brewers note - "This brown porter infused with toasted coconut was brewed on request for our friend Justina. After a dramatic first brewing of this we developed a number of new techniques for infusing the coconut into the beer without blocking all of our hoses."
About the Brewery:
"We want you to enjoy our beer in the best condition possible. We go out of our way to source the best quality NZ grown malt, hops and specialty ingredients. The water in Upper Hutt is some of the best for brewing beer.
Our Gluten-Free Auro Ale is made with extra care using only sorghum, rice, hops, yeast and water. As we make traditional barley-based beers on the same plant we take special measures to make certain that our GF beer meets the tougher Australia and NZ requirements for being called "gluten free" (none detected at 3PPM vs 20PPM elsewhere). Have a look at our Auro beer to learn more about this.
We guarantee that only the best and freshest beer will be sent to you, or our re-sellers. To ensure this we an operate independently verified Deemed Custom Food Control Plan which adheres to the principles of HACCP. This is a higher-level of food-safety than New Zealand law requires us to operate under and means you can be confident that we take freshness, quality and food safety seriously so that you can enjoy our awesome beers with friends and family." - Kereru
---