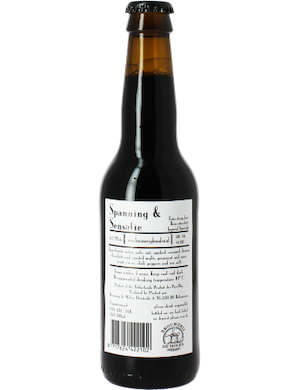 Beer Name: Spanning & Sensatie
Brewery: Brouwerij de Molen
Location: Bodegraven, Netherlands
Style: Imperial Stout
ABV: 9.8%
Beer Description:
Imperial Stout by De Molen, brewed with chili, de cocoa and sea salt, this Spanning & Sensatie is a kind of UFO in the world of beer. It is also the proof of the capacity of innovation and risk taking of this brewery. For your information, you could translate Spanning & Sensatie as "Tension and Sensation".
This beer has an interesting robe between dark brown and black topped by a nice and persistent head. The nose reveals traditional aromas from a great Imperial Stout which are cocoa, coffee and caramel, but also a nice spicy note. In the mouth, you will find beautiful flavours of chocolate, chili and salt.
To conclude, this is a high quality black beer that has nothing to envy with the Rasputin, one of the best beers from this brewery.
About the Brewery:
"Brouwerij de Molen is a craft beer brewery located in Bodegraven in the Netherlands, about a 30 minute drive from Amsterdam. We are well known for our endless growing and varied collection of craft beers. We make it our business to brew the beer styles we like best ourselves. Styles like Stout, Porter, Barley Wine, Bitter, Pale Ale, Sour, Lager and Saison. We set our standards high up there and try to create original and progressive beers. We only use the best malts, hops and yeast as probably a lot of breweries do as well. However our recipes and brewing processes are very specific to accomplish what we strive for: the aroma's, the flavours and the bitterness that are unique to our beers and so well appreciated around the world.
We have been honoured with a #1 position Top Brewer in the Netherlands by RateBeerBest for years now and always among the Top 100 of the world. In February we received news of a humbling #6 position of the world by close to half a million RateBeerians world wide." - Brouwerij de Molen
---