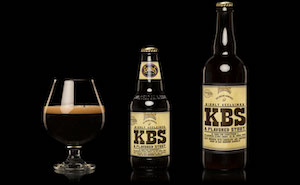 Beer Name: KBS (Kentucky Breakfast Stout) - Barrel-aged Chocolate Coffee Stout
Brewery: Founders Brewing Co.
Location: Grand Rapids, Michigan
Style: Imperial Stout
ABV: 12.3%
Beer Description:
What we've got here is an imperial stout brewed with a massive amount of coffee and chocolates, then cave-aged in oak bourbon barrels for an entire year to make sure wonderful bourbon undertones come through in the finish. Makes your taste buds squeal with delight.
About the Brewery:
"We at Founders Brewing Co. have been lucky to evolve into one of the highest recognised breweries in the United States. We've been ranked in the top breweries in the world by Ratebeer.com for the last five years, and we have several beers listed in the top 100 beers of the world on Beeradvocate.com. We're now among the top ten largest craft breweries in the country and one of the fastest-growing." - Founders Brewing Co.
---