Media Release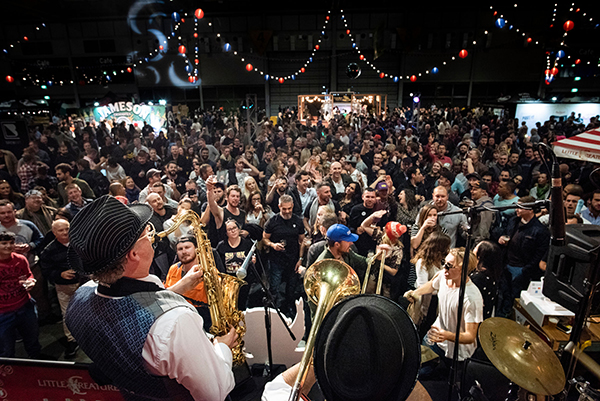 Bacon, donuts, hemp flour, sake, rum, gin, Tim Tams, popcorn, agave, and even edible green ants. These are just some of the more exotic ingredients found amongst the many 'Festival Beers & Ciders' brewed especially for the 2019 edition of GABS Beer, Cider & Food Fest.
Renowned as one of the world's leading beer festivals, GABS (otherwise known as the Great Australasian Beer SpecTAPular) brings together the best breweries from Australia and New Zealand for a whirlwind celebration of craft beer and cider.
This year, the GABS tour launches with its first ever Brisbane event, to be held at Brisbane Convention & Exhibition Centre in the bustling South Bank precinct on Saturday 27 April, before moving on to the Royal Exhibition Building in Melbourne (17-19 May), Sydney Showground (1 June), and ASB Showgrounds in Auckland (29 June).
GABS Co-Founder Steve Jeffares said it was the right time to bring the iconic event to Queensland. "For us, GABS has always been about sharing our love of craft beer and cider with as many people as possible, so bringing the festival experience to Brisbane has long been on the agenda. We're thrilled to now be able to make this a reality, and can't wait to showcase the booming craft beer scene to Queenslanders in true GABS style!"
At the heart of the event are the 170 'Festival Beers & Ciders' made especially for GABS each year by Australia and New Zealand's leading brewers and cidermakers, of which approximately 100 will be served at the new Brisbane event.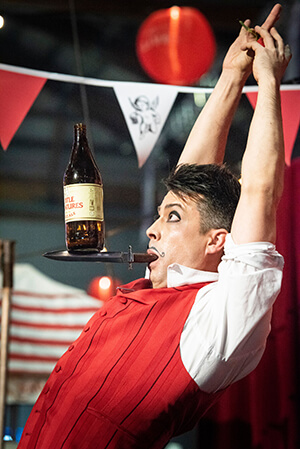 "Every year we invite the industry to create something new for GABS, and every year we're amazed by the creativity, quality, and diversity of styles we see represented" said Jeffares. "Certainly there are some quite out-there beers and ciders that grab the headlines, but you'll also find breweries increasingly using the event to road test upcoming releases and showcase what they can do."
Collaboration is a particular focus for this year's festival, with many brewers pairing up with other food and drink brands to develop their GABS Collabs Festival Beers & Ciders, including coffee roasters, tea houses, gin and whisky distillers, biscuit makers and even an American BBQ smokehouse.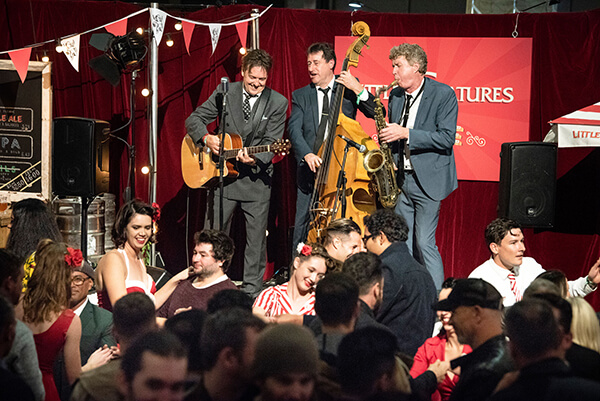 While beer and cider are the stars of the show, GABS is perhaps just as well known for putting on a spectacular event, complete with circus and sideshow performers, panel discussions with industry leaders, cooking demonstrations, whisky bars, beer hall games, their incredibly popular 'house band' The Ale Capones, and even a giant indoor Ferris wheel at the Melbourne and Sydney events.
Some of the best local food trucks and vendors will also be serving up tasty treats at each event. In Melbourne, the new Yak Ales BBQ Heaven features an all-star lineup including Bluebonnet BBQ, Biggie Smalls and Leonard's House of Love. Sydney punters can feast on dishes from Bovine & Swine, Happy As Larry Pizza, Chur Burger and Dirty Bird. Brisbane food trucks include King Of The Wings, Mac From Way Back, Netherworld's Hellmouth Diner and more.
Other event features include the Little Creatures House Of Fun, where attendees can take on vintage arcade games, crazy mini golf and haybale bowling. The Balter Tiñata (think piñata with a giant beer can) will have punters swinging for glory, and BentSpoke's Roller Racing Derby will elevate the heart rate with static bike races. Groups will also enjoy the Mountain Goat Trail, possibly the first ever competitive scavenger hunt to be held at a beer festival, and won't want to miss the Biggie Bar from Feral Brewing Co, featuring a live DJ, burgers and of course, beers!
On the fringes of the beer spectrum, attendees will enjoy creating personalised interactive wine labels at the 19 Crimes Wine Bar, match boilermakers at the Jameson Caskmates bar, and delight in cheeses at the Milawa Cheese hub. The hugely popular Yenda Wheel of Beer (an 18 metre indoor Ferris wheel) will be back in both Melbourne and Sydney, with all ticket sales donated to the Fight MND (motor neurone disease). The popular Stomping Ground Silent Disco is also stepping up its game with the addition of a giant neon boom box truck to set the vibe.
Education is also a huge focus of the festival. At the Ariston Food & Drink Experience, attendees are taken on a gastronomic journey of food, beer and cider pairings. And the Mornington Peninsula Brewery Craft College panel discussions and masterclasses offer beer enthusiasts an opportunity to hear from some of the best in the business.
"There's so much going on at GABS, but at the end of the day, our goal is simple. We want everyone to experience just how fun the world of craft beer can be." said Jeffares. "Wherever you are on your beer or cider journey, there's something to amaze you at GABS".
For tickets and further information, head to www.gabsfestival.com
EVENT DATES
BRISBANE
Brisbane Convention & Exhibition Centre, South Bank
Sat 27 April 2019 (tickets on sale: Fri 1 March)
MELBOURNE
Royal Exhibition Building, Carlton
Fri 17 - Sun 19 May 2019 (tickets on sale: Fri 15 March)
SYDNEY
Sydney Showground, Olympic Park
Sat 1 June 2019 (tickets on sale: Fri 29 March)
AUCKLAND
ASB Showgrounds, Greenlane
Sat 29 June 2019 (tickets on sale: Fri 10 May)
---