Posted by Holly Slater on 29th Mar 2021
Perfect Gifts For Beer Lovers
Is an anniversary, birthday or wedding coming up?
Want to say 'thanks' or let someone know you're thinking of them?
Stumped on what to get a beer lover? You've come to the right place.
These days, everyone seems to have everything they need at their fingertips.
As a result, gifting can become a real challenge - but here's one thing we do know: people are drinking craft beer more than ever.
With that in mind, our craft experts have picked only the best Aussie beers for our gift packs - the crispest lagers, most impressive IPA's and sip-worthy stouts.
At Beer Cartel we've been selling beer gifts for over a decade. We have the knowledge and goods to help you choose a convenient and fun beer gift made with care - ensuring an unforgettable customer experience from start to finish.
Take a look at our top gifting ideas below and become a Beer Cartel Craftineer - we know you want to!
1) Mixed 24 pack - Australia's Hottest 100
The 'Hottest 100' is a yearly poll tens of thousands of craft beer lovers vote on Australia-wide. We've put together a case of 24 of some of those great featured beers to gift a legend at work, a mate or loved one.
This bad boy is an ideal way of trying a variety of craft beer on offer in Australia right now. We included only the most popular, sessionable beers sure to put a smile on their face. Whether they're at the beginning of their craft journey or a seasoned pro, there's a great brew for everyone.
"I bought this mix for my husband and my father for Father's Day. They both loved it. Lots of different beers & great quality" ⭐⭐⭐⭐⭐
2) Beer Cartel Beer Subscription
This awesome beer subscription is delivered straight to your door with different beers each month - no beers are ever repeated, guaranteeing a unique experience every time.
We've sent out over 50k beer subscriptions to over 10k customers - and counting.
This is a great one-off or monthly gift that keeps on giving - there's no subscription fee and you can cancel at any time.
You also get tasting notes for each month - so you'll never have to wonder what you're getting.
We have an option for all budgets, with three subscriptions to choose from:
A selection of 6 craft beers - great for a gift. Just choose the length of time you want to give the subscription for - you can choose to pay upfront or do monthly payments and then it's a home run to the best present any beer lover could ever get.
"I bought the 3 month Beer Subscription for my boyfriend for his birthday and he received his first 6 pack this week! It got delivered straight to his work and he received beers with a variety of flavours. He is enjoying trying new beers and is looking forward to next months delivery!"⭐⭐⭐⭐⭐- Marisa
Featuring a line-up of 12 popular styles of craft beers from Australia and beyond. At an affordable price, it's no wonder this is our most popular pack. Each month we put our nerd brains together and come up with a selection of interesting and delicious entry level beers.
"I love coming home to a surprise package left in my garage, reading the tasting notes as the beer is chilled, then enjoying them with my mate down the road. Love it!!" ⭐⭐⭐⭐⭐ - Dan

The crème de la crème of 12 limited release beers. You don't want to miss out on these -the beers are all super limited, or new to market. This isn't your run of the mill beer subscription - this is excitement on steroids.
"Great stuff. This makes the beginning of the month so much more exciting. Love the fact that there are no repeats and the range in beer style is only restricted by what Beer Cartel have on offer. Which in my opinion is just about endless!" ⭐⭐⭐⭐⭐ - Rebecca F
"I purchased a 6 month beer subscription for my husband who is very difficult to buy gifts for. He loves it! A gift that keeps on giving and that he genuinely looks forward to" ⭐⭐⭐⭐⭐ - Joanne B
3) Limited Edition Tinnie Pack
Our limited edition tinnie pack features 12 of the latest and greatest cans that are on the market. If you're looking for minimal effort and maximum flavour then this pack delivers every time - containing the most sought after, fresh & flavourful beers right now.
We not only pick Aussie breweries but international ones being rated highly around the world. Whether it's a double IPA, malty red ale or tangy sour you're sure to get the best of the bunch.
Save yourself the FOMO & buy for yourself or as a gift today - you won't regret it.
"Great beers & exceptionally fast delivery" ⭐⭐⭐⭐⭐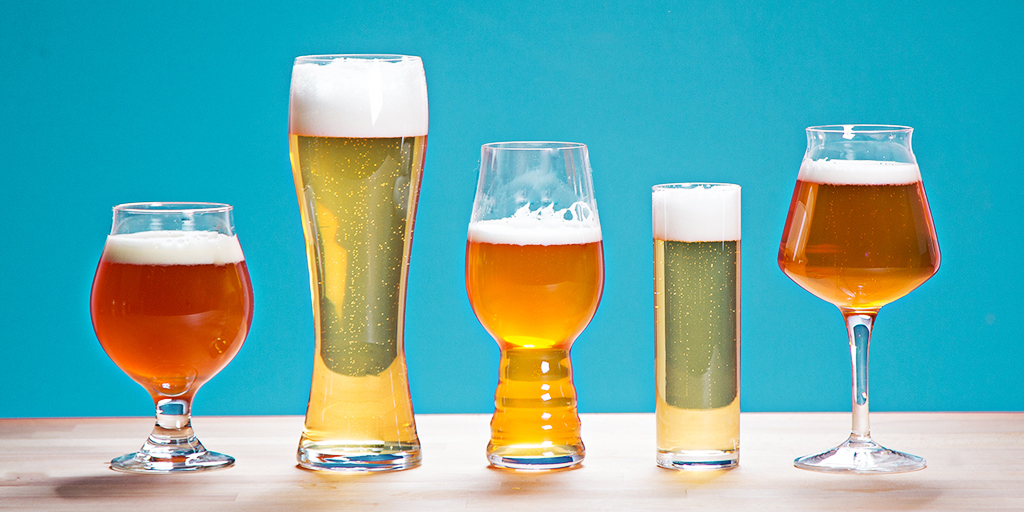 With as much as 70% of flavour coming from your sense of smell, craft beer glasses are designed to enhance the sensory experience so you can relish the hoppy, malty beer-y aroma.
At Beer Cartel we boast a huge range of glassware perfect for all kinds of beer.
From classic chalices for Belgian beer-lovers down to modern IPA vessels.
One of our best sellers is the sturdy, thoughtfully designed Teku glass. This glass is your answer to a sentimental gift with purpose.
"This glass is brilliant for craft beer. The aroma and flavour of the beer are optimised, making it my go-to glass" ⭐⭐⭐⭐⭐
Then there's the La Trappe Chalice
Sophisticated, regal & affordable, this classic La Trappe chalice checks all the boxes for a memorable, quality gift.
Beer lovers will know that La Trappe is one of the original Trappist breweries - meaning the beers are brewed by Monks in an abbey in Koningshoeven, Netherlands..
Presented beautifully with a wide mouth makes for easy drinking - in fact, it's hard to imagine drinking beer out of anything else. This glass will never go out of style.
"This is a great glass and is perfect for enjoying a nice refreshing La Trappe beer. Great service from the Beer Cartel team" ⭐⭐⭐⭐⭐
Check out our entire range of glassware.
---