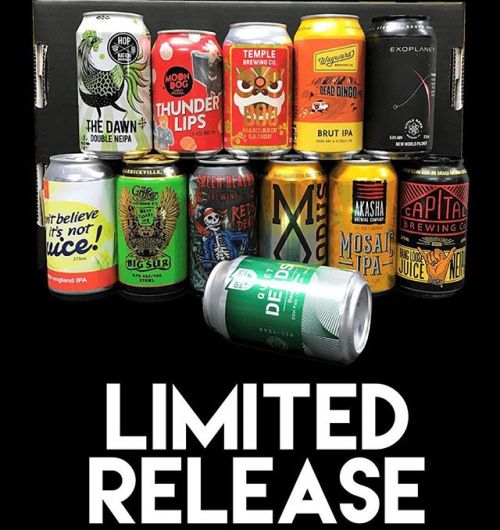 Get in quick it won't last long: http://bit.ly/2FB9Xi8
This limited edition Tinnie Pack features 12 of the latest and greatest cans that are on the market.
Don't mess around because this one isn't going to last long - there are just 36 of these Tinnie Packs available and they're going to go fast!
If you're looking for some tasty new beers to try including super popular New England IPA's then this is for you.
The line-up:
1. Capital Hang Loose NEIPA
Here it comes. Our first Special Release - Hang Loose Juice is a righteous Blood Orange NEIPA! With late edition hops resulting in a brew that tastes like a glass of freshly squeezed juice bursting with tropical notes and a refreshing bitter finish.
Winner of Best IPA at the Australian Beer Festival.
2. Wayward Dead Dingo Brut IPA
Using an enzyme generally used to brew low carb beers, the BRUT IPA has very little sweetness (none) with a bunch of carefully chosen hop characteristics. The enzyme makes generally un-fermentable sugars fermentable, creating a beer that is bone dry, full flavoured, hoppy and extremely effervescent.
3. Modus Wippa Snippa Session Ale
Modus does a Mid. Right. Big Flavour, light bodied. Keeps you clean around the edges.
Fistfulls of the best Hops, Citra, Chinook & Motueka. Snip away.
4. Quiet Deeds DDH Pale
This pale is designed to invoke a moderate bitterness backed by the creamy body of oats and wheat. A heavy dose of Mosaic, Citra, and Simcoe provide a full on tropical fruit aroma with mild pine / resinous highlights, reminding you that you are drinking a small batch beer designed for maximum flavour. Guaranteed 8 grams per litre dryhop.
5. Akasha Mosaic IPA
Mosaic is without a doubt the favourite hop of our brewers, and the first of our single-hopped IPA's. The Mosaic IPA has bucket loads of tropical fruit, peach and melon on the nose and palate, balanced by a moderate bitterness and light malt base. + more! — view on Instagram http://bit.ly/2U3OCIa
---