If your name appears in the list below congratulations, you've won a seat at the table to taste $1,000 of awesome craft beer for FREE at our Sydney Craft Beer Week event!
IMPORTANT NOTE: All winners need to confirm their spot by reply email before 5PM Thursday 27th October. Unclaimed spots will be redrawn - we'd hate to see good beer to go to waste!
- Alix Wells
- Asha Dooley
- Dominic Moriarty
- Julian Berengut
- Liam McIndoe
- Liz Lomax
- Matthew Shiner
- Nathaniel Selling
- Nicholas Hofmeyr
- Piers Watson
- Rebecca Lazenby
- Tim Smith
For everyone else, you are still in with a chance if one of the above don't confirm their spot - keep an eye out in your emails!
Information about the event
WHEN

Sat-29-Oct

WHERE

Flat Rock Brew Cafe (hosted By Beer Cartel)
290 Willoughby Rd, Naremburn NSW 2065, Australia

WHAT TIME

6:30pm - 9:30pm

WHAT BEERS

We won't give the full list away but expect along the lines of Westvleteren 12 (regularly rated the best beer in the world), Founders KBS (rare as hens teeth), Boon Black Label, Stone Enjoy After and more!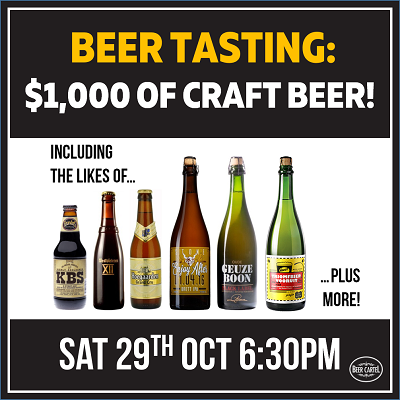 ---