Sydney Craft Beer Week begins again this week. It runs from Friday 21 st to Sunday 30th of October and is Sydney's largest celebration of beer. We are thrilled to once more be Sydney Craft Beer Week's official craft beer retailer.
There are over 100 events taking place across 75 venues throughout Sydney, with this year's line-up promising to be the biggest and best ever. The events are hugely diverse from beer degustation's, to tap takeovers, table tennis and beer, and everything in between.
To help make your decision on which events to attend head to the Sydney Craft Beer Week website: https://www.sydneycraftbeerweek.com/ or download the Sydney Craft Beer Week mobile app on Android or iTunes.
Tickets have been selling fast for a lot of events. If you are struggling working out what to attend then we have compiled a list of a few of the most intriguing events that still had tickets left at time of writing. Check them out below: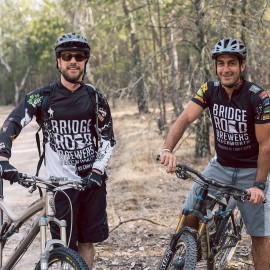 For Those That Like To Pedal Hard: Down & Dirty MTB
Bridge Road Brewery is located in Beechworth, Victoria. It's part of the Victorian High Country and has some of the best mountain biking in the country. To bring their love of mountain biking to Sydney, Bridge Road have teamed up with Specialized Australia for an evening of riding, craft beer and food. They'll have a post ride beers plus a BBQ - after all nothing is better than a quality craft beer after you have eaten the dirt a few times!
Price: Free
When: Wednesday 26th October, 6:30pm – 10:30pm.
Where: Ride staring from Elanora Scout Hall, Bilarong Reserve, Elanora Heights (Near Narrabean).
Check out the event on the SCBW website.
For The Carnivores: Beer & Bone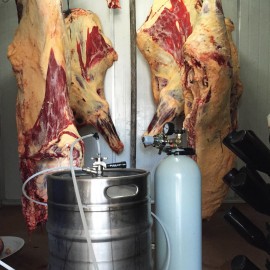 Join Feather and Bone in a sausage making class using spent grain fed animals and beer from Sailors Grave Brewery. If you don't know much about Sailors Grave Brewery they are a new brewery based down in Orbost, Victoria, while Feather and Bone are expert Butchers. You'll get the full hands on experience in learning how to make the best sausages around; mixing, filling and linking the sausages. You'll get to enjoy the fruits of your creations at the event washed down with the Sailors Grave beers, plus have snags to take home.
Price: $135
When: Saturday 22nd October, 12pm – 4pm.
Where: Feather And Bone -8/10-14 Lilian Fowler Pl, Marrickville
Check out the event on the SCBW website.
For The Art Lovers Amongst Us: Mountain Goat & 107 Projects Presents: Electrofringe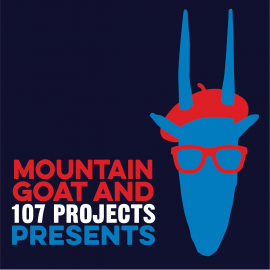 Mountain Goat have teamed up with 107 Projects to create an event that celebrates art and good beer. Featuring experimental electronic and technology based art and performance mixed with great beer and tasty eats.
Price: Free
When: Saturday 22nd October, 12-8pm.
Where: 107 Projects - 107 Redfern St, Redfern NSW 2016, Australia.
Check out the event on the SCBW website or the full Rare Breed Weekend program on the 107 Projects website.
If You Love New Zealanders: Ale Stars With Garage Project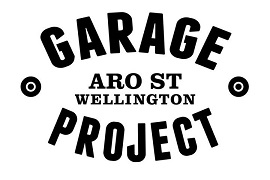 Garage Project is one of the best-selling breweries that we stock. They continually pump out exciting, non-conformist beers that have instant appeal. They mix their talented flavour producing skills with some amazing design work on their bottles and cans. Garage Project have hosted an Ale Stars event before and from all that attended it was said to be a ripper. For this Sydney Craft Beer Week Jos Ruffell and Pete Gillespie from Garage Project are back again and will entertain you with stories and insights from this pioneering Kiwi brewery.
Price: $45
When: Wednesday 26th October 7-10pm
Where: The Local Taphouse 122 Flinders St, Darlinghurst
Check out the event on the SCBW website.
Our Event: The Ultimate FREE Beer Tasting - $1,000 Of Awesome Craft Beer!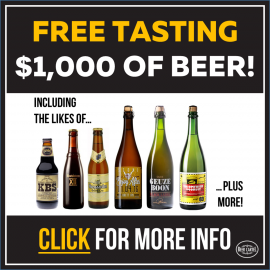 Last year we hosted a free tasting with a number of brewers at our store. This year we decided we'd mix it up with a free tasting of $1,000 of awesome craft beer for 12 lucky people. This won't be a run of the mill tasting – we're going to have beers including Westvleteren 12 (regularly rated the best beer in the world), Founders KBS (rare as hen's teeth), Boon Black Label, Stone Enjoy After and more!
Price: Free
When: Saturday 29th October 6:30-9:30pm
Where: Flat Rock Brew Cafe (hosted By Beer Cartel) 290 Willoughby Rd, Naremburn (suburb next to Crows Nest)
How to Enter: To go into the draw to be one of the 12 apostles at this tasting simply register for the event here.
The winners will be drawn Friday 21st October.
Official Sydney Craft Beer Week Event Beer.
We don't know if this has been announced just yet so we will keep it under wraps, but The Grifter have brewed this year's official Sydney Craft Beer Week beer. The beer will be at different venues throughout the course of the week, plus we will have this on our growler system . Check out our In Store and Growler page to see when it is tapped.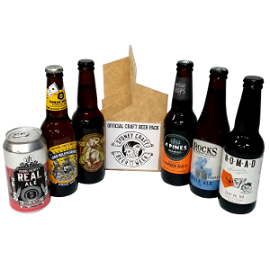 Can't make Sydney Craft Beer Week? Let us bring Sydney Craft Beer Week to you!
Following on from last year's tradition we have pulled together a six pack of Sydney brewed craft beer from six different Sydney based breweries. Featuring a range of styles this is a great way to sip your way around the breweries of Sydney from the comfort of your own home.
---