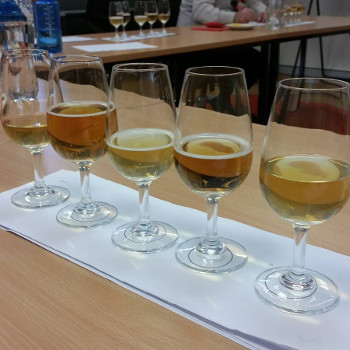 Recently I was involved in a blind Pale Ale tasting for Choice magazine. You can read about those results here.
The tasting was a lot of hard work. While for some it will seem like the ultimate day; tasting 50 different Pale Ales and scoring them on their flavour, aroma, colour, and overall, was actually quite a challenge.
The task was made even harder by the fact that a lot of the beers were in an extremely poor condition. The beers showed signs of age, oxidation and poor handling. The aim of the tasting had been to try 50 different 'everyday' Pale Ales that the average consumer could purchase from their local bottleshop (Dan Murphy's, Liquorland, BWS, First Choice etc). We were told the vast majority of the beers were purchased from Dan Murphy's with a few others acquired from similar generalist bottleshops.
The tasting involved some pretty experienced heads including Sam Fuss, head brewer of Young Henry's and a regular beer judge; William Wilson, owner of Cammeray Craft who is a trained Sommelier; Dave Philips co-owner of the Institute of Beer which is currently in the process of developing an Australian based cicerone (beer evaluation program); and Liam Pieria, a craft beer fanatic who has been involved in managing craft beer focused bars and bottle-shops over the last 7 years.
Amongst all of us we found the quality of the beer poor. There are a couple of beers that regularly stand out in any beer competition held in Australia, whether it involves trained beer judges or a democratic vote such as the Australian Hottest 100 Competition . These are Stone & Wood Pacific Ale and Feral Hop Hog . The Pacific Ale in particular is a beer that can usually be easily picked out of a line-up for its distinctive passionfruit flavours and aromas thanks to the use of Galaxy hops. The bad thing was none of the judges identified either of these beers, and even worse, while their scores weren't the lowest (XXXX Pale Ale was in the mix!), they definitely weren't as high as they normally would be.
For myself who only ever buys my beer from Beer Cartel, or specialist craft beer bars the findings from the tasting were massive. There can be a significant difference between the beer you buy from a general bottleshop and that of a specialist retailer.
There are a few reasons behind this:
1. The way the beer is stored & received.
Beer is a fragile product and exposure to the elements (light & heat) can dramatically it. Unfortunately for large format & generalist stores, craft beer can be found exposed to the elements to its detriment e.g. spending all day in the sun when the stock is first received.
2. Limited demand for craft beer can often mean you are buying old product.
Some of the big retailers are known for their slowness in ranging products (distributing beer from its warehouse to its stores and then getting it on the shelf). Speaking to various reps it can often take a couple of months from when stock is first purchased to hitting the shelf. This, coupled by the fact that there may be fewer consumers who shop at the store that seek out craft beer, means it can take longer to turn the product over.
3. The way craft beer is handled is poor.
Craft beer needs love. It needs to be cherished, not thrown around or treated roughly. Too often a lack of interest and knowledge in the product means that this is the exception and not the rule at these big box stores.
Hopefully this provides some food for thought the next time you look at purchasing craft beer. The chart below is a summary of key differences I see from the liquor stores run by the big guys and a specialist craft beer retailers. There may be exceptions to this, but hopefully this provides a useful overview.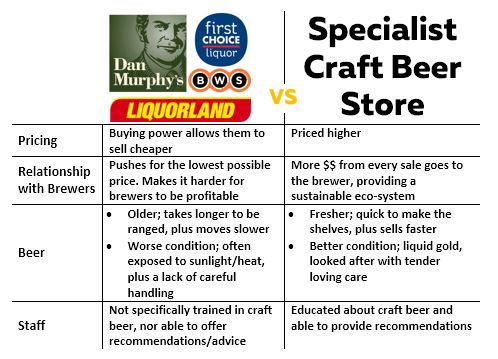 ---