Posted by Richard Kelsey on 29th Aug 2017
Willingness to Buy 'Craft Beer' by Ownership Type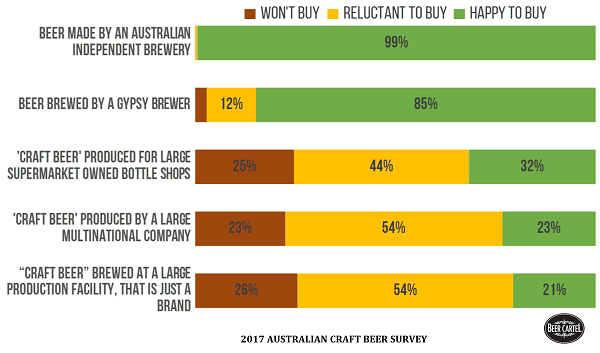 There is an extremely strong willingness for Australian craft beer drinkers to buy beer brewed by Australian independent breweries, with almost all (99%) happy to buy beer from these businesses.
In comparison just 32% are happy to buy 'craft beer' produced by a supermarket owned bottle shop, and 23% from a large multi-national company. Most instead are reluctant to buy 'craft beer' from these entities, with around a quarter saying they would not buy from these businesses at all.
To see the full results of the 2017 Australian Craft Beer Survey click here.
---