2018 Beer Advent Calendars sold out. Click the 'Notify me' button to be notified when the 2019 version is available.
A Beer Advent Calendar is a great way to count down the days to Christmas and explore new and exciting beers. For 2018 we have taken our Advent Calendar to the next level and with over 8,000 Beer Advent Calendars sold to date, this year is set to be a hit!
Available for delivery Australia wide or you can also purchase these in our Artarmon store in Sydney (9/87 Reserve Road Artarmon).
Australia's Best Beer Advent Calendar
Highly rated year after year this Beer Advent Calendar is a must have for any beer lover. Here's some of what our customers have to say:
★★★★★ Great gift, husband very happy!
★★★★★ The gift that keeps on giving.
★★★★★ Best present everrrrr!
★★★★★ Why isn't there one for every month of the year!?
★★★★★ Great beers, will be coming back next year.
Check out all the reviews here.
As Featured In

100% Australian Independent Breweries & Exclusive Beers
Featuring twenty-five different 100% Australian independent craft breweries with seven exclusive one-off beers, brewed specifically for this Advent box - it is an unbelievable selection.
By ordering this Advent Calendar you won't miss out on some amazingly well crafted beers.
All beers have been brewed fresh for inclusion in this pack, some bottled within days of the advent calendar boxes being packed!
Includes exclusive one-off beers from the following breweries:

The 2018 Beer Cartel Beer Advent Calendar features:
- 25 beers, including one to have ON Christmas day!
- 25 different Australian Independent breweries
- Completely new beer selection compared to previous years.
- Awesome value - over $160 worth of beer included for $119.99.
- A festive box design to really get you (or the lucky recipient), in the Christmas countdown spirit.
- Includes "To / From" gift message box to make it perfect for gifting.
What's Inside?
- We're not going to spoil the surprise by telling you which beers are hiding inside but expect to find handmade craft beers from Australia's leading independent craft breweries.
- 25 individual beers from 25 individual breweries, not just a selection from a couple of breweries.
- This pack is filled to the brim with a huge variety of beer styles. There are 23 different beer styles to try from Pale Ale, Red Ale, Red IPA, XPA, Old Ale, Pilsner, Session Ale, Double IPA and more!
- It is truly an eye opening and mouth watering selection. If you are after variety and a taste sensation then there is no better box of beer to try.
- Range of bottle/can sizes - from 330ml to 500ml
- Includes beers which rank highly in polls like Australia's Hottest 100 poll.
Check out the reviews below and see why this is Australia's #1 rated Beer Advent Calendar.
About the Beer Advent Box:
We've designed this box to be the ultimate gift giving present. You won't need to keep your receipt for this gift!
It has protective top flaps to protect the Christmas countdown numbers during transport.
The Christmas countdown is also secured in place to keep the beers hidden from prying eyes!
Once received simply remove a number for each day between the 1st through to the 25th of December to discover the awesome beer underneath.
Delivery / In Store Pickup / Purchasing In Store
Beer Advent Calendars are available online or directly from our Sydney store (9/87 Reserve Road, Artarmon).
If ordering online for delivery, transit times will vary depending on destination. For complete delivery information please refer to our Shipping & Delivery page.
You can also order online and choose "In Store Pick Up" as the delivery option.
Alternatively simply visit and purchase from our Sydney store. We are open 7 days a week.
Have a larger corporate order? We can also deliver via pallet delivery! Simply drop us an email at sales@beercartel.com.au
How to Enjoy Your Beers Each Day
Each beer is secretly hidden behind a little cardboard window that you tear open each day. In the morning simply pop open the little cardboard window for that day and place the beer in the fridge. It'll be perfectly chilled to enjoy later that day.
Alternatively, if you have a spare or large enough fridge, the box has been designed so that it can be placed on its side without the bottles falling out (remove the four top box flaps before placing in fridge). Then when you are ready to enjoy a beer, simply pop open that days little cardboard window to reveal a new beer.
2017 Beer Advent Calendar Highlights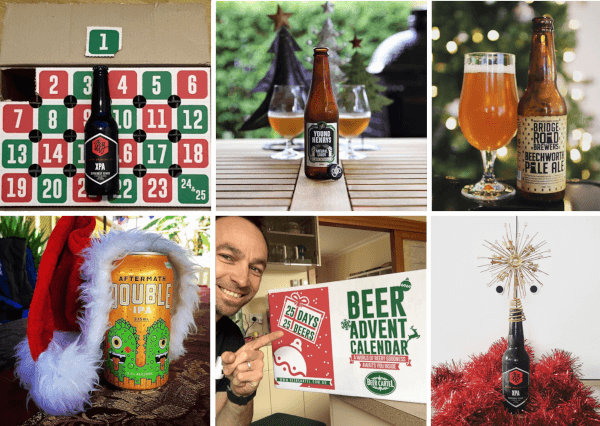 Product Reviews
Showing reviews 1-10 of 88 | Next
WHAT OTHER CUSTOMERS ARE SAYING
Very good

Loved the special brews particularly

The beers were so Good!

Is so awesome to get a box of beer with various types of beer. My boyfriend love it so much.

Awesome! So many beers!

So many unreal beers I can't believe it!
Not a single disappointment. 100% recommend

Tasty and surprising beers

I always find a few beers I haven't heard of or tried. The Christmas Trifle beer wasn't to my taste, but the rest were brilliant. Would buy again.

Best Xmas gift ever!

25 beers of great variety ,really enjoyed the anticipation of what was going to be next ! You can't go wrong with this gift.

Excellent selection of beers

The advent calendar is always a good bit of fun. A good cross section of beer types to try without them being too out there. I would recommend to anyone.

Great selection

Mostly great beers, a few average ones. Overall I really enjoyed the selection

Another great year

Excellent selection of Aussie beers this year, really liked the fact there was some exclusive beers in the carton, that was a major selling point for me. Would buy again next year

Brilliant Beer Gift

I bought this for my husband and he absolutely loved it. The beer selection is great and all of the beers are of great quality from good breweries all around Australia. I will definitely repurchase next Christmas!

Fantastic assortment

An amazing 25 beers, was my first advent calendar and I'm glad i bought it from here. Been an awesome journey, looking forward to 2019's
Showing reviews 1-10 of 88 | Next
Product Videos
Beer Cartel Beer Advent Calendar
00:31
Our Beer Advent Calendar features 25 different beers from 25 different breweries. With a huge variety of styles from Pale Ales and Amber Ales to Golden Ales, Pilsners, Tripels, Double IPA's and more! It is truly an eye opening and mouth watering selection. There are 20 different beer styles to try. We're not going to spoil the surprise by telling which beers are hiding inside. Expect to find hand-picked craft beers from leading Australian & International breweries. Explore locally crafted beers, as well as from world class brewing countries like Belgium, Germany and the USA. All these beers are perfectly packaged in a festive box designed to really get you (or the lucky recipient), in the Christmas count down spirit. Includes a range of bottle/can sizes from 330ml to 440ml. Order yours today so you don't miss out! https://www.beercartel.com.au/beer-advent-calendar
Beer Cartel Be...

Our Beer Advent Calendar features 25 different beers from 25 d...
Product Videos