Beer Cartel and Edible Blooms are proud to bring you the 2017 Australian Valentine's Survey – a study into the attitudes and behaviours of Australian couples towards Valentine's Day. The report that follows is summary of a nationwide study of over 1,800 participants that are in a relationship. It is the most robust, public study currently available.
2 prizes of $350 of goodies from Beer Cartel / Edible Blooms were offered as incentive to take part in the survey. To see if you were the lucky winner simply scroll to the bottom of this page.
Key findings from the research:
- The majority (80%) of Australian couple consider Valentine's Day a special day and will be celebrating the day
- Celebrating Valentine's Day appears important for maintaining a strong, growing relationship with those celebrating being more positive towards their relationship
- Expect a boom day for restaurants on Feb 14 with over half of all couples, who are planning on doing something special, expecting to eat out
For those getting gifts:
- Ladies will continue to be showered with flowers, chocolates & cards
- For the guys Valentine's Day cards, chocolates & alcohol are popular gifts
- The average spend on gifts this Valentine's Day will be $94 for males and $98 for females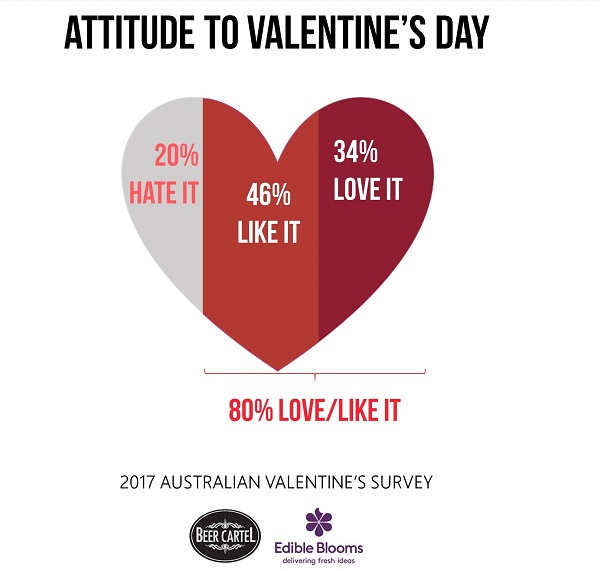 The vast majority (80%) of couples consider Valentine's Day a special day for them. Just 20% are negative towards Valentine's Day.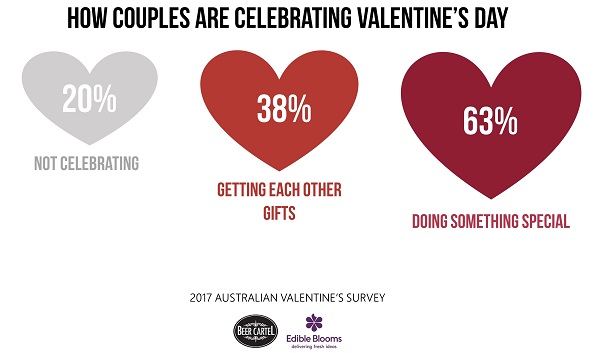 Most expect to celebrate Valentine's Day by doing something special (63%) and/or by exchanging gifts (38%). Just one in five couples will not be celebrating Valentine's Day.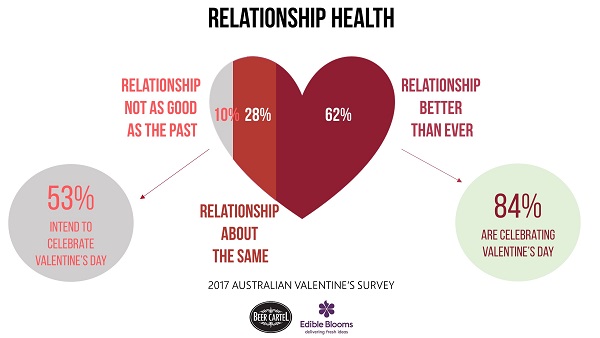 Those in an improving relationship are more likely to be celebrating Valentine's Day this year. 84% of those that said their relationship was better than ever expected to celebrate the day, compared to just 53% of those who said their relationship was not as good as in the past.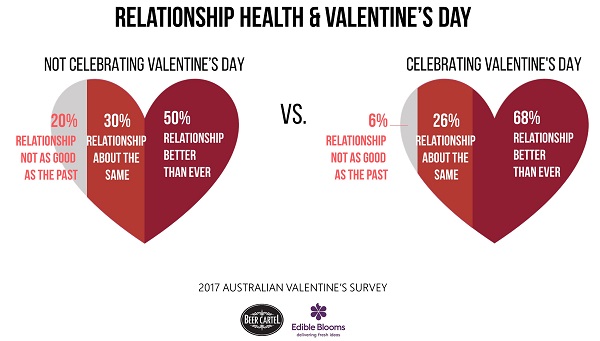 Celebrating Valentine's Day appears important for maintaining a strong, healthy relationship. The majority of those (68%) celebrating Valentine's Day say their relationship is getting better than ever. This compares to only half (50%) who are not celebrating the day saying their relationship is improving.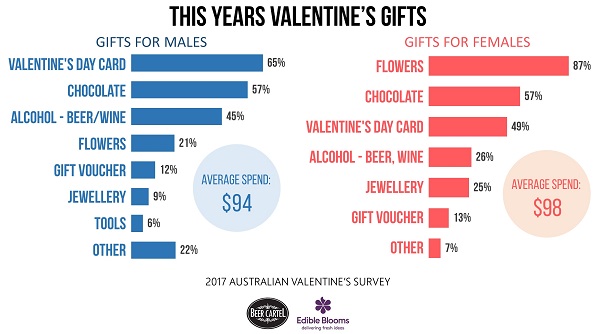 Flowers (87%) are the clear gift of choice for females this Valentine's Day and are likely to be paired with chocolates (57%) and a card (49%). For men they can expect a range of gifts with a card (65%), chocolate (57%) and alcohol (45%) favourites. The average spend on women this Valentine's Day is expected to be $98, and $94 for men.
*For those looking for flowers/chocolates for women we recommend Edible Blooms range of edible chocolate flowers, while for those shopping for an alcohol gift for men, you can't go wrong with our range of craft beer gifts.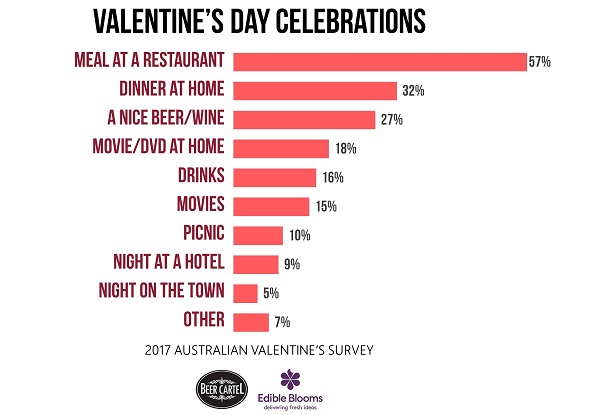 Valentine's Day activities are diverse, but a meal at a restaurant is a firm favourite with over half (57%) of those doing something special for Valentine's Day expecting to eat out.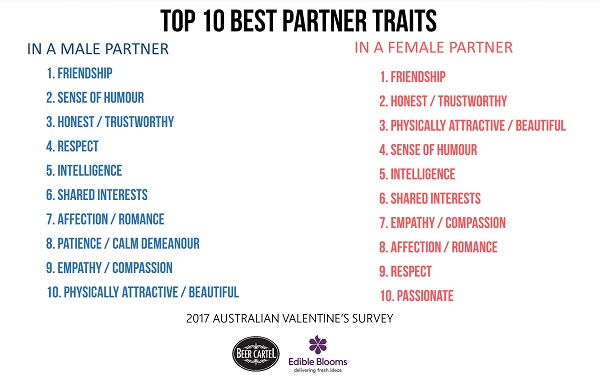 When asked what was their partners best traits friendship came up as the number one partner trait across both genders. The top 10 were very similar for both sexes, however men appear more vain; physical attraction was the 3rd most important trait in a female partner, but the 10 most important for male partners.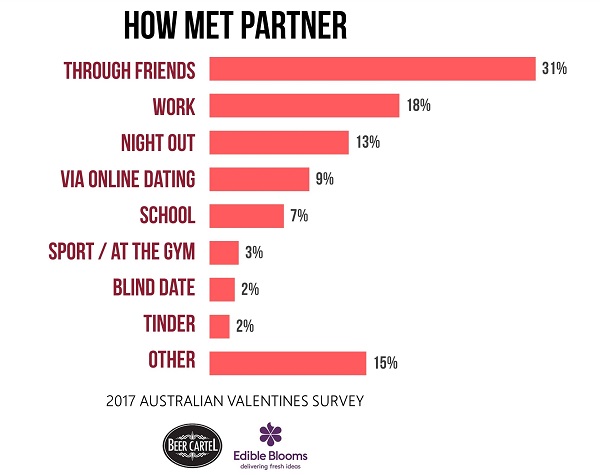 Friends and work are the best opportunities for starting a relationship with half of all respondents meeting their partner through one of these two avenues. Online dating has seen success for one in ten (9%) individuals.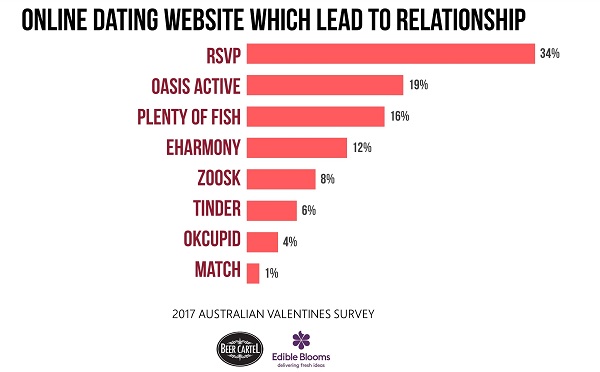 Among online dating sites RSVP has lead to the greatest relationship success with a third (34%) of all respondents who met their partner through online dating sites using RSVP.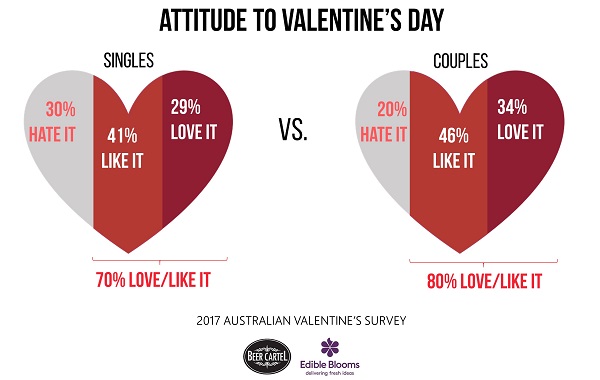 For those not in a relationship they are still positive to Valentine's Day overall.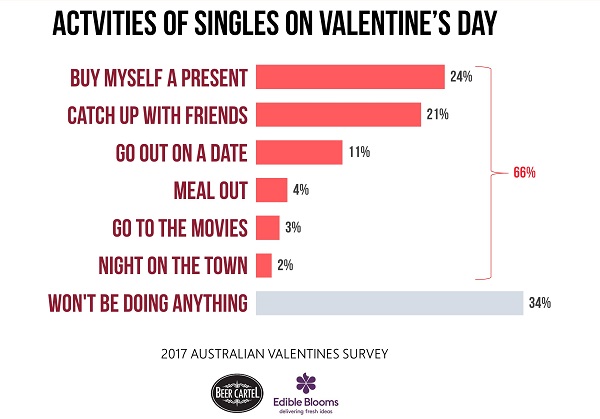 For those that are single Valentine's Day is a day of self indulgence and spending time with others.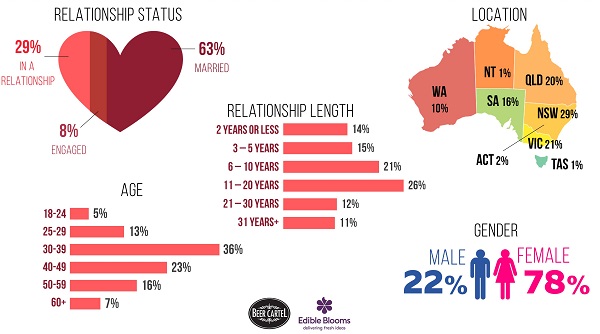 The 2017 Australian Valentine's Survey involved over 1,800 respondents who are in a relationship. Respondents were located throughout Australia and varied strongly in age and relationship length.
Prize Winners
Congratulations to Nic Toose & Julie Skinner, winners of $350 of goodies from Beer Cartel / Edible Blooms.
Sharing of Content
Please feel free to share any of the information/charts above - charts can be downloaded here. We simply ask that Beer Cartel and Edible Blooms are attributed with the research, including a link to this blog when sharing online. High resolution images and interviews are available on request. Downloadable Press Release is available here and images here.
About Beer Cartel:
Beer Cartel is Australia's leading retailer of craft beer gifts for Valentine's Day. Purchases can be made through the Beer Cartel website and at its Sydney store.
About Edible Blooms:
Edible Blooms is the unique floral experience you can eat, made from the finest chocolate, freshest fruit and are hand made to order. Their beautiful gift designs start from just AU $39.00 and they make them fresh daily in their own company store network with locations in Sydney, Melbourne, Brisbane, Perth and Adelaide. They can deliver to you today to most metropolitan areas and Australia wide the next business day.
Media Contacts:
Richard Kelsey - Beer Cartel
Phone: 0405 251 864
Email: [email protected]
Website: www.beercartel.com.au
Kelly Jamieson - Edible Blooms
Phone: 0417 809 738
Email: [email protected]
Website: www.edibleblooms.com.au
---