Posted by Richard Kelsey on 17th Oct 2019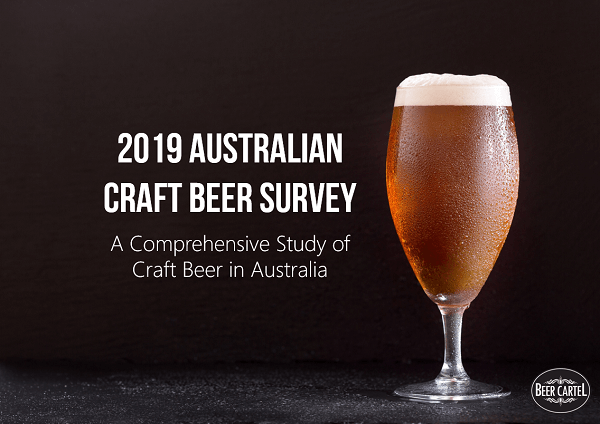 The 2019 Australian Craft Beer Survey by Beer Cartel is the largest study of Australian craft beer drinking trends. It follows on from the 2016, 2017 and 2018 versions of the same study.
This year's survey received widespread support across the industry. In total over 23,000 Australian craft beer drinkers took part, an increase of 5,000 from 18,000 in 2018.
Craft beer is the only segment of the Australian beer market which is in continuous growth, with overall consumption of beer and alcohol in decline. The data that follows provides an extremely accurate picture of this growing part of the market.
A prize of $500 of craft beer was offered as incentive to take part in the research. To see if you were the lucky winner scroll to the bottom.
Key findings from the research include:
1. Balter has been voted Australia's best craft brewery. For a second year in a row, consumers have chosen Balter as Australia's best, followed by Bentspoke and Stone & Wood.
2. Preference for cans has overtaken bottles for the first time. Overall preference for cans has grown 8 percentage points to 38%, while preference for bottles has decreased significantly to 27%. This reflects the changing landscape of vessels in Australia where the majority of craft brewers now sell beer in cans.
3. Awareness of the Independent Brewers Association (IBA) seal of independence has grown steadily. Up from 33% in 2018 to 41% in 2019. Among those aware, 58% say the seal has had a medium to large impact on their beer purchasing behaviour.
4. Core range beers account for the majority of purchases. Whilst past research indicated a large proportion of consumers are regularly drinking beers they're never previously tried, the frequency of purchase of core range beers compared to new/limited release beers overall is much higher. Similarly core range beers are purchased in greater quantities, being mainly bought by the 4/6 pack and case compared to new/limited release beers that are mainly purchased by the single or 4/6 pack.
5. More craft beer drinkers prefer larger packaging options. Consumers were asked for the preference between 4 and 6 packs, as well as cases of 16 and 24. Overall preference was for 6 packs (68%) and cases of 24 (54%) compared to their smaller alternative; 4 packs (38%) and cases of 16 (42%).
6. Most are positive towards the direction craft beer is heading and are excited by the opportunity to try different beers. Despite this a large proportion (76%) believe support of a breweries core range is important for its survival.
Spotlight on Independence
For the past two years a large focus of the survey has been on the importance of independent ownership, with a strong preference expressed by craft beer drinkers to purchase from Australian independent breweries as opposed to those owned by a large multi-national.
Awareness of Independent Brewers Association Independence Seal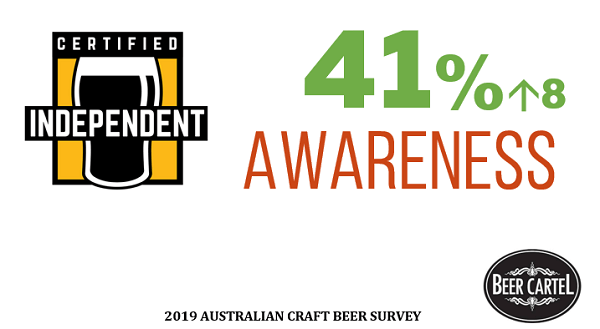 In May 2018 the Australian Independent Brewers Association (IBA) released their Independence Seal to help consumers better identify those breweries that are independent.
When surveyed in June – August 2018 a third (33%) of Australian craft beer drinkers were aware of this Independence Seal. This was despite relatively few breweries displaying it on their packaging. In 12 months since this first measure awareness has steadily grown to now sit at 41%.
Impact of an Australian Independent Brewers Seal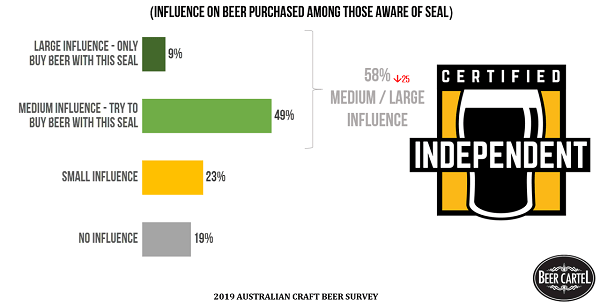 Among those aware of the seal 58% said it has had a medium to large impact on their beer purchasing behaviour, which shows the strength of the seal amongst those who are aware. This however is a 25 percentage point decrease from 2018 when 83% of those aware of the seal said it was likely* to have a medium to large impact on their beer purchasing.
* Note: in 2018 "likelihood to influence" was asked rather than "actual influence" as breweries had only just begun using the seal on packaging.
What the Term 'Independent Beer' Means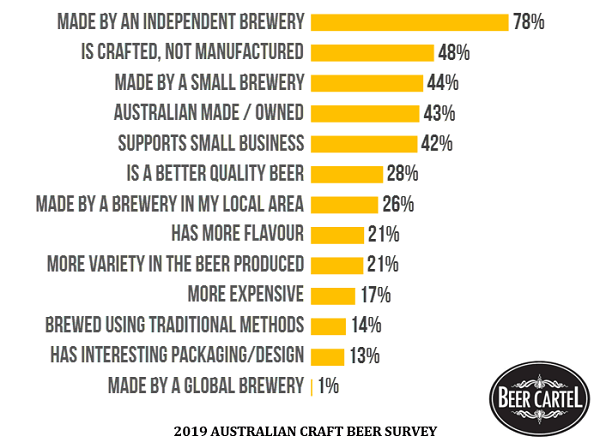 For the vast majority of craft beer drinkers (78%), the term 'Independent Beer' means beer that it is made by an Independent brewery. Other popular responses related to being crafted, rather than manufactured (48%), made by a small brewery (44%), Australian made/owned (43%) and supports small business (42%).
Note: Response framework provided by the Independent Brewers Association (IBA).
Packaged Beer
One area of focus requested by breweries for this year's survey was looking at packaging; specifically, around case size and 4/6 pack preference. In 2018 survey findings indicated that consumers are buying a large proportion of beers they have never tried before with around half of all beers bought being previously untried.
Packaging Formats Regularly Purchased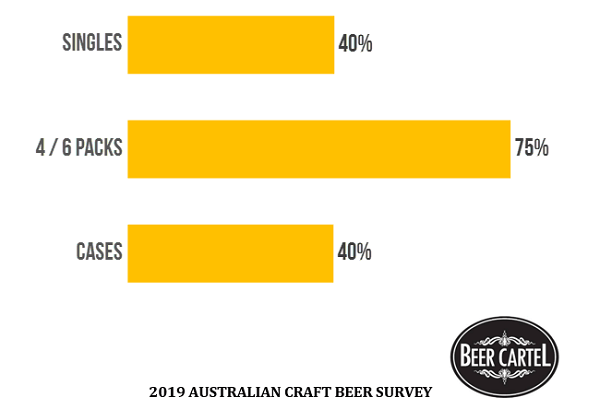 For most craft beer drinkers (75%), 4/6 packs are the packaging format most regularly purchased, with a similar proportion buying singles (40%) as are buying cases.
Packaging Preferences: Case of 16 vs Case of 24
Regular buyers of cases of beer were asked which format they preferred (case of 16 vs case of 24), assuming the same price per can/bottle. While some of the most popular beers such as Balter XPA are in cases of 16, overall more (54%) preferred to purchase a case of 24, despite the higher total cost.
Packaging Preferences: 4 Pack vs 6 Pack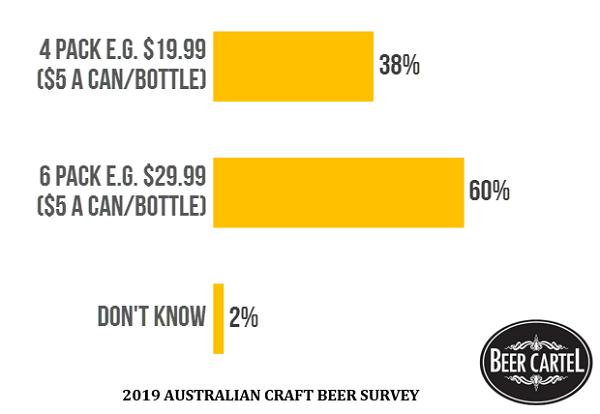 Similarly, regular buyers of 4 / 6 packs of beer were asked which format they preferred (4 pack vs 6 pack), assuming the same price per can/bottle. Again, despite some of the most popular beers being in 4 packs, overall a greater portion (60%) preferred 6 packs despite the higher total cost.
Purchase Frequency: Core Range vs New/Limited Beers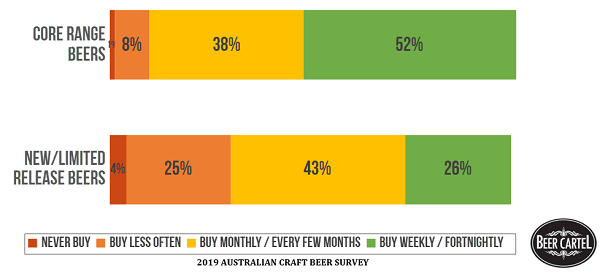 Overall core range beers are purchased relatively frequently with 52% buying them weekly/fortnightly. This compares to just 26% who buy new/limited release beers on a weekly/fortnightly basis.
Most Purchased Packaging Format by Beer Type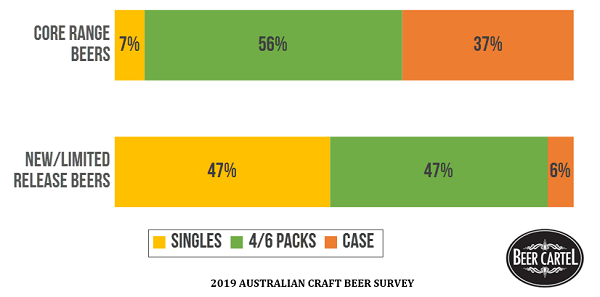 When it comes to core range beers most are purchased in 4/6 packs and by the case. This compares to new/limited release beers where purchasing is mostly split amongst singles and 4/6 packs.
Attitudes Towards Regular Release of New/Limited Beers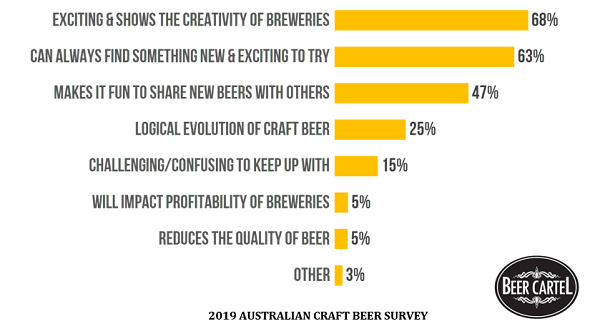 Craft beer drinkers are largely positive towards the regular release of new beers by brewers. Most believe it showcases the skill of breweries and provides new and interesting beers that can be enjoyed.
Attitudes Towards Evolution of Craft Beer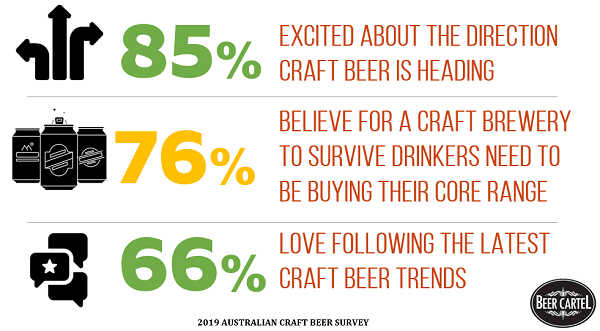 Craft beer drinkers are excited about where craft beer is heading. Most believe drinkers need to continue to support a breweries core range for it to survive, although a large proportion (66%) also enjoy following the latest beer trends.
Preference for Cans vs Bottles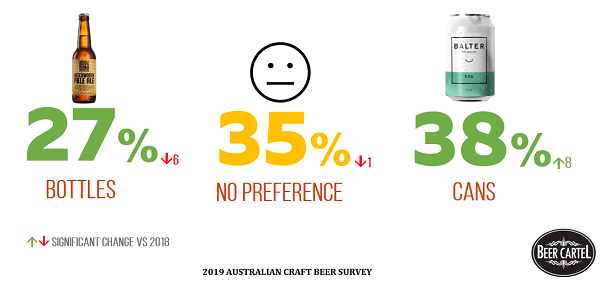 In the last year there has been a significant shift in preference for cans over bottles. For the first time since the survey began in 2016 overall preference has shifted to cans with 38% considering it their vessel of choice, compared to 27% preferring bottles. Just over a third of drinkers have no specific preference between cans and bottles.
Main Sources of Influence for Beer Purchases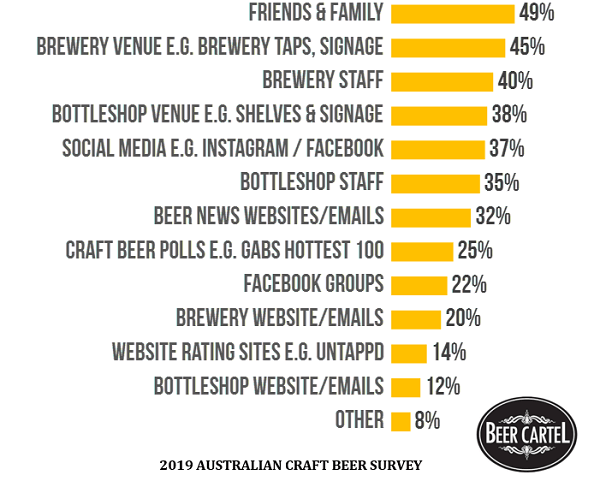 Drinkers have a wide range of sources they use to get advice on beers to buy. Friends & family (49%) are the most common source cited alongside the brewery venue and brewery staff.
Online Purchasing of Craft Beer
In the past year there has been significant growth in the purchasing of craft beer online. 30% purchase beer online at least every six months or more often, compared to 22% in 2018. Australian craft beer speciality websites account for the majority of purchases.
Elements That Make a Great Beer Festival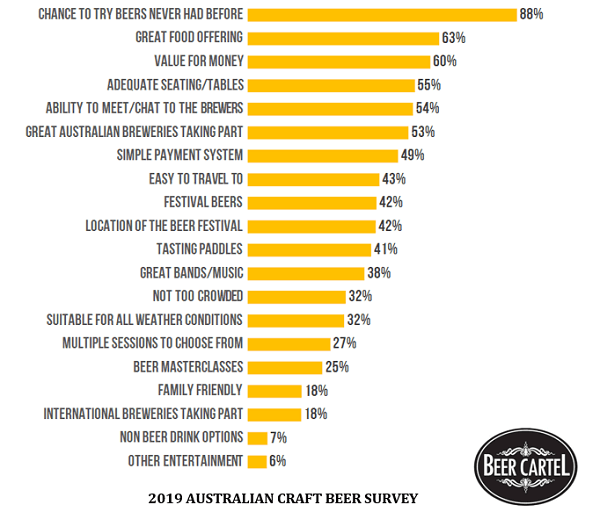 The opportunity to try beers drinkers have never had before (88%) appears a key element to creating a great beer festival, as are a great food offering (63%) and overall value for money (60%).
Attitudes to Craft Beer


Australian craft beer drinkers are big supporters of the scene, particularly independent breweries. Most (93%) are extremely positive, believing the quality of craft beer in Australia is improving, with a large proportion (87%) encouraging friends and family to try craft beer.
Whilst 93% of drinkers surveyed indicated they were big supporters of independent craft beer, a large minority (40%) still indicated they were happy to buy good craft beer irrespective of ownership.
The Awards
Australia's Best Craft Brewery
Congratulations once more goes to Balter who for the second year in a row has taken out the title of Australia's best craft brewery. All other breweries who have made the top 5 have also seen gains compared to 2018, particularly Bentspoke (jumping from 6th to 2nd) and Black Hops (10th to 5th).
Australia's Favourite Craft Beer Bar/Pub by State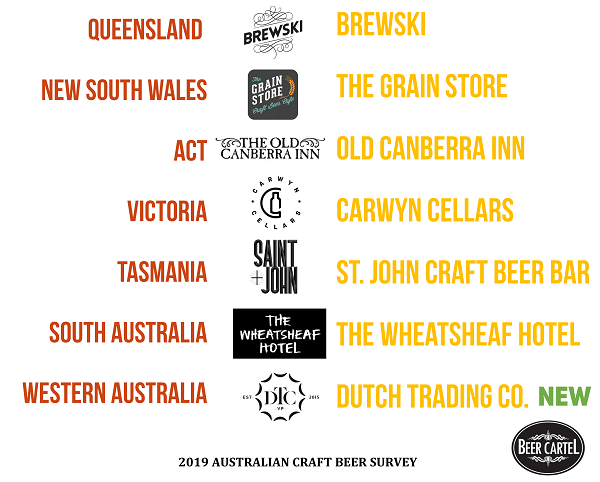 Amongst craft beer venues there has been no change in best craft beer bar / pub for all states except Western Australia, where the Dutch Trading Co has moved to number one ahead of Petition Beer Corner.
The Grain Store in Newcastle and Saint John Craft Beer Bar in Launceston are the only two venues which are located outside of the capital city in their state.
Australia's Favourite Brewery Venue by State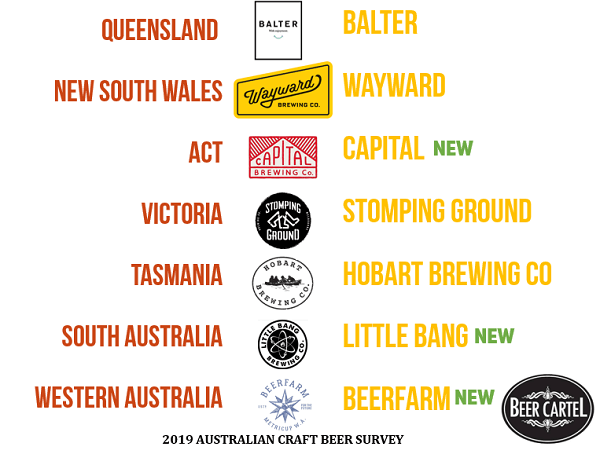 Unlike the Best Craft Beer Bar / Pub in each state, the Best Brewery Venue has seen a number of changes. Capital has overtaken Bentspoke to be best venue in Canberra/ACT while Little Bang has overtaken Big Shed in South Australia and Beerfarm has overtaken Feral in Western Australia.
Australia's Favourite Beer Festival (By Attendance)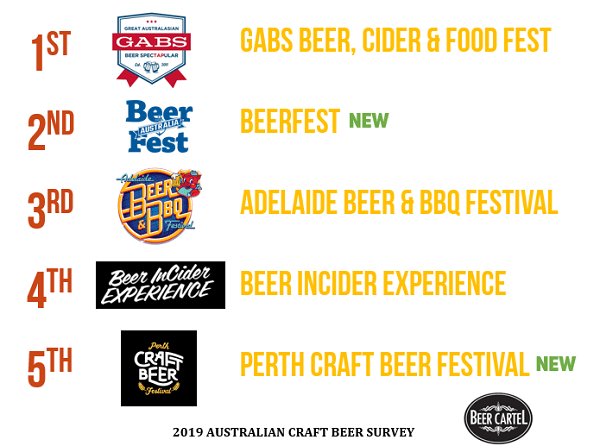 GABS continues to be the most attended beer festival in Australia, with Beerfest* and Perth Craft Beer Festival both making the top 5 for the first time.
*Note: Beerfest combined nationally in 2019, previously each festival location was shown independently.
Australia's Favourite Craft Beer Week (By Attendance)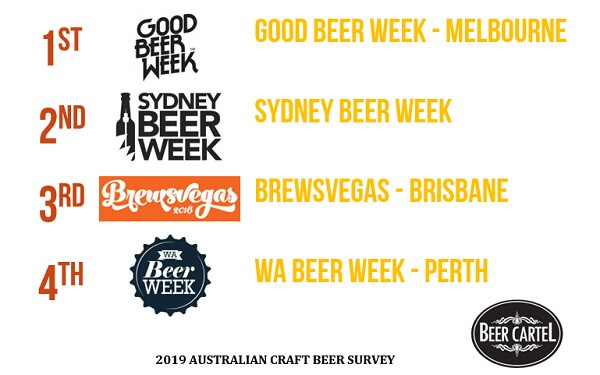 Similar to each year since the survey began, Melbourne's Good Beer Week is the nations most attended beer week.
Australia's Favourite Craft Beer News/Blogs (By Readership/Usage)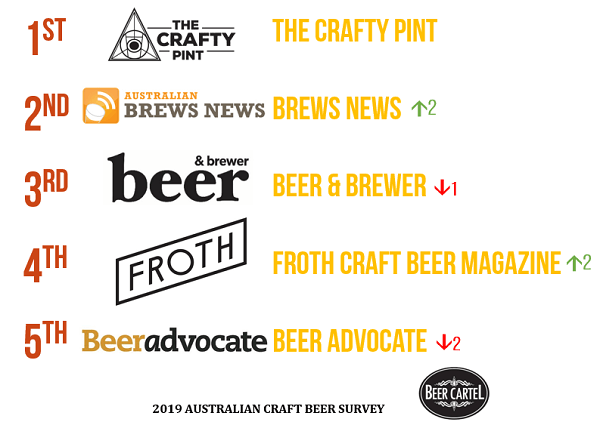 The Crafty Pint continues to be Australia's most read craft beer news site/blog, similar to every year since the survey began. Both Australian Brews News and Froth Craft Beer Magazine have seen gains in readership.
Australia's Favourite Beer Apps (By Usage)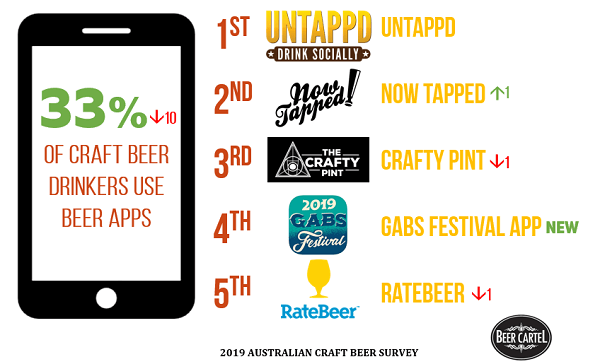 Overall fewer people are using craft beer apps (33%) compared to 43% in 2018. Untappd remains the most used beer app.
Australia's Favourite Beer Podcast (By Usage)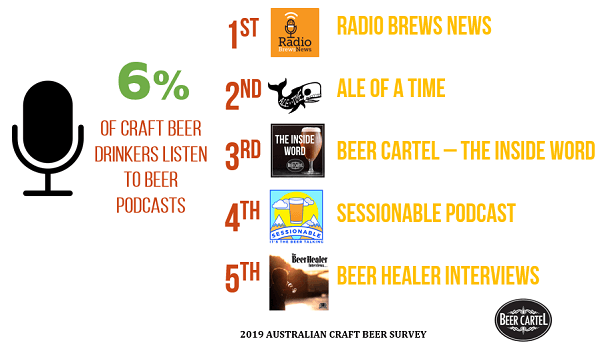 Relatively few craft beer drinkers listen to craft beer related podcasts. Radio Brews News is the most listened to podcast followed by Ale of a Time and Beer Cartel's The Inside Word.
The Stats
Australia's Most Consumed Beer Styles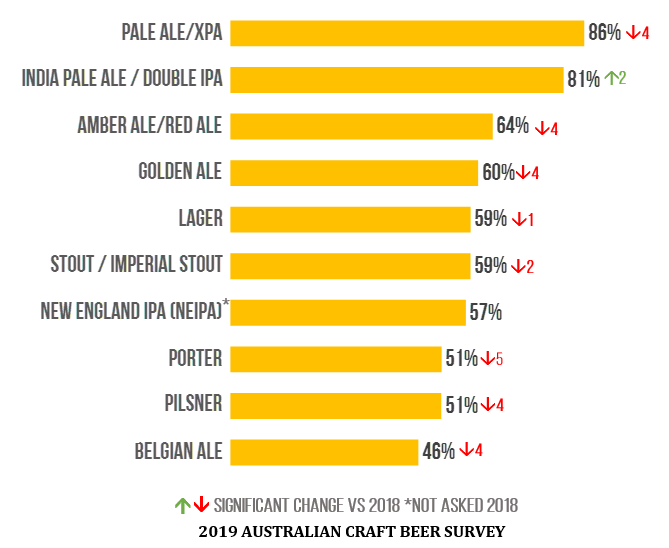 In 2019 fewer consumers are drinking most of the main beer styles except for India Pale Ales (IPA) / Double IPAs which has grown by 2 percentage points.
*Note: New England IPA (NEIPA) not asked in 2018.
Craft Beer Experience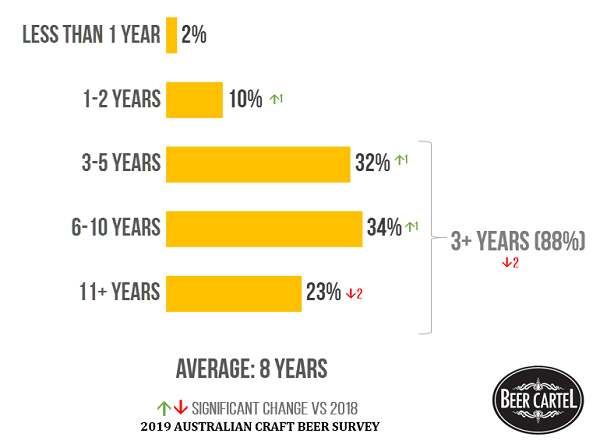 Similar to previous years; on average people have been drinking craft beer for 8 years.
Weekly Spend on Beer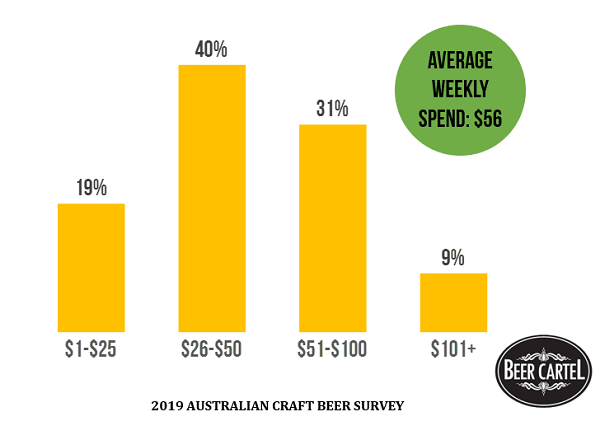 Weekly spend on beer is unchanged vs 2018, with the average weekly spend $56.
Australian Craft Beer Drinker Profile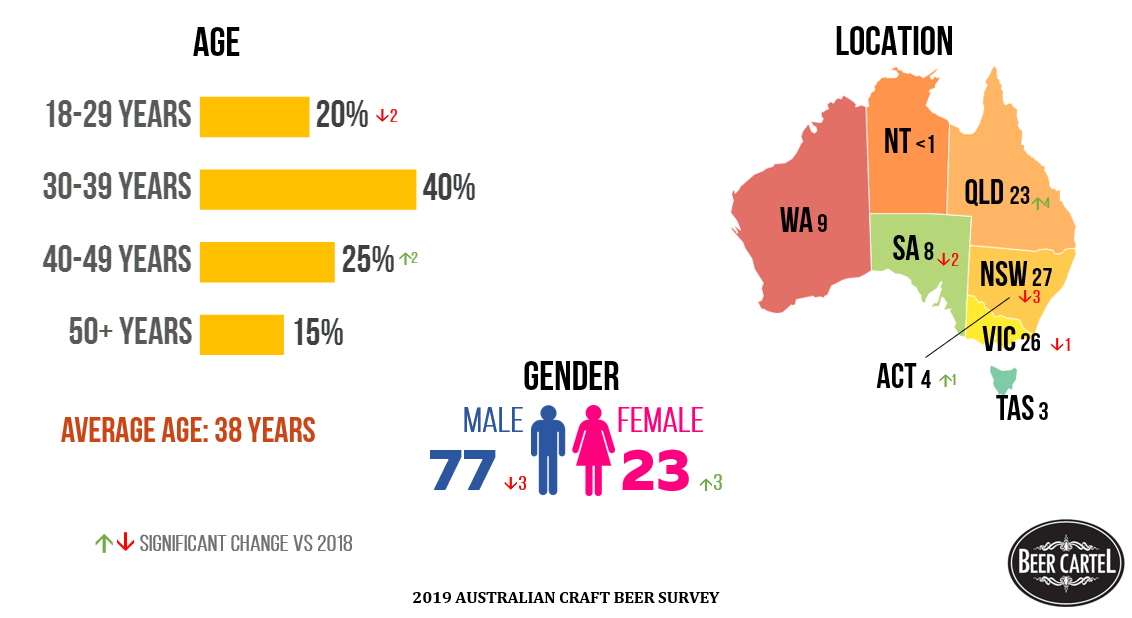 The craft beer drinker profile is relatively unchanged. Overall there appears to be more female drinkers in the market, increasing 3 percentage points to 23%, while Queensland now accounts for a greater proportion overall.
Thanks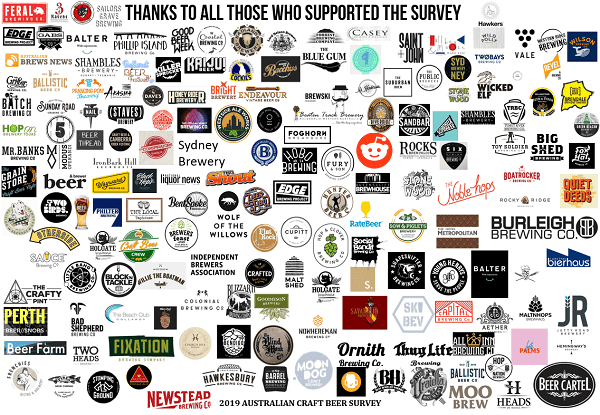 A special thanks goes out to all those who have helped support the 2019 Australian Craft Beer Survey. Without your assistance none of this would have been possible. We raise a glass to each and every one of you, and thank you for being a part of this hugely exciting industry!
Sharing of Content
Please feel free to share any of the information/charts above - charts can be downloaded here. We simply ask that Beer Cartel is attributed, including a link to www.beercartel.com.au when sharing online. High resolution images and interviews are available on request.
About Beer Cartel:
Beer Cartel is Australia's leading craft beer bottle shop, stocking over 1,000 craft beers from Australia and overseas. Purchases can be made through the Beer Cartel website (www.beercartel.com.au) and its Sydney store in Artarmon.
Media Contact:
Richard Kelsey
Phone: 0405 251 864
Email: [email protected]
Website: www.beercartel.com.au
Winner of $500 of Craft Beer
Congratulations to Gary Martin winner of $500 to spend on craft beer.
---