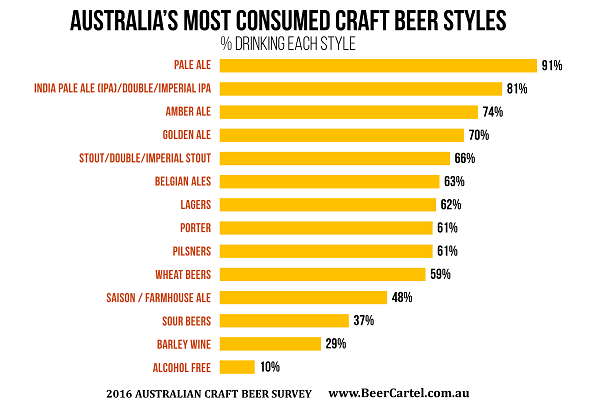 The craft beer revolution began in America in the late 1970s and early 80s. Back then it was the American Pale Ale that started to create interest in tasty, full-flavoured beer. This was led by breweries such as Sierra Nevada, whose Pale Ale was the genesis for Little Creatures Pale Ale, when it was first created in Australia.
Other Australian breweries such as Mountain Goat were also started after becoming inspired following travels through America and witnessing the great beers taking that country by storm.
Today with the three leading "craft beers" being James Squire 150 Lashes Pale Ale, Fat Yak Pale Ale, and Little Creatures Pale Ale it should be of little surprise that Pale Ale is the most consumed style in Australia, enjoyed by nine out of ten craft beer drinkers.
What is of interest however, is that while the Pale Ale is a large part of the craft beer revolution in Australia, the country is quickly evolving. Similar to how America's interest in craft beer began with Pale Ales and evolved into a nation of India Pale Ale (IPA) hop-heads (within the craft beer community), the same is occurring here. IPAs, and its higher strength brothers, the Double & Imperial IPA are becoming widespread, with 81% of craft beer drinkers enjoying IPAs.
Australia's Favourite Craft Beer Style is the India Pale Ale (IPA)
The interest in IPAs amongst Australian craft beer drinkers, is highlighted even further, by those Australians that rate it their favourite style of beer (see below). One-third of Australian craft beer drinkers rated IPA's their most preferred beer style, with a quarter (23%) saying Pale Ale was their favourite beer style.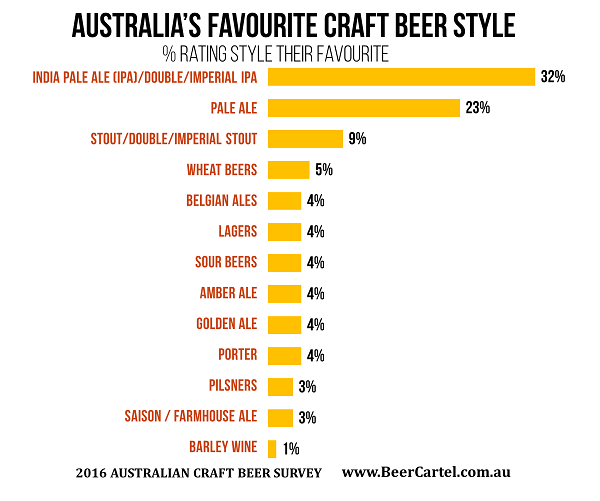 To see our full range of beer styles click here.
To see the full results of the 2016 Australian Craft Beer Survey click here.
---