Posted by Geoff Huens on 3rd Apr 2019
Beer Club Subscription Issue 114 (April 2019)
Hamilton Island is an amazing place to holiday and simply cruise around at your own pace.
It's a relatively easy get away location from most parts of Australia, especially the east coast where it's a short plane ride away to a resort styled holiday island with all amenities at hand.
Now, if you are anything like me when going on holidays then craft beer is always part of the planning stage for any great holiday adventure, especially when the location is somewhat remote or isolated.
Don't get me wrong I do enjoy wine and the odd cocktail but for me beer is where it is at and craft beer to be specific. Whenever I visit a new place I am always keen to track down a local watering hole and try and sample the local beers.
The challenge I find though with any island holiday is that local beers can be near impossible to find and it often means you're beer options are at the mercy of the resort bar menu.
First world problems right?
Based on my previous trip to Hamilton Island I had an idea of what beer options were going to be available so for this trip I opted to pack a case of crafties in my checked in baggage.
Some might call this weird, or a bit crazy, but the way I see it is that it's no different to packing a case of beer in the boot of the car for a trip up the coast. The only difference is my transport method is a plane not a car and I need to pack accordingly.
Here's a pic of the beers packed in checked baggage. I found a cube of 16 was perfect for both quantity, size, weight and a mix of beers.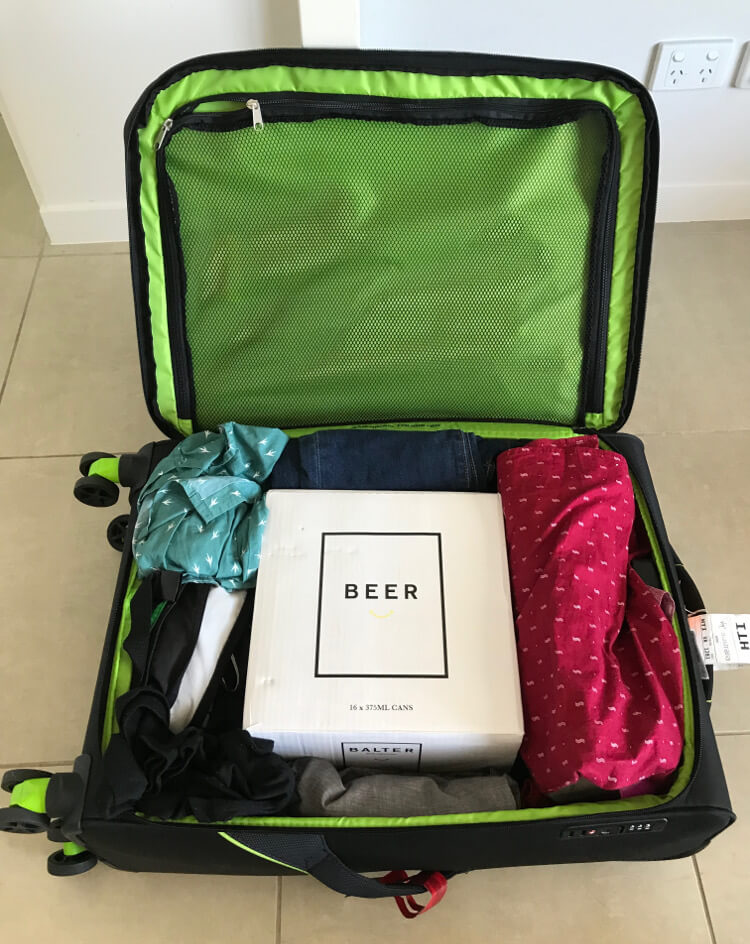 And as a side note, these days with the proliferation of beer in cans, there are a few advantages to choosing them when packing.
They are lighter
They take up less space (no wasted bottle neck space)
Less likelihood of breakages
Here are the 16 beers I packed. (2 x Hop Nation The Chop IPA, 2 x Hop Nation The Heart Pale Ale, 4 x Ekim Viking IPA, 4 x Balter Captain Sensible, 4 x Balter XPA)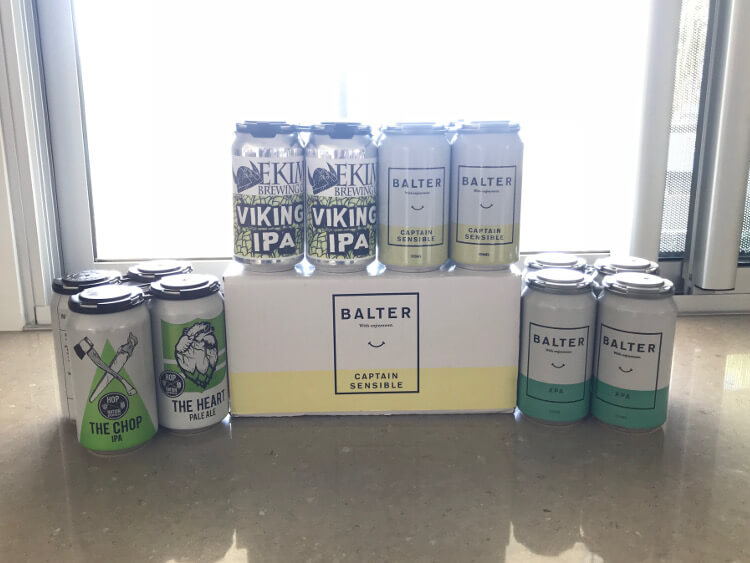 Having last been to Hamilton Island in 2013 I was interested to see how the island had evolved as I'd heard reports that there was a much larger supermarket and more options than what there had been previously.
The reports were right.
The little corner store had been replaced by an IGA which was "big" by island standards and had all the necessary items you would need for your island stay.
Being an island supermarket you can probably guess that the prices are somewhat inflated, but I didn't see them as being gouging prices. It is, as the island residents put it, "island pricing". After all they have a captive audience and you aren't really going to go elsewhere especially since Coles stopped doing island deliveries when the IGA opened.
My guess is that it must be Australia's highest revenue generating IGA store. We were there for a week and the lines were often 10-15 deep every night of the week with key items like the humble snag selling out multiple times, and we weren't even there during the peak season!
Here's a pic of the regular checkout line up in the afternoons.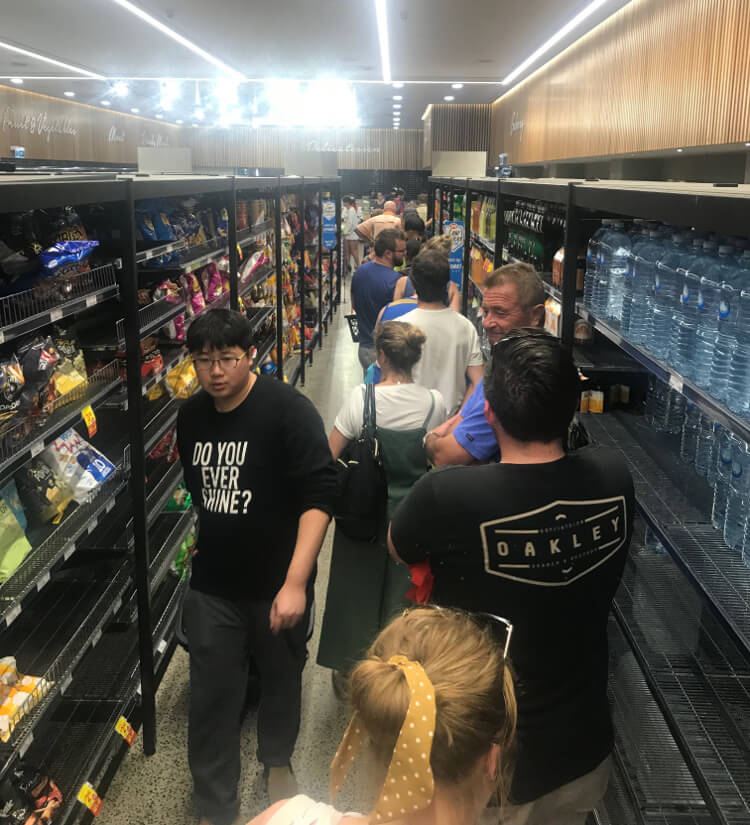 In my previous blog post about beer on Hamilton Island you can see that there was not much in the way of craft offerings. Being owned by the Oatley family the options were Robert Oatley Wines, Anchor Steam (which Oatley Wines had the distribution rights for in Australia), a couple of Lion Nathan beers (James Squires and Knappstein Lager) and of course Coopers Pale Ale.
The good thing is this has since changed quite a bit with a larger bottle shop attached to the IGA.
Here's the lowdown on what is now available in terms of beer on the island. Prices are listed as 6 pack / case. Some beers are missing the 6 pack or case price as they were not readily shown, but you will easily be able to estimate the price based on other beers listed.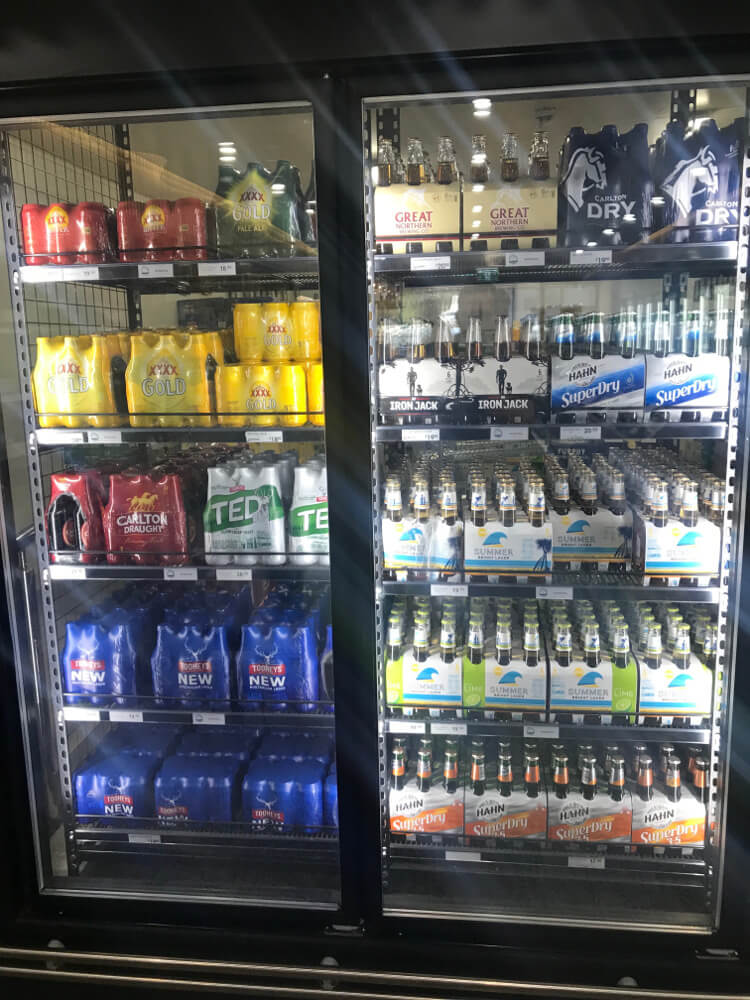 Mainstream Beer Options
Great Northern: $20.50 / NA
Corona (6 pack stubbies): $24.50
Corona (10 pack cans): $32.50
Heineken: $24.50 / $69.50
Hahn Premium Light: $15.50 / $44.50
Hahn Super Dry: 3.5: $17.50 / $48.50
Hahn Super Dry: $20.50 / $52.50
Iron Jack (30 cans): NA / $60.00
Iron Jack (stubbies): $19.50 / $55
Carlton Draught: $21.50 / $58.50
Carlton Dry: $19.50 / NA
XXXX Bitter: $19.50 / $57.50
XXXX Gold: $18.50 / $49.50
XXXX Australian Pale Ale: $18.50 / $50.50
XXXX Summer Lime: $19.50 / $49.50
Tooheys Extra Dry: $20.50 / $56.50
Tooheys New: $19.50 / $57.50
Stella Artois: $24.50 / $69.50
Pacifico: $28.50 / $84.50
Kirin Megumi: $24.50 / $69.50
Peroni Leggera: $21.50 / $76.50
James Boags Premium: $23.50 / $59.00
Birra Moretti: $24.50 / $69.50
Steinlager Pure: $26.50 / NA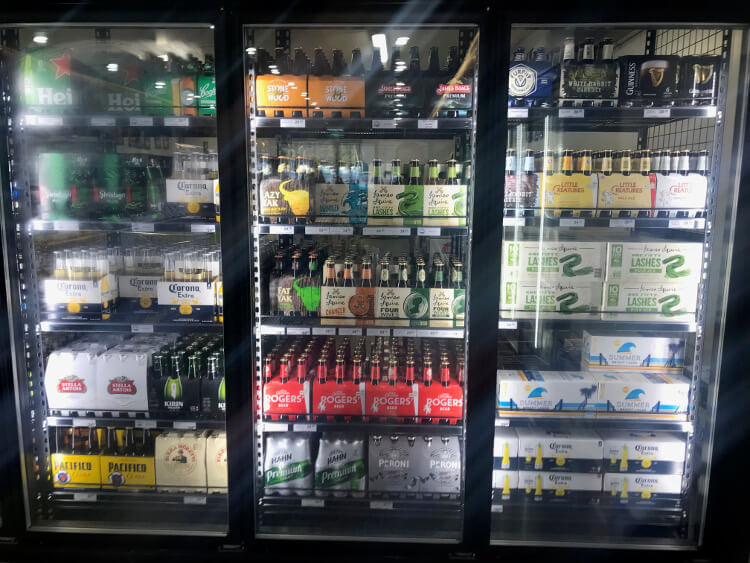 Craft Beer Options
Little Creatures Pale Ale: $28.50 / $84.50
Little Creatures Pilsner: $28.50 / $84.50
Little Creatures Rogers: $24.50 / $69.50
James Squire Amber Ale: $24.50 / $69.50
James Squire Pilsner: $24.50 / $69.50
James Squire Golden Ale: $24.50 / $69.50
James Squire Pale Ale: $24.50 / $69.50
James Squires Swindler: $24.50 / $69.50
Coopers Pale Ale: $24.50 / $69.50
Stone & Wood Garden Ale: NA / $85
Stone & Wood Pacific Ale: $29.50 / $85
Guinness Draught: $28.50 / $84.50
White Rabbit White Ale: $28.50 / $84.50
White Rabbit Dark Ale: $28.50 / $84.50
White Rabbit Pale Ale: $28.50 / $84.50
Matilda Bay Minimum Chips: NA / $76.50
Matilda Bay Lazy Yak: $24.50 / $76.50
Matilda Bay Fat Yak: $24.70 / $68.70
Furphy: $20.00 / NA (this price seems like a possible pricing error as this is below mainland pricing or it was perhaps a promo price but not marked as such)
Here's a pic of the cool room which is quite large compared to what they had previously, craft options are to the right, slightly out of frame!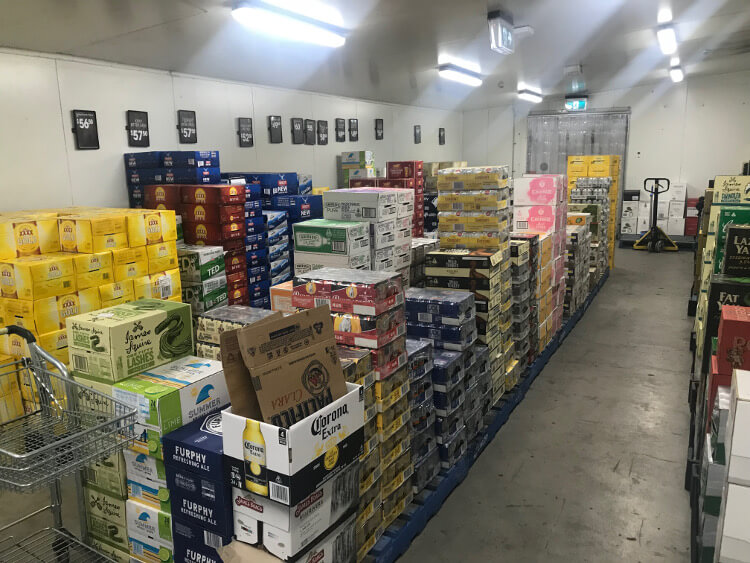 Overall, when you consider the regular price of a case of beer at your local bottleshop I think the prices above are quite fair for an isolated island bottleshop. My only recommendation would be for them to stock an XPA or IPA of sorts. I feel Balter XPA, Fixation Obsession Session IPA or BentSpoke Crankshaft IPA would fit in great among the mix of beers.
If you are wondering what I purchased when I was there to go along with my muled cube of beers, well I had to support Australian Independents and so grabbed a couple six packs of Coopers Pale and Stone & Wood. Oh and a couple bottles of white and red wine to share.
One thing to consider about the prices listed in this blog post is they are from October 2018 and therefore before the Queensland Container Deposit Scheme had been rolled out. So you can probably expect to pay about $3 more per case once that is factored in.
If you're off to Hamilton Island, have an awesome trip and enjoy a few crafty ones while you're there!
This Months Tasting notes
New round here? Check out our guide on how to maximise your beer tasting experience.
Beer Number 1: Nomad South Pacific Dream
Style: Australian Pale Ale
ABV: 4.1%
Colour: Golden
Serving Temp: 7˚C to 12˚C
Recommended Glass: Pint
Brewery Description: Our take on the classic Pacific Ale style. Tropical on the noise and low bitterness. This classic Pacific Style Ale, has been brewed as the perfect go to beer for all occasions. Created with a blend of American and Pacific Hops, big on the nose but easy on the pallet.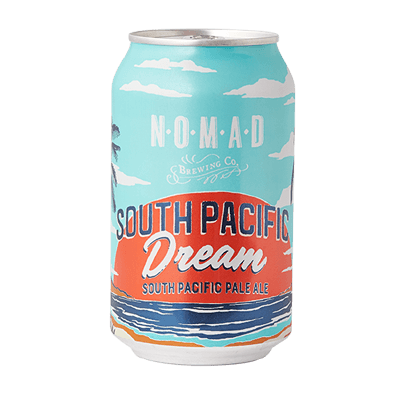 Beer Number 2: Coastal Treachery XPA
Style: Pale Ale
ABV: 4.5%
Colour: Golden
Serving Temp: 7˚C to 12˚C
Recommended Glass: Pint
Brewery Description: Treachery is a 4.5% eXtra Pale Ale that defies traditional beer styles. The X could stand for eXtra hops, eXtra fruity, eXtra pale or eXperimental (or all of the above !!!)
The addition of rolled oats along with a LOT of New Zealand hops make this hazy XPA a super smooth drink with a fantastic tropical fruit/passion fruit character.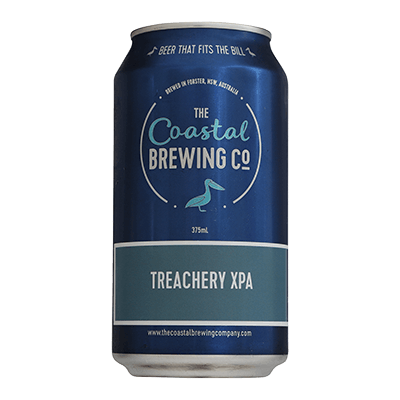 Beer Number 3: Bridge Road Chevalier Saison
Style: Saison
ABV: 6%
Colour: Golden
Serving Temp: 7˚C to 12˚C
Recommended Glass: Tulip
Brewery Description: The Saison is a classic Belgian style, not often seen outside of its homeland. It was traditionally brewed by farmers and their workers as a beverage to consume during the summer months. Bridge Road Brewers have crafted their own Saison to add to their Chevalier range. This beer is quite unique, light straw in colour, with a tight bright white head. Aromas are dominated by esters and phenolic characters, owing to the Saison yeast strain, which also gives the beer its characteristic tart, dry and acidic profile. This citrus character combined with grassy hop flavours make this a great food beer, try it with anything from seafood to blue cheese.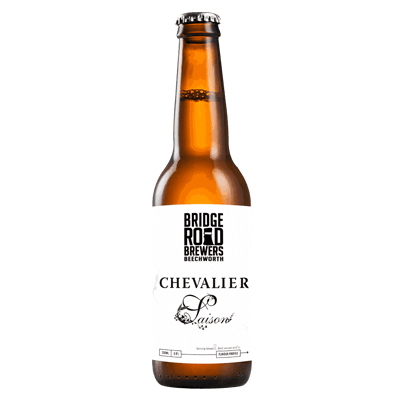 Beer Number 4: Deschutes Black Butte Porter (featured in Enthusiast & Crowd Pleaser packs)
Style: Porter
ABV: 5.2%
Colour: Black
Serving Temp: 7˚C to 12˚C
Recommended Glass: Tulip
Brewery Description: With a dark beer as our first and flagship brand, Black Butte defined Deschutes as a radical player. A slight hop bitterness up front enhances the distinctive chocolate and roasted finish. It's prized for its creamy mouthfeel and intense complex flavours.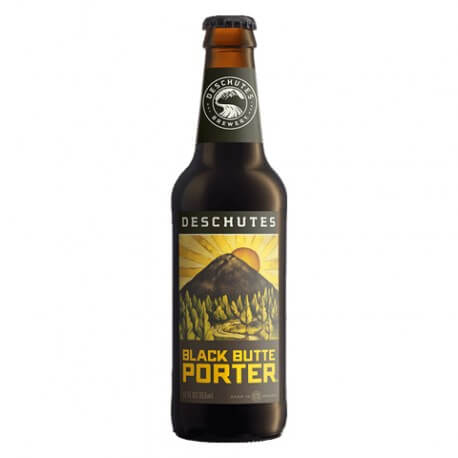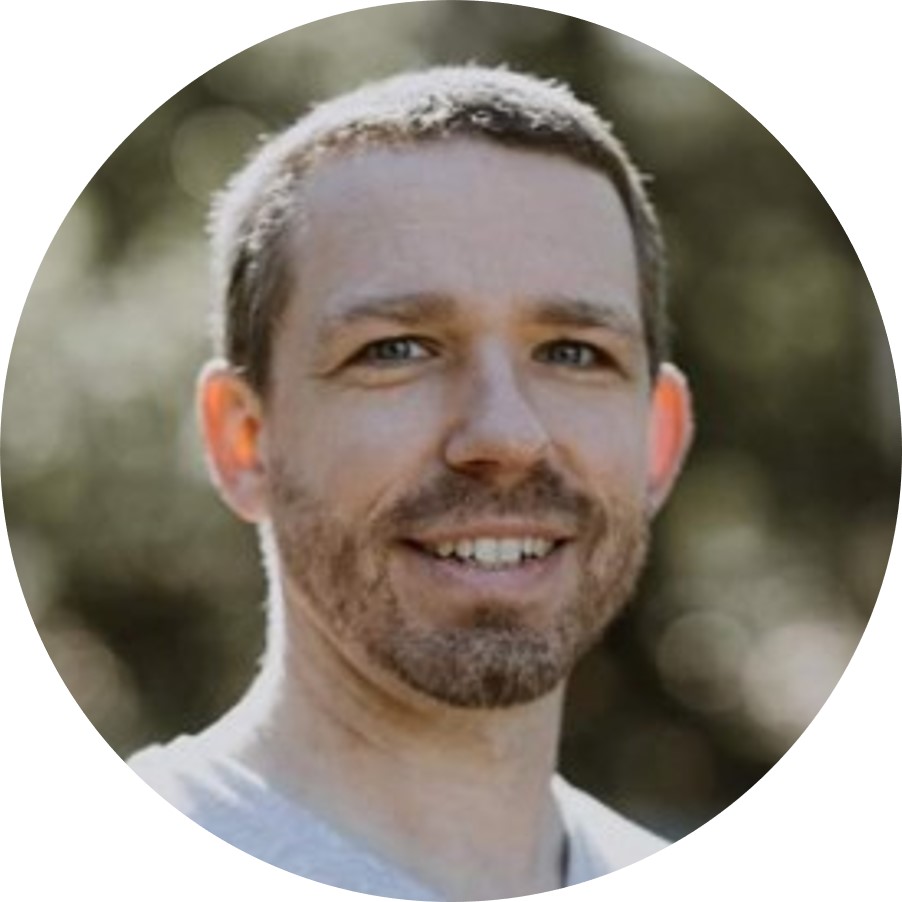 About the Author: Geoff Huens is the co-founder of Beer Cartel who conjured up the idea of a beer subscription delivery service after his year abroad travelling through South America, the USA and Europe. With his partner in beer, Richard Kelsey, this later evolved into Beer Cartel. Through a passion for bringing amazing beers to people around him, a rekindling of his Belgian heritage and love for exploring new beers he can often be found writing about beer or chewing the malt over his favourite beer style, American Barleywines.
---