It may seem crazy to be talking about Christmas already, but hear us out for a second, we think you'll like what we have been working on...
Since 2015 we've been selling Beer Advent Calendars. They're rapidly growing in popularity each year, with many beer drinkers like yourself making it an annual tradition.
"What is a Beer Advent Calendar?", I hear you ask.
Remember those Christmas Advent Calendars you were given as a child? Where you opened a little window each day in December to reveal a new image as you counted down to Christmas?
Well we've taken that concept and made it that little bit more fun by doing it with beer!
Each year we up the ante and this year is no different. We've put 25 great beers into an awesome festive box and designed it to hide each beer until it's time to reveal as you count down to Christmas.
What you can expect in this years Beer Advent Calendar box:
-25 different beers from 25 different breweries, including one to have on Christmas day!
-Craft beers from leading Australian & International breweries. Explore locally crafted beers, as well as beers from world class brewing countries like Belgium, Germany and the USA.
-A huge variety of beer styles. From Pale Ales and Amber Ales to Golden Ales, Pilsners, Tripels, IPA's and more! It's a truly eye opening and mouth watering selection.
-Includes beers which ranked highly in Australia's Hottest 100 Craft Beer poll, and others rating 95+ (out of 100) on sites like RateBeer.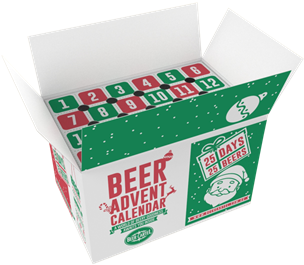 How to get yours…
Our Beer Advent Calendars are available now online for pre-order with delivery Australia-wide (beercartel.com.au/beer-advent-calendar) or can be picked up from our Sydney store from late October. Hurry though as they may sell out!
---