Updated on February 25, 2020.
Coeliac disease is an intolerance to gluten that affects 1 in 70 Australians. Around 80% of these are undiagnosed, meaning the vast majority of Australians who have the coeliac disease don't yet know they have it.
For those that do have a gluten intolerance it doesn't mean delicious, refreshing beer is off the cards, there are gluten free beers available out there and Beer Cartel has you covered.
View our gluten free and gluten reduced craft beer here.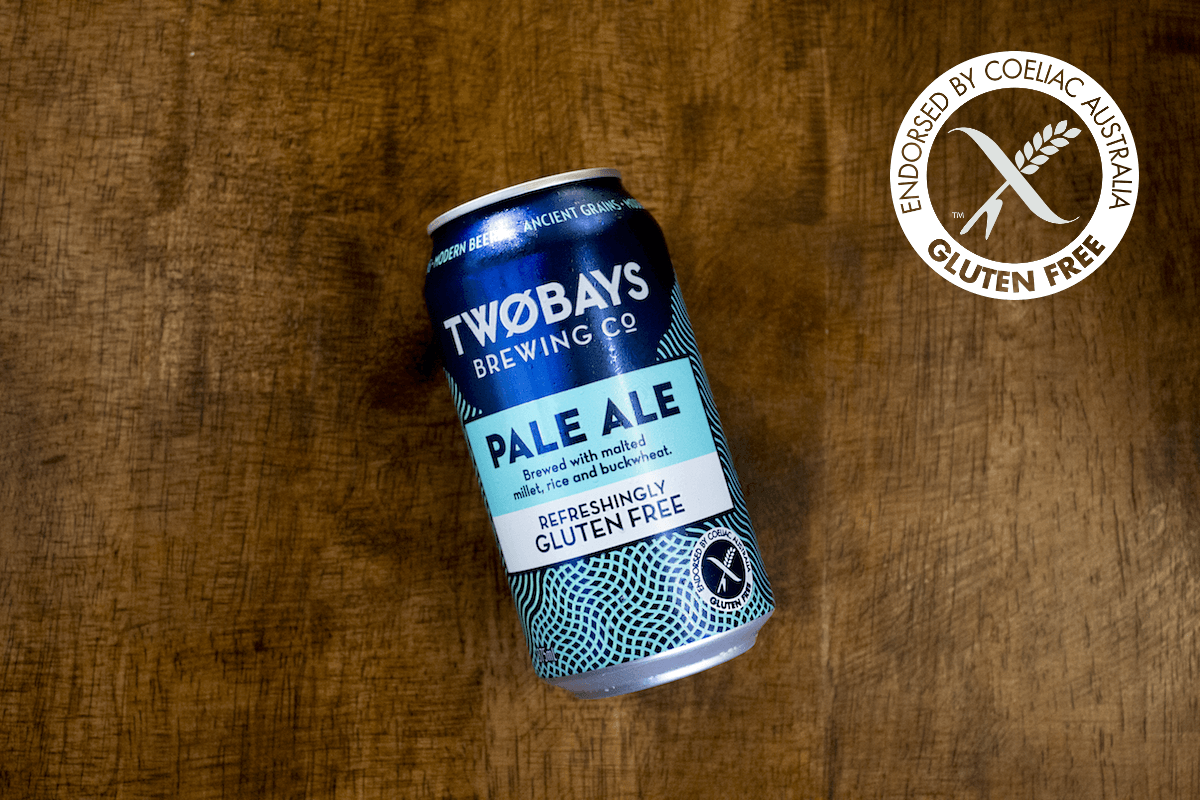 Image: Two Bays Beer
What is Coeliac disease?
Coeliac disease is caused by an adverse reaction to gluten, a dietary protein found in three types of cereals: wheat, barley and rye. It's an autoimmune condition where the immune system, the body's defence against infection, mistakenly considers substances found in gluten as the threat to the body and attacks them. This damages and inflames the surface of the small intestines, disrupting the body's inability to absorb nutrients from food.
Coeliac disease is known as 'multi-system' disorder since its symptoms vary from person to person, affect any area of the body and can range from very mild to severe. Symptoms also differ between individuals in terms of type and severity. Most of its symptoms are associated with indigestion such as diarrhoea, stomach pains, constipation, flatulence, and lethargy. Coeliac disease can also cause other non-digestive related symptoms including unexpected weight loss, itchy rash, nerve damage and even ataxia (loss of coordination and balance).
Coeliac disease affects 1 in 70 Australians. However, around 80% of this number remain undiagnosed. This means the vast majority of Australians who have the coeliac disease don't yet know they have it.
It is not entirely clear what causes the immune system to act in this way but medical experts believe it can be associated with genetic mutations (abnormal changes to the instructions that control cell activity) and environmental factors. There is no cure yet for coeliac disease, but switching to a strict, lifelong gluten-free diet is currently the only recognised medical treatment. It is best to avoid pasta, cakes, cereals, most types of bread, oats and certain types of ready meals. With wheat and barley being two of the main culprits of gluten related problems, beer also comes to the forefront of products on the 'do not consume' list for those on a gluten-free diet.
Why does Gluten Free Beer Exist?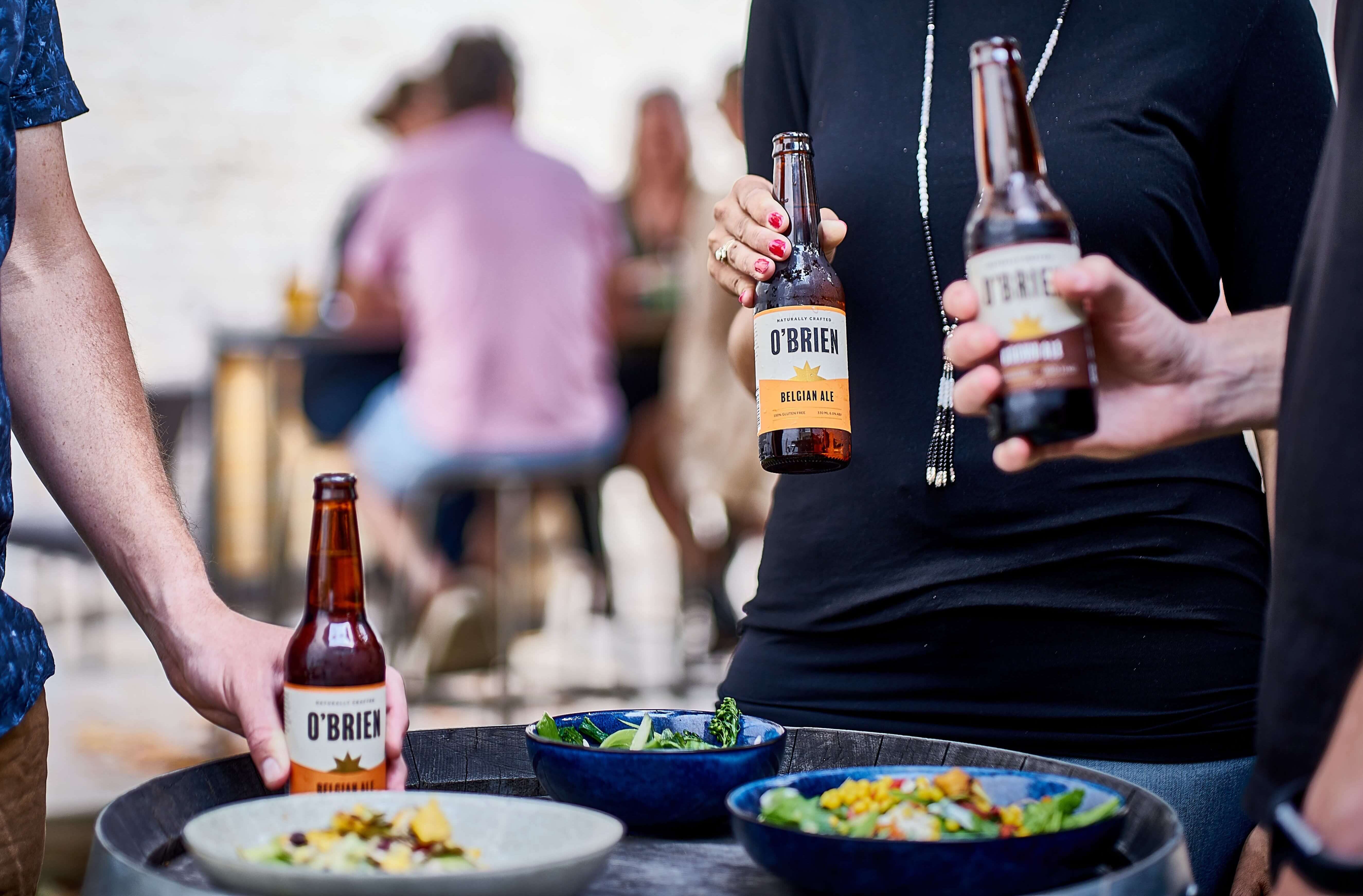 Image: O'Brien Beer
People with gluten intolerance and coeliac disease have to deal with a lot of adversity, not the least of which is explaining that they're not one of the many people who think that going 'gluten-free' is a fad diet rather than a serious medical issue. Good news is in the past few years remarkable strides have been made in crafting gluten-free beers. Some small and independent brewers have been brewing beers with reduced gluten content and also eliminating gluten from their beers altogether.
How is Gluten Free beer made?
Gluten-free beers can be categorised into three groups: gluten-reduced beer, gluten-free beer and dedicated gluten-free beer. Each category is brewed differently:
Gluten-Reduced Beer
Just as any traditional, gluten-containing beer, gluten-reduced beer is also made with barley. From its name, this beer is not entirely gluten-free but brewers make sure they are only produced with a result of 20 parts per million (ppm) of gluten. This is done by adding products such as Brewers Clarex or Clarity Ferm in the later part of the brewing process to break down the gluten proteins. The U.S. Food and Drug Administration (FDA), the organisation which regulates the labelling of food and beverages, states that because these beers still contain gluten, they cannot be labelled as 'gluten-free', instead their packaging must be labelled as 'gluten-reduced' or something to the effect of 'crafted to remove gluten.'
Gluten Free Beers
Gluten free beers are made with gluten-free ingredients such as buckwheat, chest nuts, millet, sorghum and rice. Tests must show that they are less than 20ppm gluten. They can be labelled "Gluten-Free" on their packaging. This category however has potential risks of cross-contamination because the majority of gluten-free beers are also produced on lines that also produce beers containing traditional barley.
Dedicated Gluten Free Beer
This category of beers is also made with gluten-free ingredients. Tests must also show that it has below 20 ppm of gluten. However, unlike the gluten-free beers, the facility used by the company only produces gluten-free beer products and nothing else. Thus, there is little to no risk of gluten cross-contamination of the beers.
Gluten Free Beers in Australia
In recent years breweries have caught on to the fact that there is a niche but essential and relatively untapped market in gluten free beer. As a result, some high quality gluten-free beers have come on to the market with a taste very similar to that of their gluten-containing cousins from the likes of Two Bays, O'Brien & Wilde.
Two Bays Beer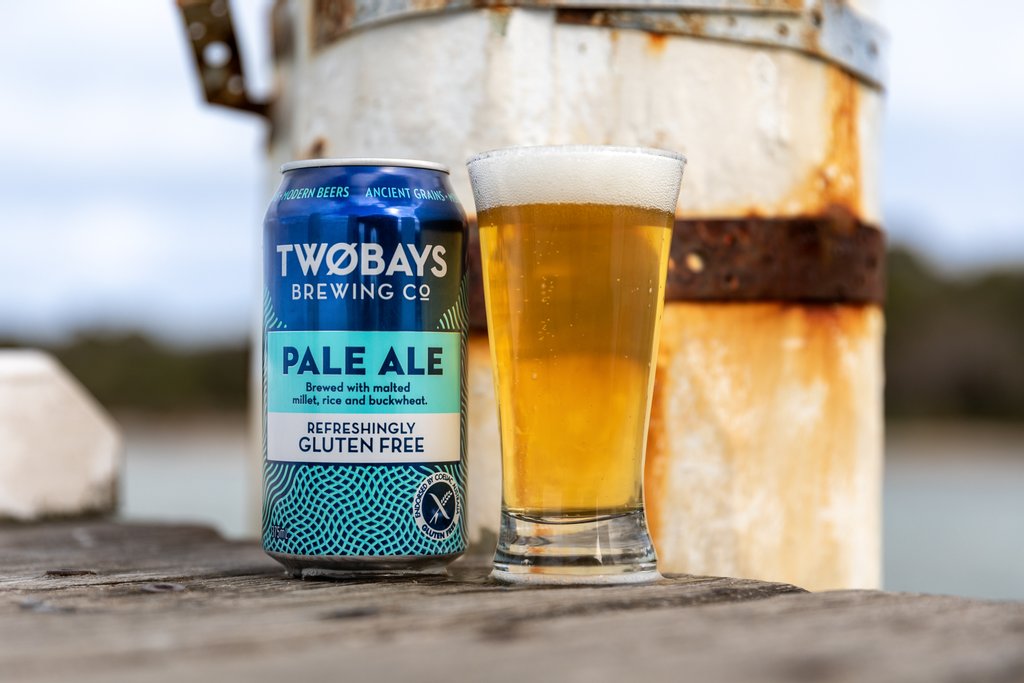 Image: Two Bays Beer
New to the scene is Two Bays Brewing. Founder Richard Jeffares loved craft beer until he was diagnosed with coeliac disease in 2015.On a strict gluten free diet, he couldn't find the quality and variety of craft beer he'd fallen in love with in Australia. He feared he'd never do a tasting paddle with mates again.
On a road trip through America a year ago, Richard discovered brewers making gluten free beer that was just as good – if not better – than the beers he remembered. Richard returned home inspired and launched TWØBAYS Brewing Co in 2017.
Jeffares started researching and like most craft brewers, looked to the USA. There, Jeffares found a fully-developed gluten-free space in the craft beer scene. In one venue, he describes being able to try up to 18 or 19 taps of gluten-free lights, darks, sours and goses.
TWØBAYS Brewing Co has secured exclusive importation rights to 15 different specialty malt varieties. Made from millet, buckwheat and rice, Jeffares mostly sells to homebrewers with hopes to expand once his stock levels rise.
Two Bays has a core range Pale & IPA and has released a seasonal Summer Ale & XPA in cans.Buy Two Bays Gluten Free Beers here.
O'Brien Beer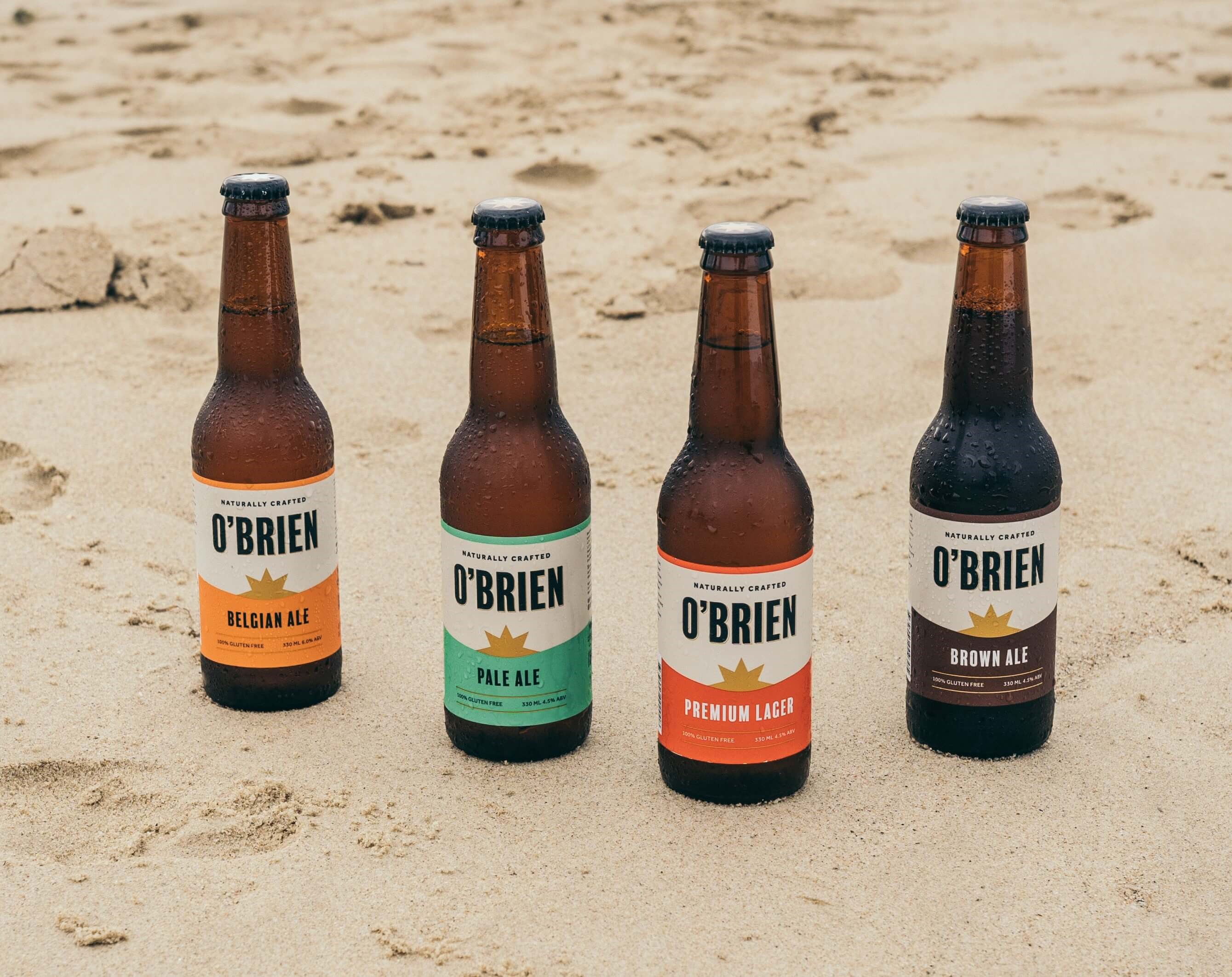 Image: O'Brien Beer
The most innovative and award-winning brewery for their gluten-free beers is O'Brien Beer which is also known as Rebellion Brewing. In 2013, O'Brien's Belgian Ale won a Gold Medal at the Australian International Beer Awards (AIBA) and they been raking in medals at the awards ever since. The judging panel was headed by the Craft Beer Industry Association chairman Brad Rogers who said the O'Brien Belgium Ale was a "great result and a reflection that this beer is of the highest standard and quality in its category." Their Belgian Ale made with pale, lightly roasted sorghum malt, millet malt and Belgian candy sugar.
After John O'Brien was diagnosed with coeliac disease in 1998, he could not find any gluten-free beer that tasted as good as the traditional beer. Together with the award-winning home brewer and engineer Andrew Lavery, who was also diagnosed with coeliac disease, they set out to make beer that people on a gluten-free diet could enjoy.
According to O'Brien, you can't just buy malted gluten-free grains off the shelf - they don't exist. So the brewers of their beer have developed a unique process for malting millet and sorghum for the beers. These grains lend their own unique character to the beers. Their beers are 100% gluten free.
Other award-winning beers by O'Brien are their Brown Ale, Pale Ale and Premium Lager.
Wilde Beer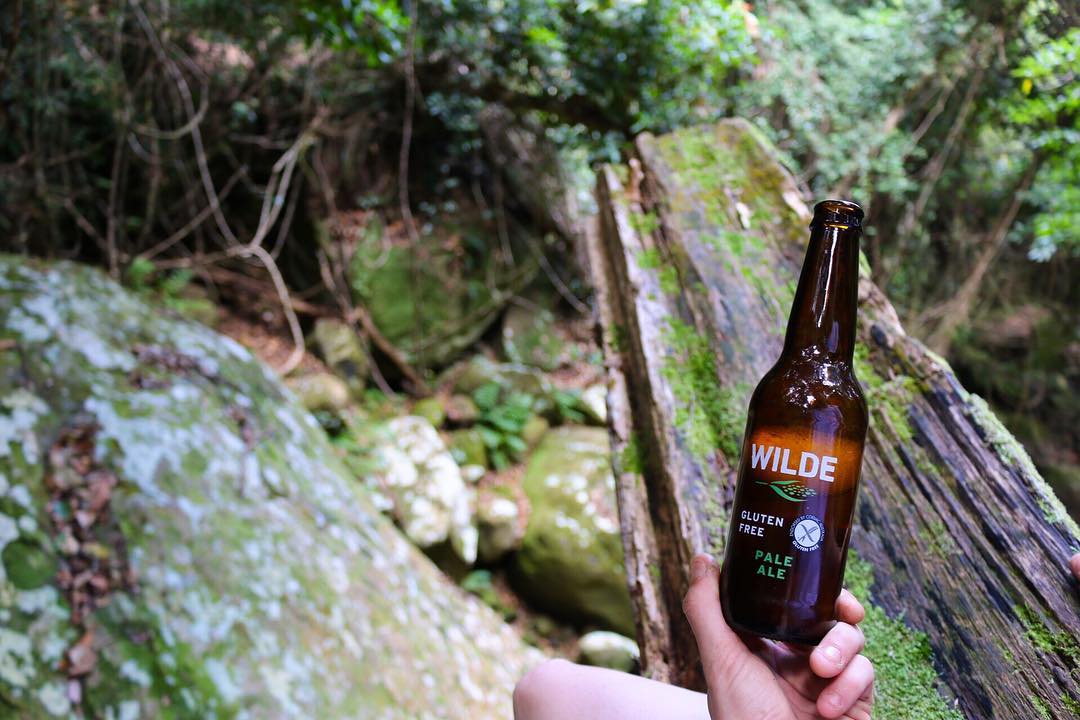 Image: Wilde Beer
Wilde Beer is the only beer in the world certified FODMAP Friendly. FODMAPs are a group of sugar compounds (Fermentable Oligosaccharides, Disaccharides, Monosaccharides and Polyols). About 14% of Australians appear to be intolerant to these FODMAP sugars which can be found in foods like wheat, rye, apple, garlic, milk, fructose and lactose. These can also trigger inflammatory reactions in the gut with the same symptoms as people with coeliac disease.
Wilde Beer currently has three gluten-free beers, a Gluten-Free Pale Ale, Gluten-Free Raspberry Ale and Gluten-Free Paleo Ale. Wilde beers also claim that their gluten-free beers taste as good as their gluten containing equivalents. They describe their Gluten Free Pale Ale as "a flavoursome golden-hued pale ale with a full smooth mouth-feel that is both satisfying and refreshing", and their Gluten-Free Raspberry Ale as "containing raspberries giving a delightful pink hue, raspberry aroma and fruity balance to the bitterness of the varietal hop" The newest beer to their collection is the Gluten-Free Paleo Ale, which contains only 2% alcohol with ancient grains, fruits and herbs which will complement a healthy paleo lifestyle.
Differences between Australia's Labelling of Gluten-Free Beers and Overseas
Labelling of gluten-free beers varies around the world. For example in the United States, Canada and Europe, a beer is considered gluten free if the gluten level is under 20 parts per million.
In addition to limiting the unavoidable presence of gluten to less than 20ppm, the US Food and Drug Admisintration allows manufacturers to label a food 'gluten-free' if the food does not contain any of the following:
An ingredient that is any type of wheat, rye, barley, or crossbreeds of these grains
An ingredient derived from these grains and that has not been processed to remove gluten
An ingredient derived from these grains and that has been processed to remove gluten if it results in the food containing 20 or more parts per million (ppm) gluten
In Australia, there is a stricter and more confined definition of what is 'gluten free'.
For a beer to be labelled 'gluten-free' it must have zero particles of detectable gluten. If it doesn't reach that requirement it is labelled as "gluten-reduced." In fact, there are existing food labelling laws in Australia which have made it a requirement for products containing gluten to be declared on labels at all time – whether it is present as an ingredient, a food additive or a processing aid. 'Contains gluten' is an example of what to look for on a product label.
If there's a possibility that the food may have been contaminated with gluten, such as when a machinery used for the gluten-containing product was used, a declaration such as "may contain gluten" must be displayed.
This category of beers is also made with gluten-free ingredients. Tests must also show that it has below 20 ppm of gluten. However, unlike the gluten-free beers, the facility used by the company only produces gluten-free beer products and nothing else. Thus greatly reducing the risk of gluten cross-contamination in the beers.
---