Posted by Beer Cartel on 3rd Sep 2015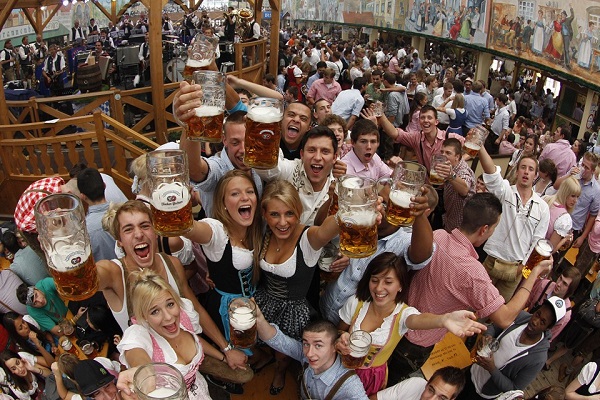 To pay homage to Oktoberfest we thought we'd give you our top 10 most interesting facts about the World's largest beer festival…
Oktoberfest is held in Munich Germany and bizarrely starts in September, running for approximately 16 days through to the first week of October.
The first ever Oktoberfest was held on October 12th 1810 and was organised for the public commemoration of Crown Prince Ludwig (later King Ludwig I) and Princess Therese of Saxe-Hildburghausen whose marriage took place five days prior. The original Oktoberfest included a horse race which persisted until 1960.
2010 is the 200th anniversary of Oktoberfest, to mark the occasion a horse race in historical costumes was held on the opening day.
On average 6 million people attend the festival each year– that's just under half of Australia's total adult population!
On average a 1 litre beer at the festival, known as a stein, will cost attendees 8.50 Euros (approximately $12AUD).
Approximately 7 million litres of beer, 80 thousand litres of wine, 32 thousand litres of sparkling wine, 220 litres of tea/coffee and 1 million litres of water/lemonade will be consumed over the course of the festival.
Many beer drinkers forget that the beer served has on average a 7.5% to 8% alcohol content and as a result often pass out due to excessive drinking. These drunk patrons are called "Bierleichen" which is German for "beer corpses".
The festival covers grounds which are about 0.5 km2 (103.78 acres) in size.
In total the beer halls have seating capacity for 100,000 people. The largest beer hall / tent has seating capacity for 10,900 people (8,450 inside and 2,450 outside).
After 2004 the queues for toilets became so long that the police had to regulate the entrance.
If Oktoberfest has put you in the mood for a beer festival then don't forget to the wide range of beer festivals that now occur throughout Australia. And if you are a big fan of German beer don't forget to check out Beer Cartel's great German beer range, as well as Oktoberfest beers and Beer Steins.
If you'd like to learn more about Oktoberfest click here to read our blog on the World's largest beer festival.
---