It's sometimes hard to make a decision on which Beer Advent Calendar to buy without knowing what's in the box.
Now we're not going to give away the ins and outs of each of the beers included in both advent calendars as let's face it that would be a complete spoiler.
But we do know it's hard for customers to decide on which advent calendar to go with, especially when they both feature 25 beers hidden in a box - intentionally hidden given it's an Advent Calendar box.
So instead of revealing what each beer is we thought we'd do a head to head comparison review of the beer styles included in each pack.
If you'd prefer not to know simply click here and buy Australia's #1 rated beer advent calendar. ;-)
(We're not kidding, it's been the highest rated Beer Advent Calendar two years in a row, scoring 8.5 out of 10 by those that have experienced it before.)
Now, if you kind of want to know a little but not all the styles here is a very top line overview of styles included.
Ours (Beer Cartel)
22 different beer styles form 25 different 100% independent Australian breweries.
Theirs (BoozeBud)
10 different beer styles form a mix of multi-nationally owned brewers (namely Boozebud's multinational parent company AB InBev) and local Australian breweries.
That's a very topline look at the style comparisons.
OK, last chance to turn away!
If you've already made up your mind you can click here to buy Australia's best beer advent calendar.
Now, this next bit reveals the beers styles of each advent box. No beers or breweries mentioned, just the beer styles included.
We don't think that's giving too much away but a good way to compare what's included and how much value for money our advent calendar box is.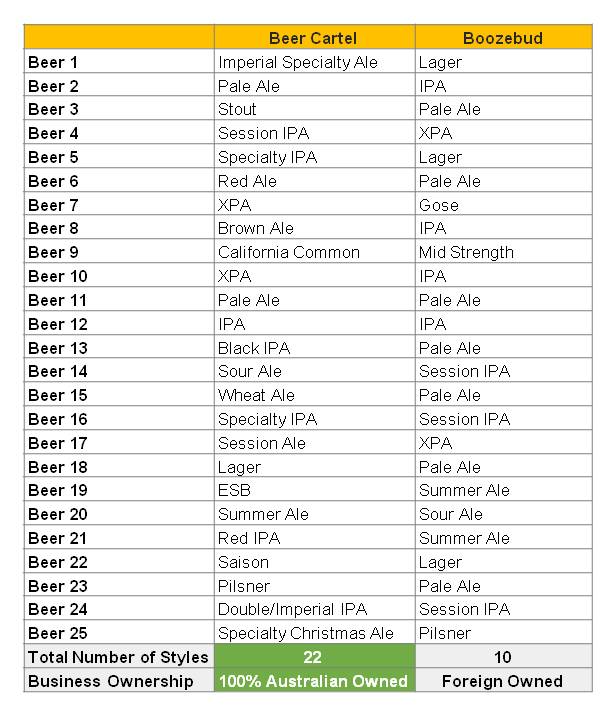 To sum up, if your after a cheap box of lagers and pale ales then Boozebud is probably for you. If you're after value for money, a taste sensation for 25 days while supporting 100% Australian independent breweries then grab one of ours.
Our Beer Advent Calendars are available both online and from our Sydney store (9/87 Reserve Road, Artarmon)
If you've got any other questions or just want to talk about beer then drop us a line or email (1300 808 254 / [email protected])
---