Australia's biggest annual craft beer poll into Australia's favourite craft beer has once been run and the results are in! There's a new big dog on the block - Bentspoke's Crankshaft IPA, a previous bridesmaid has taken out the number one spot.
Bentspoke Brewing Co's Crankshaft American IPA held off Stone & Wood Pacific Ale, which took the title in 2011, 2015, 2016 and 2019, and was named this year's second-placed brew and Balter Brewing's XPA which came third, a previous winner in the 2017 and 2018 version.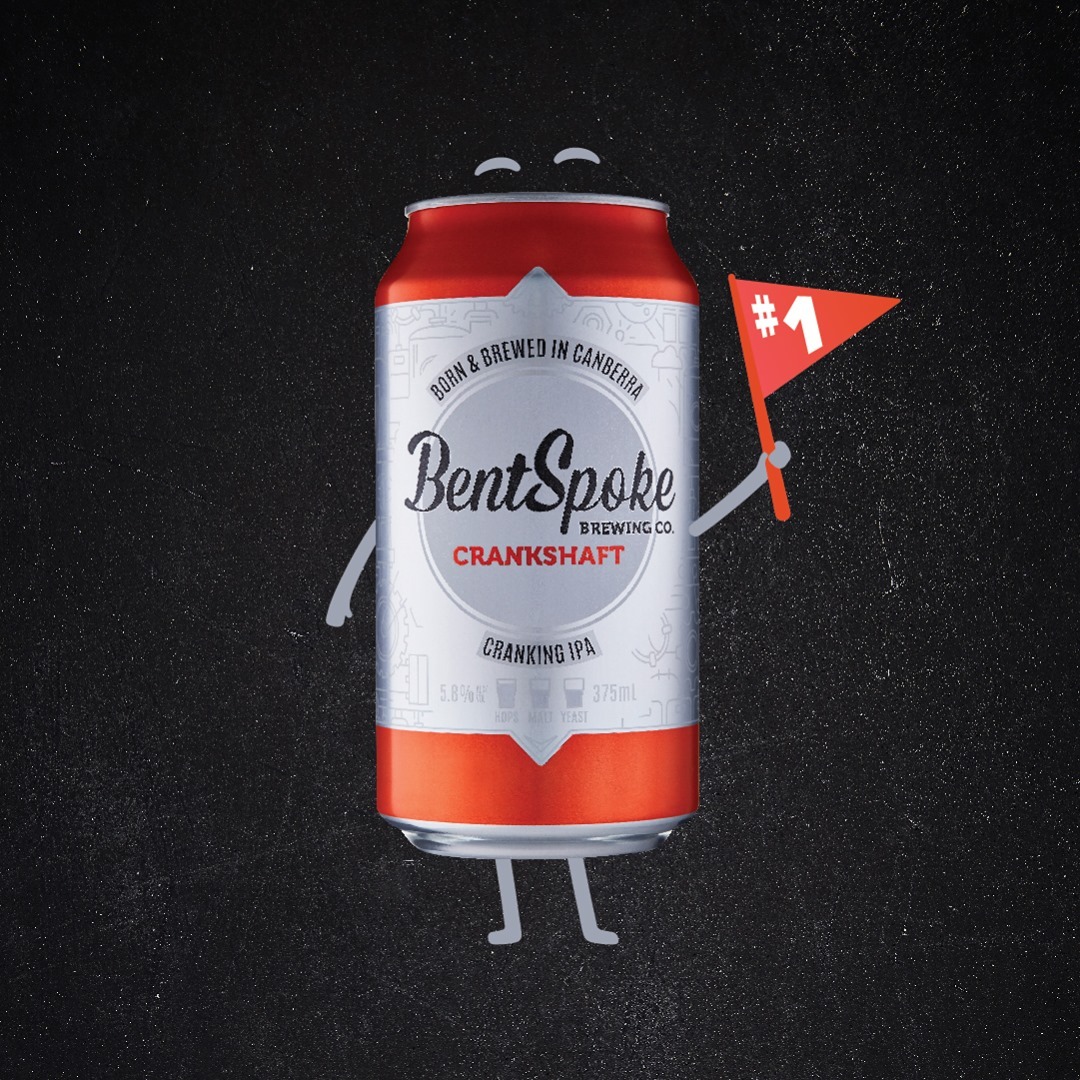 Bentspoke had a great showing in the polls with five beers in the top 100 list in total, including tenth for its Barley Griffin Australian Pale Ale, 15th for its Sprocket American IPA, 19th for its Cluster 8 Imperial IPA and 32nd for its Red Nut Red IPA.
Richard Watkins head brewer and co-owner said the team at Bentspoke were "blown away that our small independent brewery from Canberra can take Crankshaft to the number one spot in Australia's biggest beer poll. Crankshaft holds a very special place in our hearts as one of our original beers on tap when we first opened in Canberra in 2014. We are thrilled with the support for Crankshaft from Canberra and around Australia."
The poll run by GABS, or the annual festival also known as the 'Great Australian Beer SpecTAPular' is a people's choice poll decided by beer-lovers around the country. Now in its 13th year, just under 40,000 people took part, a new record.
TASTE THE BEERS
Want a taste of the best beers in the poll?
Get our Hottest 100 Mixed Packs and Hottest 100 craft beers here.
GABS HOTTEST 100 AUSSIE CRAFT BEERS OF 2020: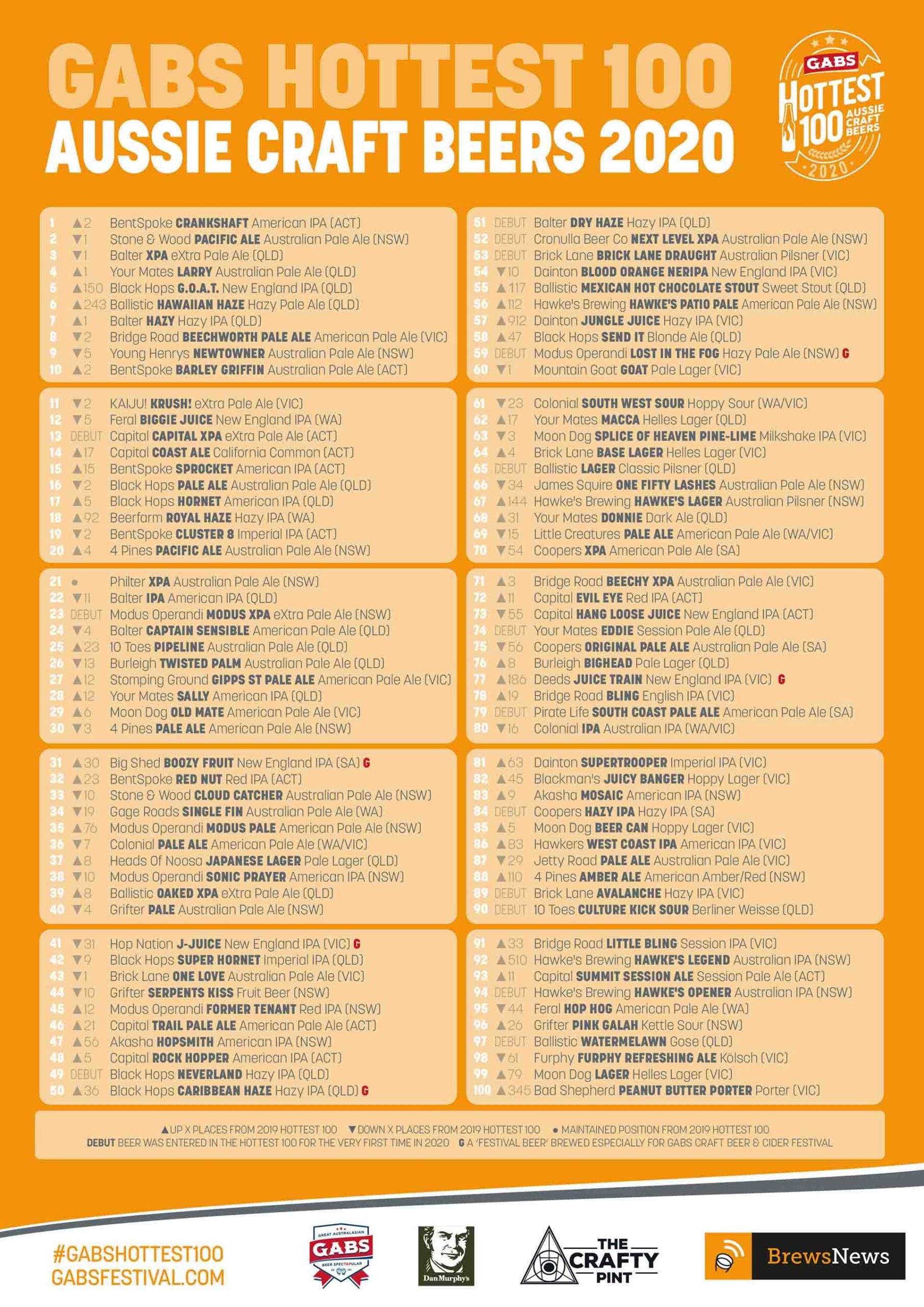 15 beers made the top 100 for the first time with 85% of those on the list made by independently owned breweries. If you're particularly keen on either, GABS has also released rundowns of the Hottest 100 New Craft Beers and the Hottest 100 Indie Craft Beers (those owned independently) plus the next 100 from the main countdown.
TASTE THE BEERS
Want a taste of the best beers in the poll?
Get our Hottest 100 Mixed Packs and Hottest 100 craft beers here.
THE FULL LIST.
Bentspoke Crankshaft
Stone & Wood Pacific Ale
Balter XPA
Your Mates Larry
Black Hops G.O.A.T
Ballistic Hawaiian Haze
Balter Hazy
Bridge Road Beechworth Pale Ale
Young Henrys Newtowner
Bentspoke Barley Griffin
Kaiju! Krush
Feral Biggie Juice
Capital Brewing XPA
Capital Brewing Coast Ale
Bentspoke Sprocket
Black Hops Pale
Black Hops Hornet
Beerfarm Royal Haze
Bentspoke Cluster 8
4 Pines Pacific Ale
Philter XPA
Balter IPA
Modus Operandi XPA
Balter Captain Sensible
10 Toes Pipeline
Burleigh Twisted Palm
Stomping Ground Gipps St Pale
Your Mates Sally
Moon Dog Old Mate
4 Pines Pale
Big Shed Boozy Fruit
Bentspoke Red Nut
Stone & Wood Cloud Catcher
Gage Roads Single Fin
Modus Operandi Modus Pale
Colonial Pale Ale
Heads of Noosa Japanese Lager
Modus Operandi Sonic Prayer
Ballistic Beer Oaked XPA
Grifter Pale
Hop Nation J-Juice
Black Hops Super Hornet
Brick Lane One Love
Grifter Serpent's Kiss
Modus Operandi Former Tenant
Capital Brewing Trail Pale
Akasha Hopsmith IPA
Capital Brewing Rock Hopper
Black Hops Neverland
Black Hops Caribbean Haze
Balter & Garage Project Dry Haze
Cronulla Brewing Co Next Level IPA
Brick Lane Draught
Dainton Blood Orange NERIPA
Ballistic Beer Mexican Hot Stout
Hawke's Brewing Co Patio Pale
Dainton Jungle Juice
Black Hops Send It
Modus Operandi Lost in the Fog
Mountain Goat GOAT
Colonial South West Sour
Your Mates Macca
Moon Dog Splice of Heaven
Brick Lane Base Lager
Ballistic Beer Lager
James Squire 150 Lashes
Hawke's Brewing Co Hawke's Lager
Your Mates Donnie
Little Creatures Pale
Coopers XPA
Bridge Road Brewers Beechy XPA
Capital Brewing Evil Eye
Capital Brewing Hang Loose Juice
Your Mates Eddie
Coopers Original Pale Ale
Burleigh Big Head
Deeds Juice Train
Bridge Road Brewers Bling
Pirate Life South Coast Pale
Colonial IPA
Dainton Supertrooper
Blackman's Juicy Banger
Akasha Mosaic IPA
Coopers Hazy IPA
Moon Dog Beer Can
Hawkers West Coast IPA
Jetty Road Pale Ale
4 Pines Amber
Brick Lane Avalanche
10 Toes Culture Kick Sour
Bridge Road Brewers Little Bling
Hawke's Brewing Co Hawke's Legend
Capital Brewing Summit Session Ale
Hawke's Brewing Co Hawke's Opener
Feral Hop Hog
Grifter Brewing Co Pink Galah
Ballistic Beer Water Me Lawn Gose
Furphy Furphy Refreshing Ale
Moon Dog Lager
Bad Shepherd Peanut Butter Porter.
---