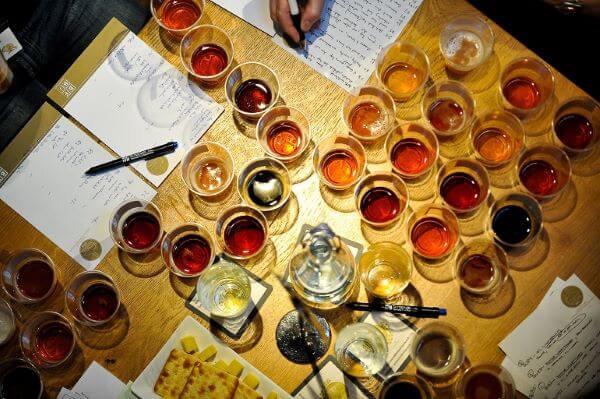 Over the last 5 years we've sent out over 20,000+ Beer Advent Calendars. Each year we look to improve our quality assurance (QA) measures to ensure we get the absolute best beers to you in the best possible condition.
Similar to GABS Festival where you will often see limited release beers struck off the list because they didn't meet the expected standard we now have a number of tests which help us to ensure the quality of the beer is high.
The beers in our Beer Advent Calendar are all one-off limited releases and while that adds to the excitement of the pack, it does introduce additional pressures for the brewers - the beers have never been produced before so the brewery has not had a chance to learn from past brews to refine a beer.
Our QA Protocols:
Beer Testing Protocols
1. A sample of each beer that is featured in the Advent Calendar is sent to Leeder Analytical - a laboratory which specialises in testing beers.
2. A sample of each beer is stored at 30 degrees for 10 days before being assessed by our sensory panel. This additional temperature helps to more rapidly age a beer and identify if there will be any significant changes to it over time.
3. A sample of each beer is put through a pressure test to identify if a beer is over carbonated.
4. We utilise a sensory panel of brewers and Cicerone Certified beer professionals to assess each beer and identify if there are any significant faults.
If a beer fails any of our QA tests it is replaced with an alternative limited release beer.
Because each has been made exclusively for the Advent Calendar finding a replacement can be a logistical challenge - we need to ideally find limited release beers that haven't been released previously, that are great quality, fresh, and have been produced in sufficient quantities to feature in just under 5,000 Advent Calendars.
For 2020 Advent Calendars two beers did not pass our QA tests. These have been replaced by other limited release beers that are as close to the two original beers as possible (though are not exclusive to Beer Cartel).
Packing Protocols
Packing just under 5,000 Advent Calendar each year is a serious logistical calendar - imagine 50 pallets of beer and 10 pallets of box packing. This really is an epic project in size.
1. All beer is stored in cold storage prior to packaging to ensure it is kept in the absolute best condition possible.
2. The Advent Calendars are then packed in 5 days with Australia Post picking up around 40 cages of Advent Calendar each day during the packing process.
3. There is a team of 8 people responsible for packing each Advent Calendar and then an additional 2 staff that check that everyone is following the correct packing processes e.g. beers in the right order etc.
Questions
If you do come across any issue during the enjoyment of your Advent Calendar or have a question, please shoot us an email at [email protected]
---