Posted on
The 2017 Australian Home Brewer Survey by Beer Cartel is the first publicly available research study investigating the home brewing sector in Australia. The study received significant support throughout the industry and had over 2,500 home brewers complete the survey.
It was created by craft beer retailer Beer Cartel as a means of giving back to the home brewing industry. The majority of Australian craft breweries are founded by home brewers, with future breweries expected to be started by those within the home brewing ranks. For Beer Cartel it made sense to create an initiative that will create long term benefit for both the home brewing and commercial brewing markets.
The report that follows provides an extremely accurate birds-eye view of the home brewing industry.
A prize of $500 to spend on home brew supplies, as well as a brewer for the day experience in each state was offered as incentive to take part in the research. To see if you were one of the lucky winners simply scroll to the bottom of this page.
Key research findings:
- The home brew industry in Australia grew 3% in the last year; 11% started home brewing, while 8% stopped
- Australian home brewers are almost exclusively male, with an average of 6.9 years home brewing experience.
- Most are introduced to home brewing through friends/family, as well as being inspired by craft beers, or an interest in cooking and making their own drinks. 18% were given a home brew gift.
- Most brew monthly or more often. For those that have stopped brewing in the last year a lack of time and space are major challenges.
-The range of styles home brewers create are diverse, with Pale Ales and India Pale Ales (IPAs) most common.
- Only a quarter (25%) of home brewers have ever entered a home brew competition and just 17% are members of an offline home brewing group.
- For those that have never tried home brewing, not knowing where to start is the major barrier, alongside space, money & time.
The results:
At present Australian home brewers are almost exclusively male, with just 2% female. Considering that 20% of craft beer drinkers are female (2016 Australian Craft Beer Survey), very few are turning this interest in craft beer into a hobby to produce their own beer.
Most home brewers are middle aged (average age 39) and are located throughout Australia. Interestingly 30% are based in New South Wales and 22% in Victoria. Looking at commercial brewing in New South Wales and Victoria this story is reversed. More breweries are located in Victoria, largely due to an easier path to market with less red tape.
Most are seasoned home brewers with 3+ years experience. 11% are new to home brewing having only started within the past 12 months. On average home brewers have 6.9 years home brewing experience.
The vast majority (92%) have home brewed in the last year. Of this 72% home brew monthly or more often.
Of the 8% that have not home brewed in the past 12 months, time and space are major barriers.
For 22% that stopped brewing a major issue was that their beers weren't to the quality they expected, while 14% either sold or gave away their equipment.
For those who have never home brewed not knowing where to start (49%), limited space (26%), money (20%), and time (19%) are all hurdles to starting home brewing.
Friends and family, being inspired by great beers and an interest in food are the main influences to starting home brewing, alongside a desire to make cheaper beer.
For 18% they were given a home brewing gift which lead them to start their hobby.
Typically home brewing is conducted as a solo past-time, with 79% stating that they mainly brew alone.
While all grain is the most popular home brewing technique, multiple techniques are widely practiced. The majority of all grain brewers have this as their main brewing style.
The range of styles home brewers create is extremely broad, with most brewing a wide range of beer styles.
Two styles in particular stand out; Pale Ales (brewed by 86% and the main beer style for 43%) and India Pale Ales (IPAs) (brewed by 69% and the main beer style for 21%).
Grain for malts, hop pellets, and dry yeast are the most popular home brewing ingredient formats.
Most prefer to buy their ingredients individually rather than via pre-set recipe packs.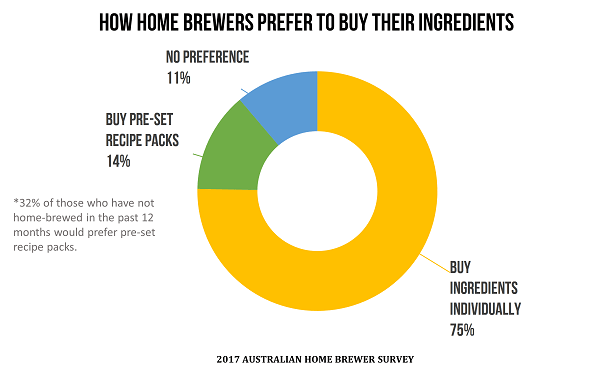 There is a wide array of brewing equipment owned and utilised by home brewers.
While glass bottles and kegs are equally popular amongst home brewers, kegs are used most often, with 53% of home brewers using these as their main storage vessel.
Books, YouTube and the Aussie Home Brewer community are the main home brewing resources used, though a wide range of sources are consulted.
Most (59%) of home brewers are part of a home brewer group, particularly online groups.
Just over a quarter (28%) of home brewers have previously entered a home brewing competition. Considering this is a fantastic way for home brewers to get feedback on their beers, this is surprisingly low.
Home brewers (77%) and their friends and family (89%) are highly positive towards the beers they make.
For 59% home brew is their main beer supply. Price does not seem to be a major factor driving home brewing - just 25% home brew because they are on a budget.
Home brewers see their hobby both as an escape and a future career.
Most home brewers embrace experimentation, rather than reproducing the same beers every time.
An interest in the technical side and a focus on cleaning may explain why few have brewing disasters. However, for one in ten home brewing disasters are common.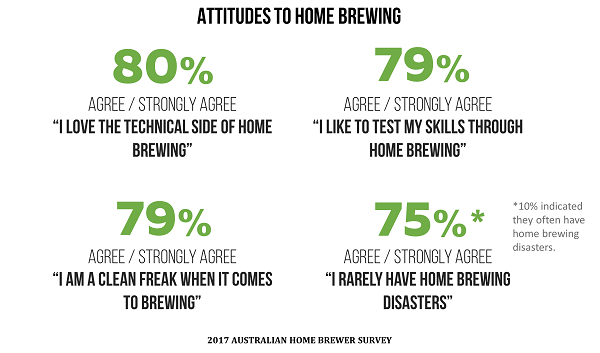 Wyeast is the most popular creator of home brew yeasts, followed by Fermentis and White Labs.
Perception of who is the best malt producer is diverse, with Weyermann and Gladfield Malt most popular.
Coopers / Thomas Coopers is clearly the leading brand of home brew extracts in Australia.
Congratulations goes to Grain and Grape - voted Australia's favourite home brew store.
A special thanks goes out to all those amazing breweries, home brew stores, beer media and home brew clubs who have helped support the 2017 Australian Home Brewer Survey.
Without your assistance none of this would have been possible. We raise a glass to each and every one of you, and thank you for being a part of this hugely exciting industry.
Sharing of Content
Please feel free to share any of the information/charts above. We simply ask that Beer Cartel is attributed, including a link to www.beercartel.com.au when sharing online. High resolution images and interviews are available on request.
About Beer Cartel:
Beer Cartel is Australia's leading craft beer retailer, stocking over 1,000 craft beers from Australia and overseas. Beer Cartel exists to share it's passion for craft beer with others. It aims to take people on a journey into the wonderful world of craft beer, showcasing the amazing flavours, aromas and stories behind each beer and the amazing people that make them.
Purchases can be made through the Beer Cartel website ( www.beercartel.com.au) and its' Sydney store.
Media Contact:
Richard Kelsey
Phone: 0405 251 864
Email: richard@beercartel.com.au
Website: www.beercartel.com.au
Winner of $500 of Home Brew Voucher
Congratulations to Brydon Simpson, winner of $500 to spend with your favourite home brew store.
Brewer for a Day Winners
Congratulations to each of the lucky people below - all winners of a brewer for a day experience with the very generous brewery in their state.
Jamie Baker - Newstead Brewing, Queensland
Simon Mackie - Akasha Brewing, New South Wales/ACT
Nathan Keane - Mountain Goat, Victoria
Ian Harper - Big Shed Brewing, South Australia
Robert Bell - Moo Brew, Tasmania
Andrew Bowyer - Feral Brewing, Western Australia
Photo from @greeny964Beer description: A refreshing kettle sour, heavily dry hopped using Bitter Gold, Citra and Calypso, Brain Squeeze is less intrusive than the name alludes. Starts off with a tropical punch leading to a very clean dry finish. A really sessionable beer.Available in store & online: http://www.beercartel.com.au/mornington-brain-squeeze-hoppy-sour/
Great photo by: @shane__wheatleyBeer description: Whisky Sour cocktail inspired Berliner Weisse. Brewed with a heap of local Meyer lemons & candied oranges, Maraschino cherries, rye whisky and love.Available in store & online: http://www.beercartel.com.au/sailors-grave-whisky-sour-berliner-weisse/
Photo by: @kenokellyBeer description: We love all things wild and foraged at the Wild Beer Co and we are surrounded by a smorgasbord of various mushrooms in the Somerset countryside.Fungi are at the heart of our brewery. Yeasts are micro fungi that do the hard work in making beer, we just feed them and put [...]
"I would give all my fame for a pot of ale and safety." - Shakespeare, Henry V
Beer description: Drinking this IPA is like frolicking naked through a spring forest, then dive bombing off a mandarin-scented waterfall. We're not even kidding. It's clean hoppy base offers a relentless, yet refined bitterness complemented by pine and citrus aromatics. Here's cheers to a big refresher after a hard-won day.Available in store & online: http://www.beercartel.com.au/balter-ipa/
Awesome photo by @jomandoBeer description: An American-style quad that is lighter in colour than 'Not the Stoic'. Brewed with pomegranate molasses then aged in Pinot Noir and Rye Whiskey barrels for 14 months. You will get notes of toasted caramel, citrus, vanilla and spice.Rated 95 out of 100 on Ratebeer.comAvailable in store & online: http://www.beercartel.com.au/deschutes-the-stoic-...
Cool photo by: @chick_who_digs_hopsBeer description: A hybrid style that takes the thirst quenching 'sessionability' of a Pale Ale and adds the complexity and character of IPA hop aromas and flavours. It lacks the aggressive bittering of a standard IPA allowing for a more easy-going drinking experience. Drowned man is a rich honeyed gold with a [...]
Photo by: @pour_me_one_tooBeer description: Jet Lag with everything turned up to ELEVEN. That means almost double the hops, the malt the finger lime peel and we also switched to an American yeast strain to get more of that West Coast Double IPA vibe. Also, as we are always keen to experiment and try new things [...]