While we've been providing amazing Beer Advent Calendars over the years we've often been asked if we would put together a cider version.
We're happy to say this year (2018) is the year we start offering a Cider Advent Calendar!
The theme is similar to our Beer Advent Calendar and we've sourced 100% independently owned ciders form local Australian and International producers.
We've also had our resident cider expert Kieran Allen (ex owner operator of Medhurst & Sons cider shop) to be part of the selection team. And if Kieran says a cider is worthy of a feature you know it's going to be a good selection!
Some key features of our 2018 Cider Advent Calendar:
- 25 different unique ciders sourced from Australian and International producers
- Each cider is from a different producer, so its variety on the grand scale! 25 different ciders from 25 different cideries!
- A cider for each day from 1st to 25th December, you even get one on Christmas Day!
- Amazing value with over $160 worth of cider for a fraction of the price
- Mix of bottles and cans (mostly bottles)
- We are using our custom designed Advent Calendar boxes which are Christmas themed and have a specially designed top to hide each cider until it is time to reveal. The Cider Advent Calendars will have a "Cider" label applied to the top.
- Available for delivery Australia wide or purchase in our Sydney store from mid November.
Click here or the image below to purchase your 2018 Cider Advent Calendar.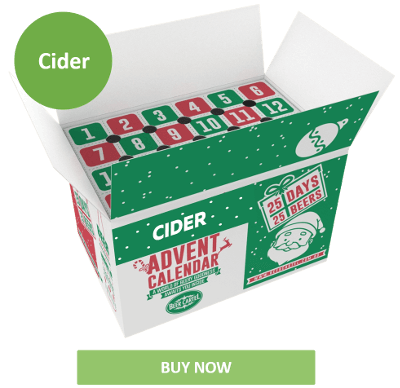 ---