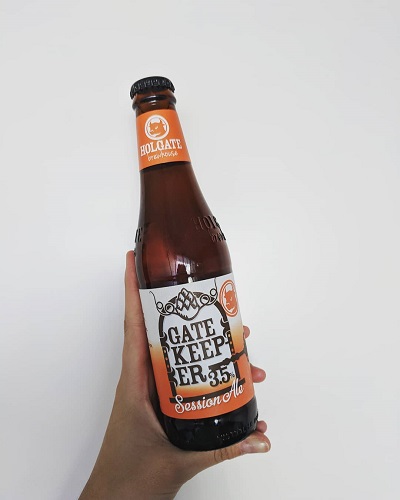 Beer Name: Gatekeeper Session Ale
Brewery: Holgate Brewhouse
Location: Woodend, Victoria
Style: Session Ale
ABV: 3.5%
Beer Description:
An easy drinking beer that still packs a punch, Gatekeeper is a deceptively full bodied Session Ale that boasts a hoppy aroma popping with fresh orange, berry, passionfruit, and floral notes.
Photo credit: @stace_v
Watch: Geoff Huens from Beer Cartel talks to Holgate Founder & Head Brewer Paul Holgate
About the Brewery:
"The Holgate story really starts in 1987 when 19 year old Paul and Tash met at Uni, fell in love, got married, travelled the world and were inspired …. Resulting in a vision and passion for good beer, good food , good wine – all the good things in life! The early days of their microbrewery start-up in 1999 were crazy times – starting a family at the same time as a commercial brewing operation in the back-yard of their Woodend home was far from easy!. With baby's in tow, Tash would deliver kegs of beer to local Central Victorian pubs, while Paul would return from his Melbourne day job each night to fill kegs, clean tanks and brew on the weekends!
From 2002, the business further put down its' roots in Woodend and the Macedon Ranges taking over the historic local hotel to become both the cellar door and production base for the business – this continues today with a massive investment in beer making with a state-of-the-art brewing facility now right alongside the Holgate hotel and hospitality business.
From humble beginnings in the backyard, the business now supports 40 employees including 25 full-time – while the brewery, bar, restaurant and accommodation has a long tradition of supporting local wineries, providores and growers."
---