Beer Club Subscription Issue 112 (February 2019)
Welcome to February 2019 - our first ever edition of your Beer Club tasting notes in digital format!
We've always been big on being environmentally conscious - we see making our tasting notes in digital format is one step to cutting down the amount of paper we use.
As always we'll include a bit of an article at the top of the page and then tasting notes of the beers underneath.
Considering this focus on environmentally friendly practices we thought we'd highlight some of the great brewers from Australia & overseas who are taking steps to make their as environmentally friendly as possible.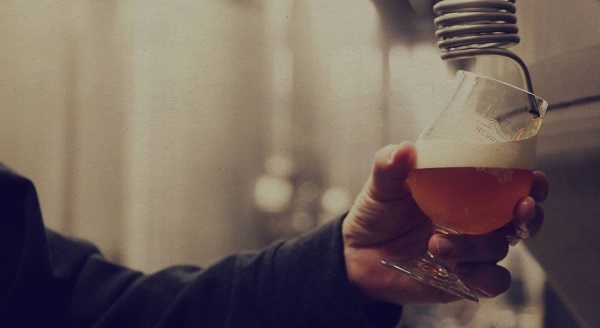 Mountain Goat Brewing Company – Green Goat
Mountain Goat is hell-bent on doing things smarter by reducing their impact on the environment. They created Australia's first 100% organic beer maker with their IPA and while this is no longer produced their Steam Ale is 100% certified organic.
The brewery itself is made from reclaimed materials and powered by solar energy.
While all breweries have waste products, Mountain Goat has made sure their waste is put to good use. Leftover malts (spent grains) are given to a local farmer, who cows love it as cattle feed.
Before any waste from the brewery floor goes to the sewer, a three-tank waste system neutralises both the acidity (pH) and temperature of the waste water. The first tank screens larger solids, such as hop and malt debris. The second catches smaller solids, such as yeast slurry, floor grit or finer hop and malt particles. The third tank is where the waste water is adjusted for temperature and pH. This ensures the biosolids, temperature and chemical load on the sewer system is drastically reduced.
Steam and odour are two very common emissions from all breweries. Mountain Goat have sought to minimise these by fashioning a copper vapour condensing unit and attaching it to their brew kettle. The result has been that steam and most of the odour when boiling the wort has been almost completely eliminated.
Lastly Mountain Goat encourages staff to ride a bike, walk or catch public transport to work to reduce carbon emissions. Every Christmas staff are paid a bonus based on the number of times they've used these means to get to work during the year.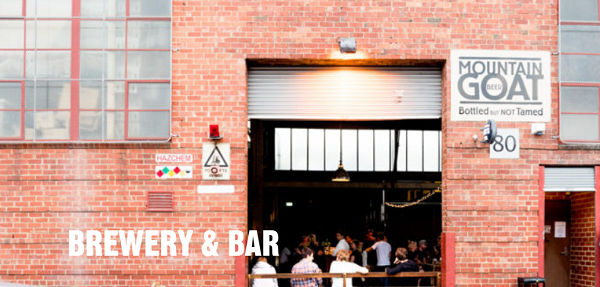 Stone & Wood Brewing Company – Green Feet
Stone & Wood has been implementing a company-wide Green Feet program over the last few years to minimise their footprint on the environment. Their aim is to not only reduce, reuse and recycle but also to explore innovative practices which can reimage the impact of brewing on the environment.
At their Murwillumbah site 480 solar panels have been installed. This reduction in grid-based electricity is the equivalent to electricity used to power 20-25 homes.
They have also installed LED lighting in their workspaces which significantly reduces their energy - equivalent to taking 7 cars off the road.
Beer contains 95% water and while the industry average water to beer ratio is 5 to 1 Stone & Wood has 3 to 1 ratio. This means it takes 3 litres of water to produce every 1 litre of beer, a significant improvement on the industry average.
Beers with a message
Stone & Wood regularly release beers that have an environmental message with them. An example is Big Scrub - brewed as a reminder to preserve the natural beauty of our backyard and to communicate the message that only 1% of the largest sub-tropical rainforest on the North Coast of New South Wales remains.
At one stage prior to European settlement Big Scrub rainforest covered 75,000 hectares. Unfortunately European settlers cleared almost all of this rainforest and by 1900 all that remained was less than 1% as scattered remnants across the landscape.
B-Corp Certified
Stone & Wood is also proudly B-Corp certified which is an independent accreditation for profit businesses that meet rigorous standards set around governance, workers, community, environment, and business impact. It certifies that the company is concerned for their community and the environment.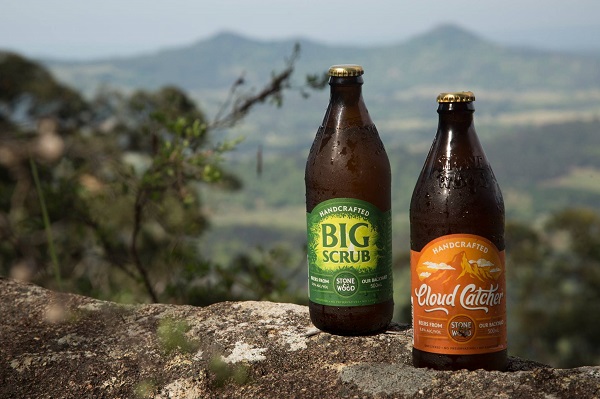 3. 4 Pines Brewing Company – Save the Pines
4 Pines is a microbrewery that started back in 2008 in Manly, New South Wales. They are not only known for their iconic beers, but also their commitment to the give back to the community and environment. They have developed their Save the Pines program which has three main advocacies: plastic free Manly, marine sanctuaries and life, and sustainable farming.
Recycling vs. Landfill
In their 2016 Save the Pines impact report, 111 tonnes of waste went to the landfill, while 127 tonnes went to recycling - meaning they recycle more waste than they send to a stinky landfill. Lucky recipients of their spent grain included happy cows, local bakers, and hungry dogs through their Beer Bones which are dog biscuits made from spent grain. Aside from this spent yeast and hops are composted, and upcycling is done where ever possible.
No to water wastage
Like Stone & Wood 4 Pines also have a focus on reducing their water to beer ratio. In September 2016, they used 3.73 litres per litre of beer produced, however they have already added an extra 25% to this number to give a more realistic number of 4.66L/L. This 25% accounts for unknowns such as water in waste streams (spent grain, trub, hops and yeast slurries). 2016 is then being used as a base year from which 4 Pines can then embark on a water reduction plan.
Saving energy
In addition to waste reduction, 4 Pines aim is to reduce energy use by 5% in 2018 and 15% by 2022. They have embarked on upgrades like their new co-generational chiller which is estimated to save approximately 150 tonnes of CO2 emissions per year.
B-Corp Certified
4 Pines like Stone & Wood is a B-Corp certified business, they are committed to creating a positive change in everything they do.
Carbon Positive Brew
4 Pines latest pro-environmental success has been creating a carbon positive brew. Using surplus bread from a days production (thus avoiding landfill), which helped to reduce the amount of grain used in the brewing process, as well as giving the spent grain away to be used as livestock feed reduced the beer's carbon footprint by 24% compared to a regular craft beer. 4 Pines then offset this further by purchasing carbon offsets to cover the brew's total footprint, resulting in their first carbon-neutral beer.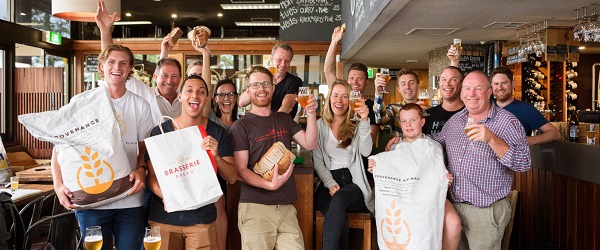 4. Good Beer Company- Drinking beer for a cause
Unlike the first three breweries which focused on their production processes to help the environment, the Good Beer Company tried a new approach - saving Mother Earth. As Australia's first social enterprise beer company, the Good Beer Co sells beer to raise money for good causes.
The company, which was founded by James Grugeon, gives at least 50% of its profits to the Australian Marine Conservation Society which has a proud 50-year history of protecting the Great Barrier Reef. The society was responsible for the reef's maritime park status and world heritage listing, and is at the forefront of efforts to protect the reef for future generations.
Great Barrier Beer
The spotlight of Good Beer Co's focus is their Great Barrier Beer. Here the Good Beer Co have partnered with the Queensland craft brewer Bargara Brewing Company located at the foot of the reef in Bundaberg. The beer is a session IPA with a crisp finish and flavours of citrus and passionfruit.
After the success of their Great Barrier Beer they expect to release Great Barrier Beer 2.0 in 2018.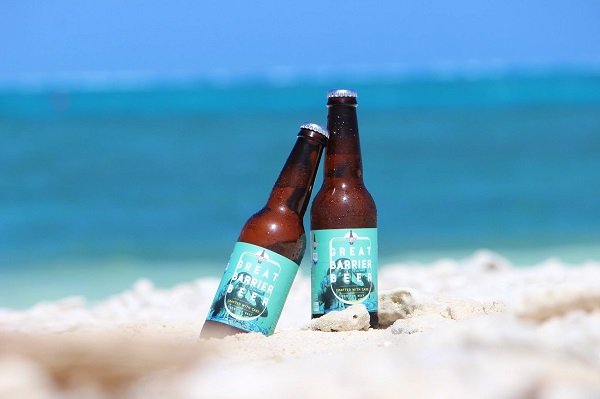 5. Sierra Nevada Brewing Company – an International Icon & Environmentally Friendly Craft Brewer
All breweries strive to be the best, but no brewery may have a more eco-friendly approach than Sierra Nevada.
Sierra Nevada is an American brewery, that helped pioneer craft beer in the United States in Chico, California way back in 1979. Its craft beers are regarded very favourably the world over and so too are its environmental practices.
Owner Ken Grossman always had a fear that a black out could wipe out their brewing process and so from the start set out on a mission to investigate alternative energy sources.
Power Generation & Power Saving
Their Chico brewery houses one of the largest privately-owned solar panel sites in the country. They have 10,751 panels covering enough rooftop space to span 3.5 football fields and supply 20% of the brewery's electricity, which is equivalent to powering 265 average American households for a year. At their Mills River site, they have a more modest collection of 2,200 panels which includes freestanding "solar trees" in their parking lot.
In addition to their solar panels natural gas at Chico and biogas from their wastewater treatment plant at Mills River use microturbine technology to generate electricity. And if that isn't enough, the Chico site also has batteries which are used to store excess energy during the day for use during off-peak times.
There is a huge focus on energy reduction with devices added to motors and pumps to reduce energy, while heat recovery units have been added to boilers and brew kettles to capture energy that would otherwise be lost. Added to this are timers, sensors and a focus on utilising natural light to reduce their electricity usage from a lighting perspective.
CO2 Recovery
CO2 is a bi-product of the fermentation process in beer. Rather than let it go to waste Sierra Nevada has set about recovering CO2 produced during fermentation to recycle it back into the brewery. By doing so they save having to purchase CO2 and have it transported to the brewery. At their Chico brewery, Sierra Nevada capture and reuse so much CO2 that they only need to source around a dozen tanks a year instead of 3-4 truckloads each week!
Other Practices
And if these practices weren't enough, Sierra Nevada have a huge number of other undertakings to support the environment.
- They have a composting system to compost more than 5,000 tonnes of organic waste from their brewery and restaurant.
- At least 65,000 kilograms of malted barley and 1,500 kilograms of hops are used in their beers each day – a huge amount of potential waste. Instead of going to landfill the spent brewing ingredients are feed to local cattle and dairy farms.
- 99.8% of solid waste is diverted from landfills through creative measures that encourage reusing, recycling and composting. Their extensive zero waste program, includes reusing and recycling office paper, shrink wrap, scrap metal and everything in between.
- Where possible beer is transported by rail to reduce emissions
- Every drop of used vegetable oil from their restaurants are converted into biodiesel. At the Chico brewery, biodiesel is made on site and used in their beer delivery trucks.
- An extensive stormwater recovery system creates a water resource to be used throughout the brewery.
- Energy efficient windows and doors, insulation, and concrete panels maximize natural light, keep temperatures at an even level, and noise levels low.
- Through improvements and new equipment, Sierra Nevada uses just 3.5 litres of water to make 1 litre of beer compared to the industry standard 5L water to 1L beer.
In 2016 Sierra Nevada received Leadership in Energy and Environmental Design (LEED) certification at the highest level, Platinum. LEED is a global rating system of environmentally responsible buildings. LEED certified buildings produce less greenhouse gases while using less water and energy. Sierra Nevada is the only commercial brewery in the United States to achieve LEED Platinum certification.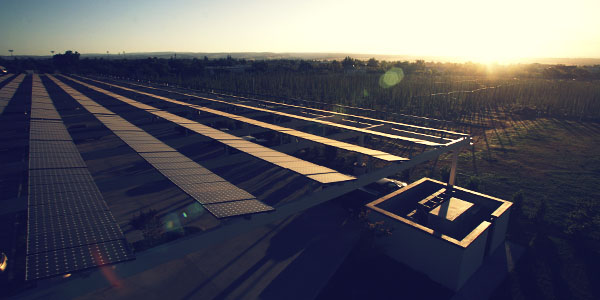 6. Saltwater Brewery and Eco Beer Rings
Founded in December 2013 by a team of local Floridians, Saltwater Brewery is Delray Beach's first local production microbrewery, with tasting room and beer garden on site. Using only natural ingredients, each beer is inspired by the ocean.
Working with company E6PR (Eco Six Pack Ring) they've helped to create a compostable six-pack beer ring that isn't harmful to marine life if eaten. The rings are 100 percent biodegradable and compostable.
According to the Proceedings of the National Academy of Sciences of the United States of America 2015 published report, 90% of seabirds have eaten plastic. There's a possibility that by 2050, any seabird found dead will have plastic in their stomachs.
Facts like these make a concept like a compostable six-pack which is not harmful to ocean life seem vital.
Made up of beer by-products wheat and barley, the only drawback is that the eco six-pack rings are more expensive to produce.
The Saltwater Brewery founders consider it as a big investment but know investing in this kind of technology will help sustain the environment. They also hope more breweries will get on board so that as more companies invest in this kind of technology, the production will go down.
The concept originally began as an edible six pack holder back in 2016 which received widespread media attention. In 2018 after multiple iterations the six pack holders are expected to go into widespread production at a factory in Mexico.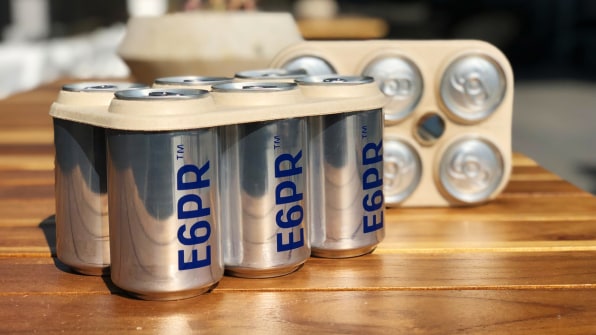 Cheers!
Rich, Geoff & the Team @ Beer Cartel
Tasting Notes
New round here? Check out our guide on how to maximise your beer tasting experience.
Beer 1: Deep Creek, Redwood
Style: American Pale Ale
ABV: 5.4%
Colour: Golden
Serving Temp: 7˚C to 12˚C
Recommended Glass: Pint
Description: A homage to the lumberjacks of the American northwest. Hardworking men who lived off the land, and built a culture which epitomises strength, masculinity and non-conformity. Everything we like in a beer.
Beer 2: Two Birds, Double Taco
Style: Imperial/Double IPA
ABV: 5.2%
Colour: Amber
Serving Temp: 7˚C to 12˚C
Recommended Glass: IPA
Description: Two Birds Taco is a Two Birds mainstay that head brewer Jayne Lewis created to replicate the fresh flavours of her favourite Mexican food, tacos. The inspiration came as she was flying at 30,000 feet from San Diego to Portland.
The original Taco is a hoppy ale, brewed with the addition of corn, coriander leaf and fresh lime peel - producing a beer like no other, that is fresh, fruity and zesty.
As an exclusive with Beer Cartel we collaborated on this beer with the team at Two Birds.
As it's almost impossible to only eat one taco, we felt it was time to double down and deliver Double Taco!
Double Taco has been amped up, and now features more corn, coriander and lime than ever before, now it's una gran fiesta!
Beer 3: Blackman's Angry Red, Double IPA
Style: Imperial/Double IPA
ABV: 8.8%
Colour: Amber
Serving Temp: 7˚C to 12˚C
Recommended Glass: IPA
Description: Blackman's have taken their Reginald IPA and sent it to the next level. Big, in your face and a little bit angry. Reginald was the brewer's grandfather and was once taken to court by his own mother for throwing dinner at the wall!
This is hands down one of our favourite Australian made Double IPAs. It's so well balanced with a beautiful colour you'll certainly be wanting more. Pairs perfectly with barbequed meats.
Beer 4: Mornington Peninsula, New World Lager (featured in Enthusiast & Crowd Pleaser packs)
Style: Lager
ABV: 4.7%
Colour: Light Golden
Serving Temp: 4˚C to 7˚C
Recommended Glass: Lager
Description: Unlike regular lagers, this hoped up version of the style delivers bold tropical aromas and flavours of passionfruit and citrus with a clean, crisp, fresh finish. The perfect summertime refreshment.Brewed in collaboration with us (Beer Cartel).
---