Posted by Richard on 3rd Feb 2016
The Local Taphouse / GAB's Hottest 100 Australian Craft Beers 2015 was once again held on Australia Day in 2016.
Each year the poll attracts thousands of craft beer loving voters who put in their selections for their favourite Australian craft beers of the year. Looking over the list we have featured 84 of the top 100 beers in bottles or on keg at some stage - not bad for one bottleshop!
Full list at the bottom of this page.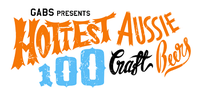 Beers below showcase all those we currently have in stock as 4th February 2016.
The beers below are all ordered by their relative position in the Hottest 100.
Local Taphouse / GAB's Hottest 100 Australian Craft Beers 2015 full list
1. Stone and Wood Brewing Co - Pacific Ale Pale Ale (Australian-style)
2. Feral Brewing Company - Hop Hog IPA (American-style)
3. Pirate Life Brewing - IIPA Double IPA (American-style) - NEW
4. Pirate Life Brewing - Pale Ale Pale Ale (American-style) - NEW
5. Little Creatures - Pale Ale Pale Ale (American-style)
6. James Squire - 150 Lashes Pale Ale (Australian-style)
7. 4 Pines Brewing Company - Pale Ale Pale Ale (American-style)
8. 4 Pines Brewing Company - Kolsch Kölsch
9. Modus Operandi Brewing Co - Former Tenant IPA (American-style)
10. Feral Brewing Company - Karma Citra Black IPA
11. Pirate Life Brewing - Throwback IPA IPA (Specialty) - NEW
12. James Squire - Hop Thief 7 Pale Ale (American-style)
13. Two Birds Brewing - Taco Beer Specialty Beer
14. BrewCult - Milk and Two Sugars Sweet Stout - NEW
15. Bridge Road Brewers - Beechworth Pale Ale Pale Ale (American-style)
16. Big Shed Brewing - Golden Stout Time Sweet Stout - NEW
17. Feral Brewing Company - War Hog IPA (American-style)
18. Coopers - Pale Ale Pale Ale (Australian-style)
19. Mountain Goat Brewery - Summer Ale Pale Ale (Australian-style)
20. Mountain Goat Brewery - Steam Ale Pale Ale (Australian-style)
21. White Rabbit Brewery - Dark Ale Dark Mild
22. Boatrocker Brewing Co - Ramjet 2014/15 (Whisky Aged) Russian Imperial Stout - NEW
23. Lord Nelson Brewery Hotel - Three Sheets Pale Ale (Australian-style)
24. Nail Brewing - Red Amber Ale (American-style)
25. Prancing Pony Brewery - India Red Ale IPA (American-style)
26. Riverside Brewing Company - 777 Double IPA (American-style)
27. Fortitude Brewing Company - Noisy Minor Admiral Ackbar Amber Ale (American-style)
28. James Squire - The Chancer Blonde/Golden Ale
29. Stone and Wood Brewing Co - Cloud Catcher Pale Ale (Australian-style)
30. Young Henrys Brewing Company - Newtowner Pale Ale (Australian-style)
31. Fortitude Brewing Company - Noisy Minor ANZUS IPA (American-style)
32. Matilda Bay Brewing Company - Fat Yak Pale Ale (American-style)
33. Little Creatures - Bright Ale Blonde/Golden Ale
34. Colonial Brewing Company - Small Ale IPA (Specialty)
35. 4 Pines Brewing Company - Indian Summer Pale Ale Pale Ale (Australian-style) - NEW
36. Rocks Brewing Co - Hangman Pale Ale Pale Ale (American-style)
37. Mash Brewing - Copy Cat IPA (American-style)
38. Wolf of the Willows - XPA – Extra Pale Ale Pale Ale (American-style)
39. Vale Brewing - Vale Ale Pale Ale (Australian-style)
40. Little Creatures - Dog Days American Wheat - NEW
41. 4 Pines Brewing Company - Imperial West Coast Red Rye IPA IPA (Specialty) - NEW
42. La Sirène Brewing - Praline Belgian Specialty Ale
43. Little Creatures - Return of the Dread Foreign Extra Stout - NEW
44. Boatrocker Brewing Co - Roger Ramjet 2015 (Bourbon Aged) Russian Imperial Stout - NEW
45. Hawkers Beer - Hawkers IPA IPA (American-style) - NEW
46. Feral Brewing Company - Tusk IPA (American-style)
47. Little Creatures - IPA IPA (American-style)
48. 4 Pines Brewing Company - Australian Pale Ale – The Bastard Children of the British Empire Pale Ale (Australian-style) - NEW
49. Murray's Craft Brewing Co - Fred IPA (American-style)
50. 2 Brothers Brewery - Growler Brown Ale (American-style)
51. Mountain Goat Brewery - Fancy Pants Amber Ale (American-style)
52. Green Beacon Brewing Co - Windjammer IPA (American-style)
53. Hawkers Beer - Hawkers Pale Ale Pale Ale (American-style) - NEW
54. Feral Brewing Company - Watermelon Warhead Berliner Weisse
55. Big Shed Brewing - Californicator IPA (American-style) - NEW
56. Kosciuszko Brewing Company - Pale Ale Pale Ale (Australian-style)
57. 4 Pines Brewing Company - Citrus IPA IPA (Specialty) - NEW
58. Two Birds Brewing - Golden Ale Blonde/Golden Ale
59. Holgate Brewhouse - Temptress Porter
60. Hawthorn Brewing - Pale Ale Pale Ale (American-style)
61. Odyssey Tavern & Brewery - Calypso Pale Ale (American-style)
62. Newstead Brewing Co - Two to The Valley IPA (American-style) - NEW
63. Big Shed Brewing - F-Yeah Pale Ale (American-style)
64. 2 Brothers Brewery - Kung Foo Pale Lager
65. Stone and Wood Brewing Co - Garden Ale Pale Ale (Australian-style)
66. White Rabbit Brewery - Pale Ale Pale Ale (Belgian)
67. Two Birds Brewing - Sunset Ale Amber Ale (American-style)
68. Six String Brewing Company - Dark Red IPA IPA (Specialty)
69. Gage Roads Brewing Co - Atomic Pale Ale Pale Ale (American-style)
70. Murray's Craft Brewing Co - Angry Man Pale Ale Pale Ale (American-style)
71. Shenanigans Brewing - Winston Pale Ale (American-style)
72. Akasha Brewing Company - Hopsmith IPA (American-style) - NEW
73. Nail Brewing - Clout Stout 2015 Russian Imperial Stout
74. 2 Brothers Brewery - Grizz Amber Ale (American-style)
75. Exit Brewing - #010 West Coast IPA IPA (American-style) - NEW
76. Colonial Brewing Company - Draught Kölsch
77. Mornington Peninsula Brewery - IPA IPA (American-style)
78. 4 Pines Brewing Company - Extra Special Bitter ESB (Extra Special Bitter)
79. Australian Beer Co - Yenda Pale Ale Pale Ale (Australian-style)
80. Little Creatures - Rogers Amber Ale (American-style)
81. Moon Dog Craft Brewery - Splice of Heaven IPA (Specialty) - NEW
82. Batch Brewing Co - West Coast IPA IPA (American-style)
83. Thirsty Crow - Vanilla Milk Stout Sweet Stout
84. Mountain Goat Brewery - Barrel Breed Barley Wine Barleywine (UK-style) - NEW
85. Bridge Road Brewers - Bling IPA (American-style)
86. Rabbit & Spaghetti Brewing Co. - The Fox Vienna-style Lager - NEW
87. Mismatch Brewing Company - Session Ale Pale Ale (Australian-style)
88. Bentspoke Brewery - Crankshaft IPA (American-style)
89. Mornington Peninsula Brewery - Pale Ale Pale Ale (American-style)
90. Burleigh Brewing Company - 28 Pale Ale Pale Ale (American-style)
91. Newstead Brewing Co - 3 Quarter Time Pale Ale (Australian-style) - NEW
92. White Rabbit Brewery - White Ale Witbier
93. Feral Brewing Company - Sly Fox Pale Ale (American-style)
94. Hargreaves Hill Brewing Company - ESB ESB (Extra Special Bitter)
95. 3 Ravens - 55 Pale Ale (American-style)
96. KAIJU! Beer - Metamorphosis IPA (American-style)
97. Coopers - Coopers Sparkling Ale Pale Ale (Australian-style)
98. Modus Operandi Brewing Co - Zoo Feeder IPA (American-style)
99. KAIJU! Beer - Hopped Out Red Amber Ale (American-style)
100. Bad Shepherd - Hazelnut Brown Brown Ale (UK-style) - NEW
---