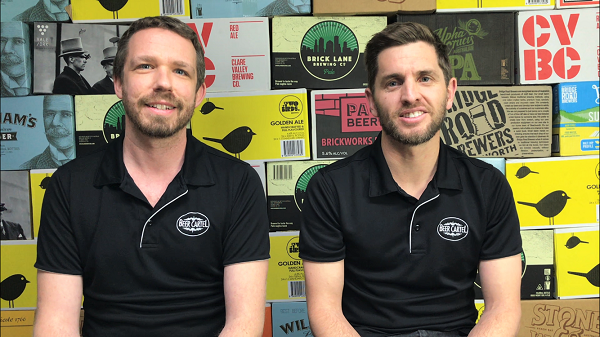 You might have seen in the news today that another online retailer, Boozebud, was purchased by AB InBev, who is the world's largest breweries and is responsible for almost a third of all beer that's produced worldwide.
They're an absolutely huge, mega-business that has been on the acquisition path for the last couple of years, buying up breweries and other businesses that operate within the beer sector.
At the end of 2017 they purchased two of Australia's leading independent breweries; Pirate Life and 4 Pines, and now have this purchase to add to their collection of companies they own.
Following the buy-out we've had a few questions asked of us. We just want to say Beer Cartel is 100% independent and ourselves and our amazing team are not going anywhere.
Geoff Huens and I (Richard Kelsey) started Beer Cartel back in 2009, with a monthly beer subscription.
We were the one of the first liquor retailers operating online. We were there even before Dan Murphy's had started thinking about it, and today we are Austrailia's number one beer subscription and leading online craft beer store.
The reason why we started Beer Cartel was pretty simple. We are hugely passionate about amazing beer; we want to give people like yourself with access to great beers, that you couldn't otherwise get hold of.
During the whole time we've been around, we've had a big focus on educating drinkers like yourselves and taking you on a journey. We want to get you interested and excited about craft beer, the amazing flavours, aromas and stories that are part of these great beers. We wanted to help you learn about all the amazing breweries and the people behind the breweries.
We've always had a big stance on helping local Australian owned breweries and assisting the industry that we love as much as we could. We're not in this to make a fast buck, we are passionate about growing a wonderful industry.
So passionate in fact that in 2016 we started the Australian Craft Beer Survey – the aim was simple: to help grow craft beer in Australia – we made all the results public and give these to Australian independent brewers to help them not just survive, but thrive.
To date over 40,000 people have participated in the Australian Craft Beer Survey.
From us to you, thanks for coming on the journey so far – we're not owned by any mega business and there aren't any fat cats puffing cigars here. We're a 100% independent craft beer store that is passionate about building an amazing craft beer scene in Australia, and providing you with access to the most incredible beers from Australia and overseas.
---