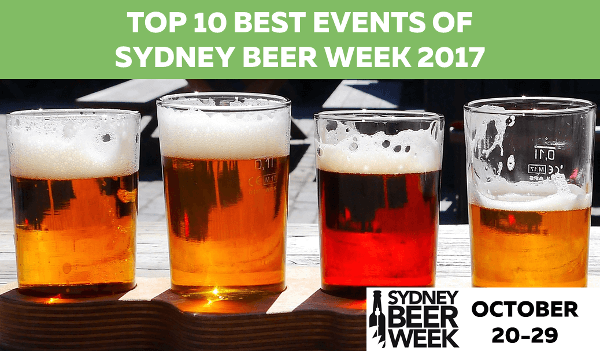 Sydney Beer Week 2017 runs from Friday 20th to Sunday 29th of October and is Sydney's biggest celebration of beer.
With over 130 events making up the week of festivities it can be a challenge working out which are the must attend events - the programme itself is mind boggling!
Luckily we've done the hard yards for you. Here are our top 10 events for the week.
Oktoberwest
Sydney's Inner West has quickly become a hub for craft beer in Sydney. With a swag of breweries and craft beer focused venues it's simply a must visit region for any beer enthusiast.
The inaugural Oktoberwest festival brings all this awesome local beer in once place and matches it with great live music, DJs, games, food trucks and more.
The event will mark the official launch of the Inner West Brewery Association and celebrate the rich culture of Australia's craft beer capital with a curated line-up of brews from seven of the best breweries in Sydney – Young Henrys, Willie The Boatman, Wayward Brewing Co, The Grifter Brewing Co, Batch Brewing Co, Sauce Brewing Co, and Malt Shovel Brewery.
Marrickville's Factory Theatre will be transformed into the ultimate Beer Garden and Beer Hall, boasting entertainment galore across multiple stages that will keep beer-lovers frothing all day!
Music Line-up:
Big Village Presents The BV Bitters (ft. Mathas, P.Smurf, Rapaport, & DJ Cost), The Bottlers (EP launch), DJ Albo (Anthony Albanese MP), Birdman or The Unexpected, Virtue of a Tony Hawk Pro Skater Cover Band, Donny Benet Kraftwerk DJ Set, Lindsay McDougall (Frenzal Rhomb), The Lockhearts, SCABZ, The Persian Drugs, The Morrisons, Ainsley Farrell, Max Quinn, Darcy Byrne's Brewery Bingo, Gen Fricker (DJ set), Foreign Dub DJs
Venue: Factory Theatre
Date & Time: Sun, October 22, 2017 (1pm - 8pm)
Address: 105 Victoria Road, Marrickville, NSW
Entry: $32 + booking fee >> BUY TICKET
Sydney Beer Week Opening Gala
The week long festivities kick off in style with a city skyline backdrop in the open air harbour side venue (Australian National Maritime Museum).
If you are wanting the meet some brewers and sample a variety of beers this is one event you have to attend.
Over 25 breweries from Sydney, around Australia and overseas will be pouring their best beers including crowd favourites and special brews created exclusively for SBW. In addition to sampling sours, lapping lagers and appreciating ales, lucky patrons will be fed by some of Sydney's finest street food vendors including Chrissy's Cuts and Mama Linh's.
Participating breweries Include:
Akasha Brewing Co, Batch Brewing Co, BentSpoke Brewing Co, Bridge Road Brewers, FogHorn Brewhouse, Gage Roads Brewing Co, Hawkers Beer, Nomad Brewing Co, Philter Brewing, Sparkke, Six String Brewing Company, Stone and Wood Brewing Co, Stockade Brew Co, The Grifter Brewing Co, Wanderer Brewing Co, Wayward Brewing, Willie The Boatman, Young Henrys and more!
Venue: Australian National Maritime Museum
Date & Time: Fri, October 20, 2017 (6pm - 10:30pm)
Address: 2 Murray St, sydney, NSW
Entry: $40 + booking fee >> BUY TICKETS
Ultimate FREE Beer Tasting (Win a Double Pass!)
So we might be slightly biased but if last year's event is anything to go off this year is going to be another hit!
We (Beer Cartel) have 12 spots up for grabs (6 x double passes) to come along & taste $1,000 of awesome craft beer... for FREE!
This won't be a run of the mill tasting, with very hard to find beers included from some of the world's best breweries. Think along the lines of super limited releases, barrel aged releases, rare cellared beers and more!
Just think you could be sitting with 11 other like minded beer enthusiasts sharing $1000 worth of highly rated and hard to get beer!
How to enter: For your chance to be one of six lucky winners of a double pass you must register for the event via the Event Brite event page (registrations are FREE). Your email address at registration will be your entry into the draw and the way in which you will be notified if you're a winner. Winners will be drawn and announced on Wednesday 25th October.
Venue: Flat Rock Brew Cafe (hosted by Beer Cartel)
Date & Time: Sat, October 28, 2017 (6:30pm - 9pm)
Address: 290 Willoughby Road, Naremburn, NSW
Entry: Register free to go in the draw >> REGISTER HERE
Wildflower & Friends Morning Session: Waratah Release & Tech Talks
Who said beer is just an evening affair?
Not these guys!
US Expat Topher has been doing some really cool stuff with beer and blending since opening Wildflower brewing earlier in 2017. Much like his approach to brewing, this event is not quite the norm and not just because it starts at 8am in the morning!
Join the crew at Wildflower & Batch to celebrate the release of the first modern day beer made with 100% New South Wales ingredients. The beer, Waratah, is a collaboration between Ryefield Hops (Bemboka, NSW), Voyager Craft Malt (Whitton, NSW), Batch Brewing Co (Sydney, NSW) and Wildflower. Each of these producers have come together to make this Australian Wild Ale made with Wildflower's entirely NSW native mixed culture.
The event will also feature educational talks on things like working with barrels, home grown hops and mixed culture fermentation.
And because it's an early start they have you covered with coffee and pastries from Two Chaps.
Venue: Wildflower Brewing & Blending
Date & Time: Sat, October 21, 2017 (8am - 2pm)
Address: 11-13 Brompton St, Marrickville, NSW
Entry: Free
Staves and Friends Casks Beer Fest
We get requests for cask ales quite a bit, mostly from expat Poms.
Unfortunately there hasn't been a cask movement in Australia to date, meaning traditional cask ales are as rare as hens teeth. So when an event is solely focused on this type of beer we reckon it's worth a look.
If you're an expat Pom or just a curious craft beer enthusiast wanting to taste some cask ales, head down to Staves and see what the fuss is all about.
The team will be tapping three casks from guest breweries alongside a few of their own.
Venue: Staves Brewery
Date & Time: Sun, October 22, 2017 (12pm - 10pm)
Address: 4-8 Grose Street, Glebe, NSW
Entry: $20 + booking fee, includes 5 x 200ml tasters >> BUY TICKETS
Lock Stock & Barrel Aged Sour
Having recently taken out the number one spot in Beer & Brewer's Top 50 Metro Beer Venues for 2017, the team behind Bitter Phew take their beer seriously.
This event (like most held at Bitter Phew) is targeted for those really into their beer. If you're a craft beer newbie approach with caution, these beers will be extreme!
In contrast if you like your beer aged in oak, whisky, bourbon or wine barrels, this event will take you to another level.
The Bitter Phew crew have spent the year scouring Australia and the world to bring you some of the biggest barrel aged beers! Last year was massive and they are looking to up the ante in 2017. Expect another showcase of huge flavoursome beers all selected to push the boundaries and tantalise your tastebuds.
Venue: Bitter Phew
Date & Time: Wed, October 25, 2017 (12pm - 1:30am)
Address: 1/137 Oxford Street, Darlinghurst, NSW
Entry: FREE
Comedy & Cans
Probably one of the simpler events of the week, so we'll keep this one short.
Beer is all about fun times, so matching beers with some stand up comics seems like a perfect match.
It'll be one of the most light hearted events of the week featuring great comics from the Comedy Lounge Sydney.
Venue: Bank Hotel
Date & Time: Wed, October 25, 2017 (6pm - 11pm)
Address: 324 King Street, Newtown, NSW
Entry: $10 + booking fee >> BUY TICKETS
Wayward X Akasha Collab Night (Round II)
Ever wondered what Beer x Beer looks like?
Well this is it.
Two of our favourite Sydney brewers/breweries are joining forces again to create an event that is part industry and part craft beer enthusiast focused - how good is that!
Leveraging the openness and mateship that is quite unique to the craft beer community, the two teams have come together to create what will be one of the best "parties" of the week.
Expect high ABV beers alongside two top secret collaboration beers to be revealed on the night.
Venue: Wayward Brewing Co Cellar Bar
Date & Time: Thu, October 26, 2017 (2pm - 10pm)
Address: 1-3 Gehrig Lane, Camperdown, NSW
Entry: Free
Tinnie Table Tennis Three
Consider yourself a bit of a table tennis champion?
Go OK holding a ping pong paddle in one hand and a beer can in the other?
Then head to the Welcome Hotel for a fun afternoon of craft beer in cans and table tennis. This event features an elimination competition across multiple tables in a single player format. Prizes and glory for winners.
Venue: The Welcome Hotel
Date & Time: Sat, October 28, 2017 (12pm - 5pm)
Address: 91 Evans St Rozelle, Rozelle, NSW
Entry: Free
Meat, Beer, Axe
Two things we love and one that nobody in their right mind would normally think of adding in the mix, especially after a few cold ones!
Luckily the crew at Willie the Boatman have been doing this for a few years and know what they're doing.
Introducing beer and axe throwing...
Yup beer AND axe throwing.
This year the crew will be setting up four axe throwing lanes in the car park. Tickets are limited to 200 with ticket price including axe throwing, meat and your first beer.
So why not throw your hat (or axe) in the ring and have a go, guaranteed to be one of the more unique beer experiences you have participated in.
Get in quick though as this event will sell out!
Venue: Public House Petersham
Date & Time: Sun, 29 Oct, 2017 (12pm-7pm)
Address: 292 Stanmore Rd, Petersham
---