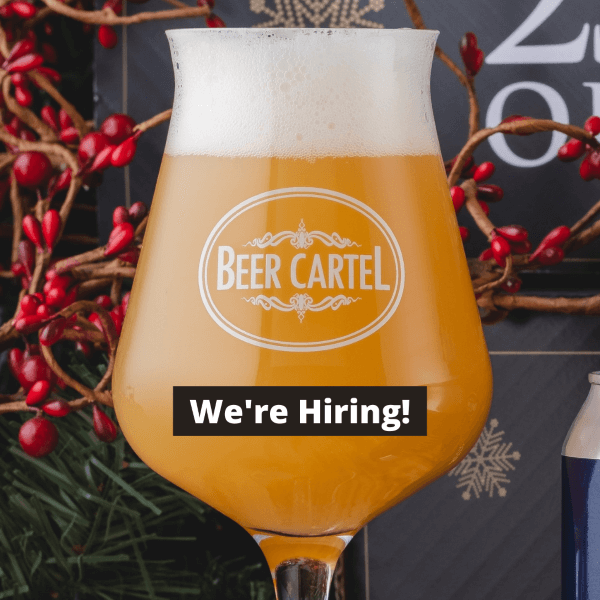 We are looking for a dedicated and forward-thinking Graphic Designer/Marketing Coordinator to join our growing team to create engaging and on-brand graphics for a variety of media (Email, Website, Print, Social).
We currently have a full-time opportunity for a 'Graphic Designer/Marketing Coordinator' to help us continue our fantastic growth record. If you've had 2 - 3 years experience, can communicate well, maybe had some agency experience (not essential), but want a sea change to brand, and work methodically as part of a team, we'd like to meet you.
About Us
Beer Cartel is Australia's leading craft beer bottle shop, stocking over 1,000 craft beers from Australia and overseas. We sell both online at www.beercartel.com.au and in our Sydney store in Artarmon.
We currently have a full-time opportunity for a 'Graphic Designer/Marketing Coordinator' to help us continue our fantastic growth record.
What is the role of a Graphic Designer?
Your job duties include developing graphics both for print (Catalogues, instore, POS etc) and digital (Website, Social and Email etc) that enhance our brand message and strategic customer programs. Our ideal candidate has a portfolio of successful campaigns and is proficient with Adobe Creative Suite and Canva.
Does this sound like you?
- You want to be part of a lean team that loves to growth hack!
- You consider yourself a creative problem-solver. You're full of ideas, solutions to problems and want to be heard!
- Familiarity with design software and technologies (such as InDesign, Illustrator, Dreamweaver, Photoshop)
- You possess a unique hybrid skill set of digital and have a flair for good copy writing. The punnier the better!
- You're a proactive, adaptable learner
- You're a passionate brand advocate, championing our values in the work you do
- You hold in high regard the value of data and insights to enhance design performance
- You're an 'on the tools doer'. You get stuff done. Fill in the gaps where needed. A real team player.
- You're highly motivated to get things done, willing to take an idea / project and manage it to completion
- You get design to inspire digital engagement (clicks and traffic)
- Writing great copy comes naturally to you
- Ability to work methodically within project deadlines
- Most importantly, you're ready to learn and work with us as we expand our marketing strategy and explore new and existing opportunities!
- Degree in Design, Multimedia or related field is a plus
What does that all look like in practice?
- Brochures, POS creation and Packaging Design
- Adhering to our brand and supplier brand guidelines
- Working across multiple brands
- Designing Website Graphics, eDM's (Email Direct Mail), Social Post & Ads
- Social Media Scheduling
- Collaborate with buying, customer service and sales to discover new ideas for customer centric content
- Develop A/B split test graphics
- Work as a marketing team to collaborate on the marketing plan
- Run social media ads (don't stress if you haven't done Social Ad's before, we've got training for that!)
- Work with our implementation team and keep project's on track
- Take briefs in various varieties, verbal or written
- Conceptualise visuals based on requirements
- Prepare rough drafts and present ideas
- Work with copywriters and marketing strategy director to produce final design
- Test graphics across various media
- Amend designs after feedback
- Ensure final graphics and layouts are visually appealing and on-brand
- Report back to the general manager about performance on all of the above and how to improve it
- Managing tasks in Project Management software
Benefits and perks:
- Training with Australia's leading performance marketing and customer experience training provider whilst in the job – this is a huge opportunity to expand your knowledge & skillsets. Get real mentoring as you grow!
- Friendly, supportive environment
- Meaningful work
- Flexible work environment
- Opportunities for growth, development and career progression
- Opportunity to be creative and innovative
- Exposure to multiple brands in the Beer Cartel family
- Beer!
Location: Beer Cartel, Sydney
Remuneration: $50-70k full time, depending on your skills and experience.
Hours: Full-time
Here's how to apply:
Please write a covering email to [email protected] outlining why you're a great fit for the role and relevant experiences and outcomes
Please email applications to [email protected] with the subject line "I [NAME], Am a forward-thinking graphic designer" before 28/5/2021.
Attach your CV and portfolio to the email taking care to note previous employment history, industry experience and personal and professional references
---