Posted by Matt Jenkin on 27th Nov 2018
To get into the festive spirit of things early Beer Cartel have the perfect advent calendar for adults, which swaps the traditional chocolate out for twenty-five unique Australian craft beers. Seven of which are speciality brewed in collaboration between Beer Cartel and some of our favourite breweries just for, and only available in, the 2018 Beer Advent Calendar. Get yours here!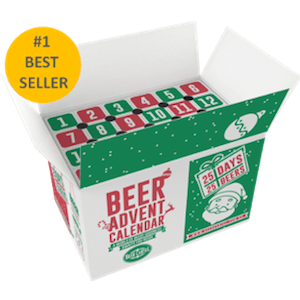 Across the world Christmas usually invokes scenes on snow, mistletoe, warm hearty home-cooked feasts and a strong spiced Christmas ale. However, the Australian Christmas is a unique one. Scenes of steaming hot weather, searing sun, packed beaches, ice cold sessionable beer, fresh prawns, and a cold roast.
Here are a couple of beers perfect for a long day on the sesh in the hot sun this Aussie Christmas:
Country: Australia
Brewery: Balter
Style: American Pale Ale
Format: 375ml Can
ABV: 5%
It might be pale but there's nothing weak about this bad boy. Tropical and floral aromatics set off a fruity palette that will punch your taste buds in the pleasure zone. Finished with a refreshing bitterness the XPA is tailored for those who enjoy a fully-hopped beer that's still easy to drink.
Note: Balter beers are canned with 6 month best before dates.
Country: Australia
Brewery: Colonial Brewing Company
Style: Kölsch
Format: 375ml Can
ABV: 4.5%
This is a beer for all walks of life to be enjoyed uncomplicated, naturally and honestly without pretence. It's not a gimmick, Colonial Draught is not brewed to match your tie or through the magic interpretive dance improve your social standing, Colonial Breweries crafted draught is a beer for the people and is comfortable anywhere, anytime from the beach to the boardroom.
Delicate hop flower aromas precede a palate so light, crisp and balanced that it's often mistaken for a pilsner.
Country: Australia
Brewery: Two Birds Brewing
Style: Wheat Ale
Format: 330ml Bottle
ABV: 5.2%
The beer was inspired by a trip to San Diego where we lived entirely on a diet of fish tacos and craft beer! It's a hoppy Wheat beer brewed with coriander leaf, fresh lime peel and corn. It's fresh, zesty and dangerously drinkable. And of course, is the perfect pairing for tacos!
Winner Gold Medal at the 2015 Australian International Beer Awards.
Country: Australia
Brewery: Nomad
Style: Gose
Format: 330ml Can
ABV: 4.5%
This beer is the brain child of Leonardo and Brooks, after a few.... staring at the beautiful Ocean in Freshwater, on Sydney's Northern Beaches, the ocean mist and its fantastic smell had to be somehow put into a beer.... Why not add sea water directly to the beer and hey isn't salt what they add to traditional Gose in Germany??!!
A few months later here we are at Nomad adding two buckets of salt water straight from Freshie (Freshwater beach) to a Gose with a Nomad twist, and adding our new favourite pepper variety from Tasmania. The resulting beer is something along the lines of what the name suggests: salty, spicy and refreshing.
Country: Australia
Brewery: Ocho
Style: Belgian Pale Ale
Format: 330ml Bottle
ABV: 6.2%
A bright & lively Belgian blonde delicately balancing spicy yeast and floral/fruity hop characters. "Pour is clear bright golden with a white head settling to a stable collar. Fragrant nose offers grainy malts, straw, peppery spices, floral and light citrusy hops. Palate follows the nose, bittersweet, orangey, with a bone dry somewhat spicy finish and a medium body. The restrained sweetness is a real asset in my opinion." - Rate Beer.
Country: Australia
Brewery: Moon Dog
Style: Lager
Format: 330ml Can
ABV: 4.2%
Moon Dog's Beer Can is a Mexican style Lager. It features cold press tropical fruit juice and Falconer's Flight hop blend which was originally designed for US West Coast style IPAs. Within this can of joy you'll find grapefruit and peach fruit characters, and a beer you can quaff all year round.
Country: Australia
Brewery: Colonial
Style: Sour Ale
Format: 375ml Can
ABV: 4.6%
Our warm weather seasonal is brewed in Margaret River in Western Australia's South West. Pale, Wheat and Munich malts build a light body with a hint of sweetness and we partially ferment this with a natural acidifying bacteria in the brewhouse. Ale yeast completes the job in the fermentation tank, adding a little extra fruitiness to boot. Hops from both hemispheres provide a vibrant tropical aroma, but with low bitterness to keep this golden sour light and refreshing.
Country: New Zealand
Brewery: Garage Project
Style: Saison
Format: 440ml Can
ABV: 5%
Hunnybee, a collaborative creature from the combined hive mind of Unknown Mortal Orchestra and Garage Project. A glowing golden "farmhouse" ale - wheat, saison yeast with a lavish dose of Lavender honey giving a touch of lo-fi funk with bubblegum pop tart notes, overlayed with an eclectic blend of Saaz, Saphir, Wai-iti and Galaxy hops. Not what you expect, just what you need.
Hunnybee, there's no such thing, as sweeter a sting.
Brewed in collaboration with Unknown Mortal Orchestra to celebrate their 2018 Sex & Food tour.
Country: Denmark
Brewery: Mikkeller
Style: India Pale Ale (IPA)
Format: 330ml Bottle
ABV: 7.8%
India Pale Ale brewed with Ginger and Pine Needles. "Pours pale gold with a lasting white head. Aroma of pine, grass, hop, flowers, light ginger and herb. Medium sweetness, moderate bitterness. Moderate body, oily texture, average to soft carbonation. Quality beer." - Rate Beer.
---