Below are a few handy hints to help you on your way with your first purchase from Beer Cartel.
Shipping / Click & Collect
Beer Cartel charges a flat rate per case or part case of $9.99 NSW/ACT and $14.99 All Other States. To ensure you maximise the beers in your case you can fit 24 x 330ml Bottles/Cans or 12 x 750ml Bottles or a mix of these up to 15kg (automatically calculated at checkout). For other Shipping Information click here.
We also offer Click & Collect from our Sydney Store. Simply select In Store Pickup at the checkout.
Navigating the Beer Cartel Website
The best way to navigate around Beer Cartel is to use the horizontal navigation bar. If you hover over the BEER link in the navigation bar you can search for beers by Style, Brewery or Country. Below these are links to the Latest Arrivals, Staff Recommendations, Seasonal Releases and Specials.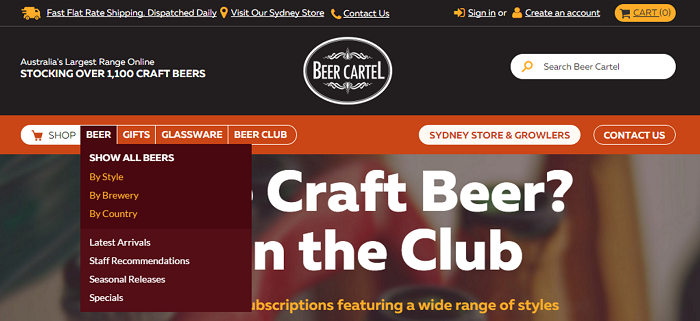 If you are searching by a particular category such as a specific Beer Style, Brewery or Country then you can choose to Only Show Products in Stock (tick box left hand side), as well as sort within that category (SORT BY function right hand side) by Staff Recommendations, Latest Arrivals, Most Popular Products, Name, Average Rating and Price.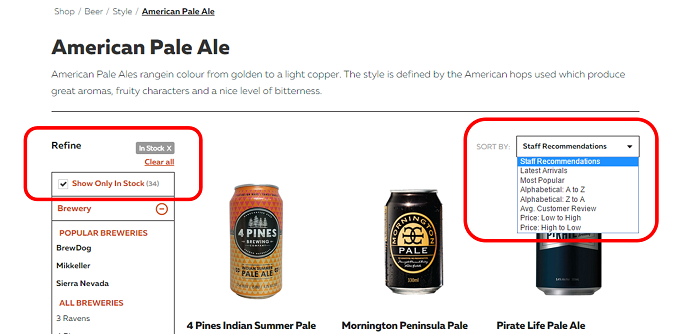 Where to Start?
With over 1,100 of the best craft beers from Australia and Overseas, a huge range of Beer Gifts and over 70 different glasses in stock at any one time, it can be a little overwhelming. If you're looking for an excellent selection to start with try the Hottest 100 Australian Craft Beer Pack or Boutique Beer 12 Pack below, or check out our range of great mixed beer packs.
What else does Beer Cartel Offer?
Other than the largest range of craft beer online in Australia, Beer Cartel has a great range of ever-changing Glassware, Beer Gifts and a Beer Club. The Beer Club includes a monthly subscription of mixed beers delivered to your door step either as a 6 pack, 12 pack or case of 24. There is also a quarterly option (The Expert Pack) for those that are really serious about their craft beer.