December 2009 Club Beers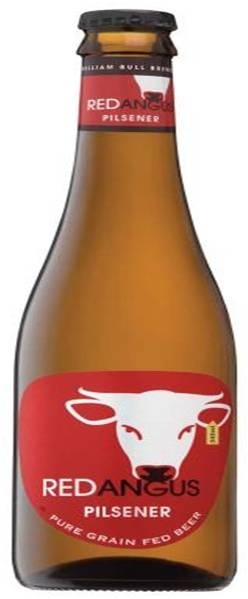 Red Angus Pilsener (4.8%)
William Bull
Red Angus Pilsener is a beer that will quietly impress the drinker from the moment it's poured. At first glance, it's pale and bright. That's the grain: the lightness of Romsey Wheat. Closer inspection reveals a hint of darkness - the mark of Carapils malt, sourced from the historic brewing town of Bamberg in Bavaria, Germany.
Experts will note the signs of class - the natural, white rocky head and the gentle scents of well-bred hops and wheat malt teasing the nose. The delicious aromas are enhanced by filtration, not flattened by pasteurisation.

Akuna Gold (4.2%)
Akuna Brewery
Brewed on Sydney's Northern beaches, Akuna Gold is a pure ginger beer made with real Buderim ginger. Its a true winner with ginger lovers and is a refreshing drink, perfect for that summer afternoon sip in the sun.
Free from artificial preservatives.
Suggested food match: This beer is great with chicken, pork or seafood. Makes a great marinade too.

Firefly Pilsner (4.5%)
Fusion Brewing
A bold use of aromatic hops has delivered a pilsener style beer exhibiting gentle bitterness and fine bead carbonation with an understated sweetness.
Firefly Beer's flavours are engineered to be the perfect match to any spicy dining occasion. The beer is a culmination of over six months research to identify the raw ingredients, brewing methods and finished beer characteristics that best suit spicy flavours. The identified elements have been carefully combined to produce a beer of adequate weight and flavour to balance spicy foods.
Suggested food match: Any spicy dishes including Thai, Indian and Vietnamese.

Alpha Pale Ale (5.2%)
Matilda Bay Brewing Co
The Matilda Bay Alpha Pale Ale is brewed in the same style as North American Pale Ales, using 100% pale malt with the addition of a small amount of dark crystal to add character and palate weight. Fermentation with specially selected ale yeast complements the style, adding another dimension to this big, complex beer. It has a distinctive bitterness together with fruit and citrus aromas.
Why Alpha? Because this beer is all about the hops - and it's the alpha acids in the hops that give the bitterness. It has a big hop nose with citrus notes derived from the use of Cascade hops imported from North America.
Suggested food match: Contrast Alpha Pale Ale with meats such as slow roasted pork belly, braised lamb shanks and spicy casseroles.
November 2009 Club Beers

Organic Pale Ale (4.6%)
Redoak Brewery
Redoak's Organic Pale Ale, an English style pale ale, is brewed using certified organically grown malt and hops. A specially chosen strain of London Ale Yeast gives a fruity character with a firm hop bitterness and rich malty flavour. Redoak's Organic Pale Ale is a very unique, flavoursome and refreshing beer.
Winner of Silver Medal at Australian International Beer Awards 2006
Three Sheets Pale Ale (4.9%)
Lord Nelson Brewery
Freshly made on premise in Sydney's oldest continually licensed hotel. This ale has delightfully balanced malt, with overtones of herbaceous hop characters, light citrus flora's and aromas.
Charlottes Hefeweizen (4.7%)
Snowy Mountains Brewery
Charlotte's Hefeweizen is a top fermented, unfiltered wheat beer with a pale cloudy appearance. Four malts - Wheat, Pale, Munich and Crystal - combine to make Charlotte full bodied and her fruity aroma, with a mild bitterness, is thanks to a mix of Willamette and Cascade hops. Taste the cloves, banana and vanilla which come from the specialty yeast used. You'll find Charlotte a refreshing beer with a clean crisp taste.
Named after the pioneering female Charlotte Adams who was the first female to climb Mt Koscuiszko in 1881.
Bluebottle Lager (4.3%)
Fusion Brewing
Bluebottle Beer is the culmination of a search from coast to coast for only the finest ingredients; creating a delicate balance of gentle yet mouth watering bitterness, lifted aromatics and a touch of citrus from fresh lemon juice to enhance the flavours of the sea.
Specially designed to complement seafood.